Just because we're in a bear market, doesn't mean you can't score huge profits from buying stocks.
You just have to find the right stocks to buy…
Like one AI startup by the name of Symbotic (SYM).
Most investors have never heard of this stock. On the popular finance commentary site Stocktwits, Symbotic stock has less than 700 followers. Amazon (AMZN), by comparison, has nearly 600,000 followers. And Apple (AAPL) has about 900,000 followers.
Yet, this tiny stock – with less than 0.1% the following of Apple – has soared nearly 200% since November.
That means an investment in this stock could've tripled your money in just six months, all while the S&P 500 and Dow Jones went basically nowhere.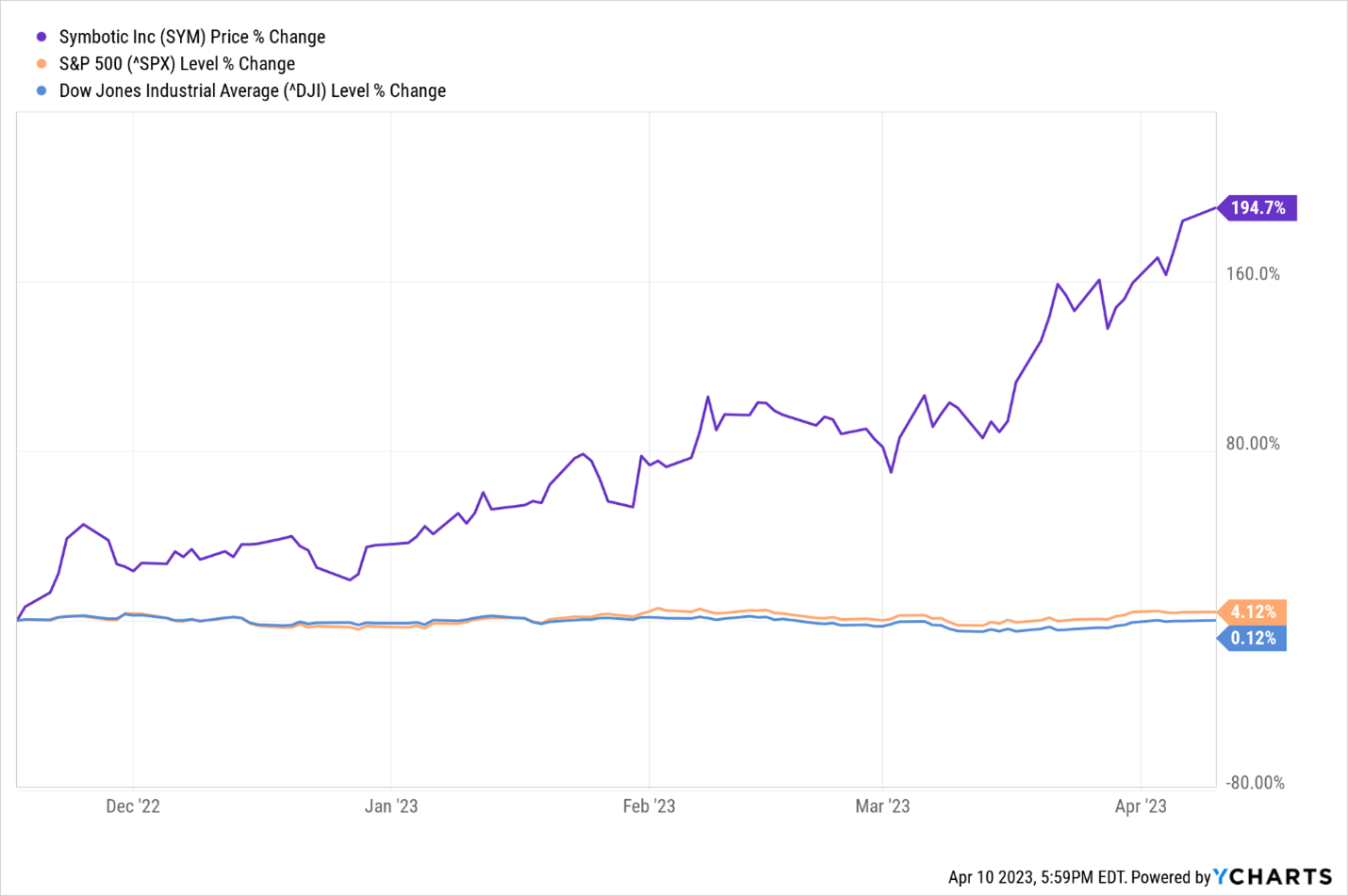 Again, just because we're in a bear market doesn't mean you can't find winning stocks.
You just have to find the right stocks to buy.
The Breakdown on Symbotic's Breakout
Symbotic was one of the right stocks to buy in late 2022, while others were crashing to their bear market lows.
The company creates automated warehouse technologies. Specifically, Symbotic has designed a full suite of robotic solutions to entirely automate every process in a warehouse or distribution center. Its system includes robotic arms to deconstruct and reconstruct outbound and inbound parcels, mini autonomous vehicles to shuttle packages across a fulfillment center, robotic sorting belts, and more. And it's all powered by complex artificial intelligence.
It is a really cool solution – and a really necessary one for the current world, where costs, especially for labor, are on the rise.
It's no wonder that the world's largest and lowest-cost retailer – Walmart (WMT) – signed a huge deal with Symbotic to automate all of its regional distribution centers in the United States.
We're now seeing those automated warehouses in operation all across America. And this year, in Dallas, Texas, Walmart is slated to open a 1.5-million-square-foot automated fulfillment center powered entirely by Symbotic's technology.
It may be the first big automated fulfillment center for Walmart that is powered by Symbotic. But it won't be the last. Indeed, Walmart confirmed in a press release last week that 55% of packages that it processes through its fulfillment centers will move through automated facilities by January 2026.
Why the shift? Walmart believes that by using Symbotic technology to automate fulfillment, it can improve unit cost averages by about 20%.
What better way to beat inflation than by using technology to drive costs down? It is the ultimate inflation killer.
Walmart's figured it out. So has Wall Street. That's why Symbotic stock has been soaring. This startup has created ultra-powerful technology that could be the world's cure to sky-high inflation.
Finding the Best Stocks to Buy Before They Break Out
Amazing – but how could you have identified this breakout before it happened?

Sure, you could've analyzed the company's technology and judged its merits based on a few test rollouts. You could've researched the company's founders and executive team to see if they have the expertise and knowledge to scale a big tech business. You could've dug into the company's filings, read about its partnerships, broken down its financial statement, developed long-term financial models.
And we did all that.
But believe it or not, there is actually a much simpler, much faster way you could've spotted this big breakout in Symbotic stock before it happened: by looking for a "golden cross."
In the world of technical analysis, a golden cross signal is triggered when a stock's short-term moving average (MA) crosses above its long-term MA. It signals a shift in stock price momentum wherein short-term price momentum is turning increasingly positive relative to the long-term price momentum.
Traders believe golden cross signals are triggered when stocks are in the early innings of a big breakout.
That was certainly the case with SYM.
Symbotic stock flashed a golden cross signal in early February 2023, when its 50-day MA flipped above its 200-day. Over the next two months, Symbotic stock shot higher by nearly 70%, after being flat for the previous six months.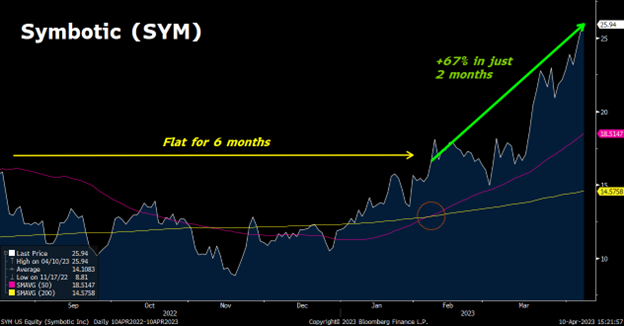 Effectively, the golden cross signaled a big breakout in Symbotic stock.
But it's certainly not the only – or even most effective – tool for tracking major stock breakouts…
The Final Word on Bear Market Gains
Let's revisit our first idea: To make money in a bear market, you have to find the right stocks to buy.
There are a lot of techniques and strategies to find those stocks. One is to identify stocks with golden cross triggers.
That's why we've developed a complex quantitative algorithm that scans the entire market looking for stocks entering "breakout mode."
This algorithm looks for golden cross triggers, among others, to pinpoint stocks with a high probability of staging a big and fast breakout.
We started deploying this algorithm in late 2022, and well… let's just say the results speak for themselves.
We have 14 stocks in our open portfolio right now. As of this writing, 13 of those 14 positions have a positive return. Only one has a negative return – and it is down just 2%.
The gains aren't small, either. We've booked gains of up to 45% in a month and 30% in a week – all in the midst of a bear market. One of our stocks even soared more than 100% in just a few months.
Point is: This algorithm works. It finds breakout stocks with stunning accuracy.
And later today, we are issuing two new buy alerts on small stocks that our algorithm says are about to break out in a huge way.
Trust me. These are picks you do not want to miss.
Click here to get access to those newest picks.
On the date of publication, Luke Lango did not have (either directly or indirectly) any positions in the securities mentioned in this article.