With the second half of the year expected to be much stronger than the first half, I've been asked if I'm making any significant changes to my strategy going forward.
The simple answer is no. We've taken some hits, as has every investor, but we have also had stocks do very well over the last year. For example, six of our Breakthrough Stocks doubled since last September.
We will continue to look for fundamentally superior stocks with strong sales and earnings that are seeing a lot of buying pressure to keep them moving higher.
The only caveat is that I may take profits more often than I would in a bull market. We are also taking partial profits when it makes sense, locking in nice gains while letting a portion of the original investment ride if the outlook remains positive.
We are in one of my favorite times of the year to look for opportunities – earnings announcement season. This season is winding down, and it has proven once again that earnings matter. There have been misses, and some stocks have been taken to the woodshed, but the big picture is outstanding with more than 75% of S&P 500 companies reporting better-than-expected profits.
These positive results have provided a turbo boost to many stocks. Even massive flagship companies like Apple Inc. (NASDAQ:AAPL) and Amazon.com (NASDAQ:AMZN) attracted a lot of institutional buying pressure in the wake of their quarterly reports.
Major energy stocks have performed even better, as elevated commodity prices and tight supply/demand imbalances have added to the top and bottom lines.
I continue to remain laser-focused on companies with accelerating earnings and sales momentum. Right now, there are a few corners of the market set up to continue robust earnings and sales growth going forward.
Here are three I especially like.
Industry #1: Energy
The energy sector has been the dominant performer in 2022, gaining nearly 40% while the S&P 500 is down more than 10%. The outperformance is even bigger going back a full 12 months.

Energy stocks will continue to post the strongest sales and earnings at least through the end of the year due to the simple fact that prices remain high for both crude oil and natural gas. Oil should moderate by October as seasonal demand ebbs in the milder fall weather, but natural gas prices are set to remain near their highest level in 14 years with Russia rationing gas to Europe.
Industry #2: Semiconductors
Semiconductor stocks will also continue to thrive as a global chip shortage persists. Many companies are boosting production capacity, and the U.S. is expected to increase semiconductor production here at home. That's great, but demand remains incredibly high.
This bodes well for semiconductor companies, and I recently recommended a few to my readers. Semiconductor stocks as a group got hit with other tech growth stocks, even underperforming the S&P 500 over the last year, but the outlook is very positive.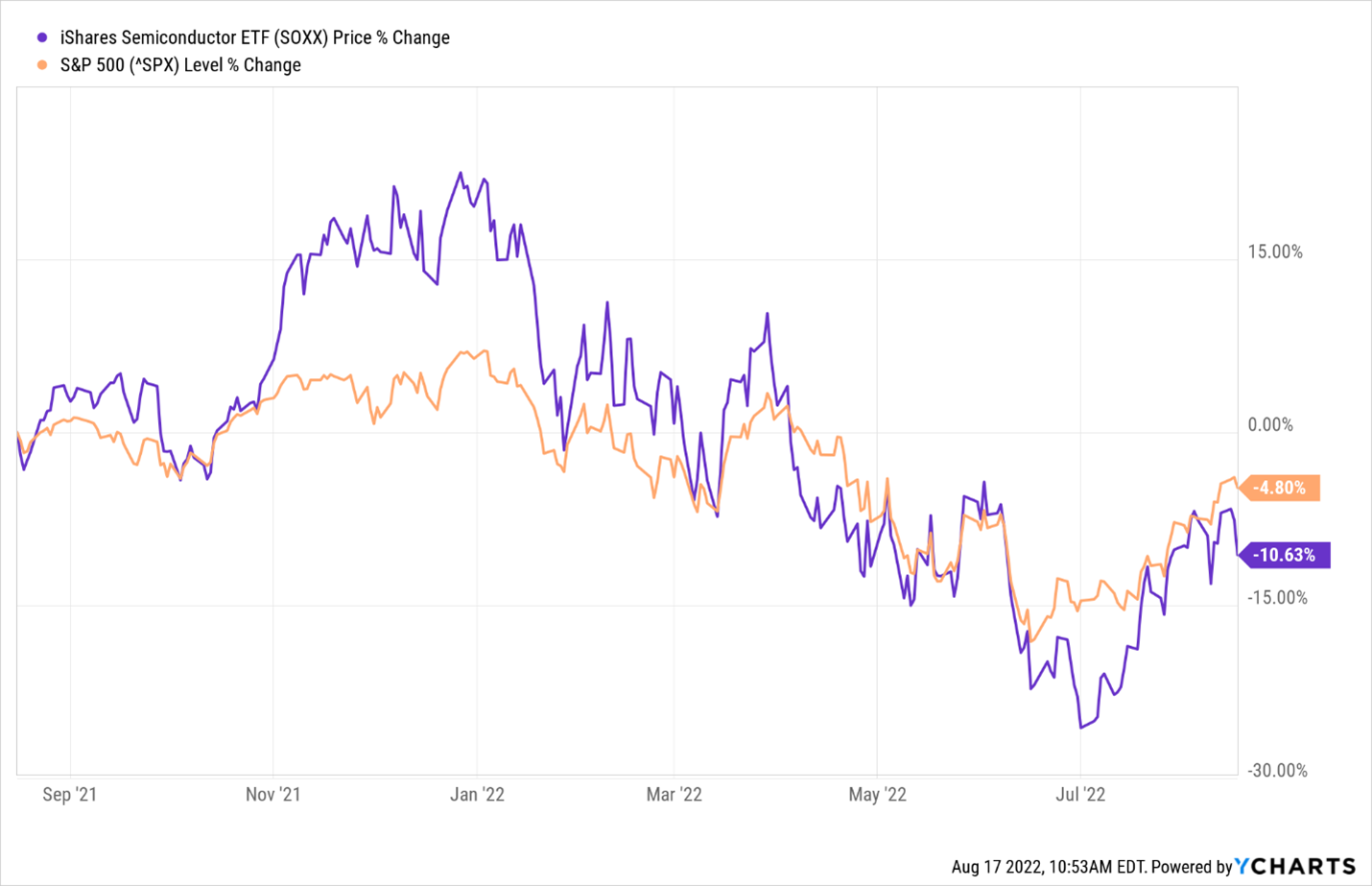 The semiconductor shortage has weighed heavily on many industries, including personal electronics and auto manufacturing. As semiconductor companies ramp up their production, they can't just churn out more chips. The manufacturing process is complex, and all chips must pass several tests to ensure that they are efficient, safe, and functioning properly.
With high demand and a complex manufacturing process, semiconductor pricing will remain favorable for a long time to come.
Industry #3: Industrial Metals
We mentioned energy, but there are other commodity-related stocks that should also outperform in the final months of the year. Industrial metals and mining stocks continue to easily beat the S&P 500, even with commodity prices cooling a bit recently.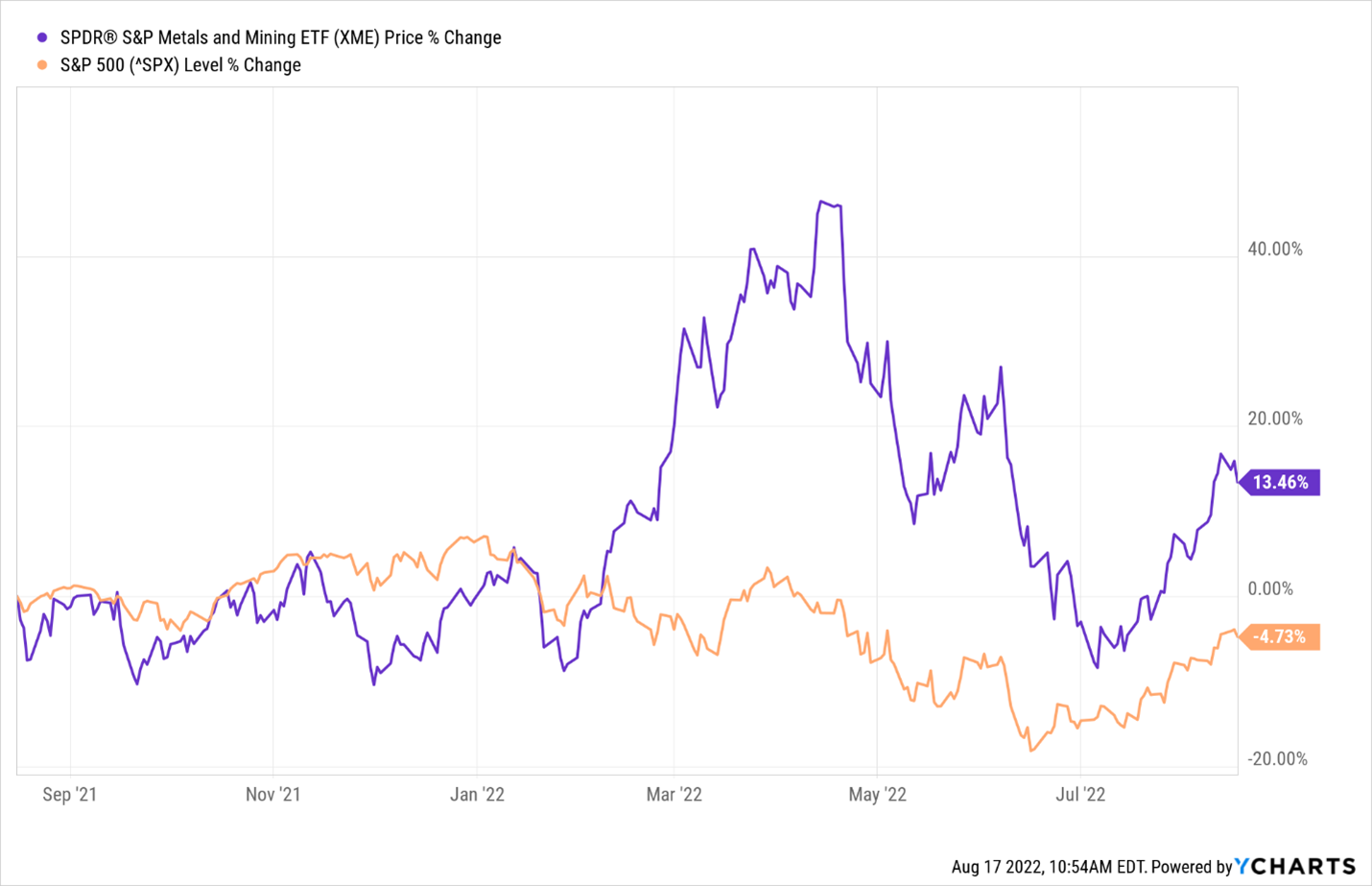 Industrial metals – aluminum, copper, and steel – are particularly interesting because they are key resources to several booming industries like oil and gas, agriculture, construction, and industrial machinery.
The broad market will likely experience some traditional August volatility, but due to lower Treasury yields, a resurgence in institutional buying pressure, price-to-earnings (PE) expansion and more overall optimism heading into the final five months of the year, I expect the market will continue to climb higher through the end of the year.
I am excited about the upside potential ahead of us, and the strongest stocks in these industries should be among the leaders as we head into the last part of the year.
Those are exactly the opportunities we're focused on in Breakthrough Stocks. Including my newest recommendations, our fundamentally superior stocks are characterized by 83.3% average annual sales growth and 280.8% average annual earnings growth. So, money has flowed back into the majority of our smaller- and mid-cap stocks recently.
For more details on these opportunities and my latest recommendations, click here.
Sincerely,
Louis Navellier
The Editor hereby discloses that as of the date of this email, the Editor, directly or indirectly, owns the following securities that are the subject of the commentary, analysis, opinions, advice, or recommendations in, or which are otherwise mentioned in, the essay set forth below:
Amazon.com (AMZN)