I could have lived a good, long life without ever seeing, hearing, or using the word "fungible."
Now, it's everywhere.
It sounds like a combination of "fun" and "eligible."
And while that's not even close to what it really means, understanding it's true definition can help you understand a huge opportunity.
So let's have some fun with fungible and find out how it could make you a lot of money …
In short, non-fungible tokens — or NFTs — are fast becoming the hottest thing in cryptocurrencies.
They are early in their growth cycle.
And growth potential is off the charts.
Cryptocurrencies overall are exploding. Bitcoin — the first, largest, and best known crypto — has shot more than 350% higher in the last six months … and that's with a recent pullback off all-time highs. At those levels, it was up as much as 467% just since last September.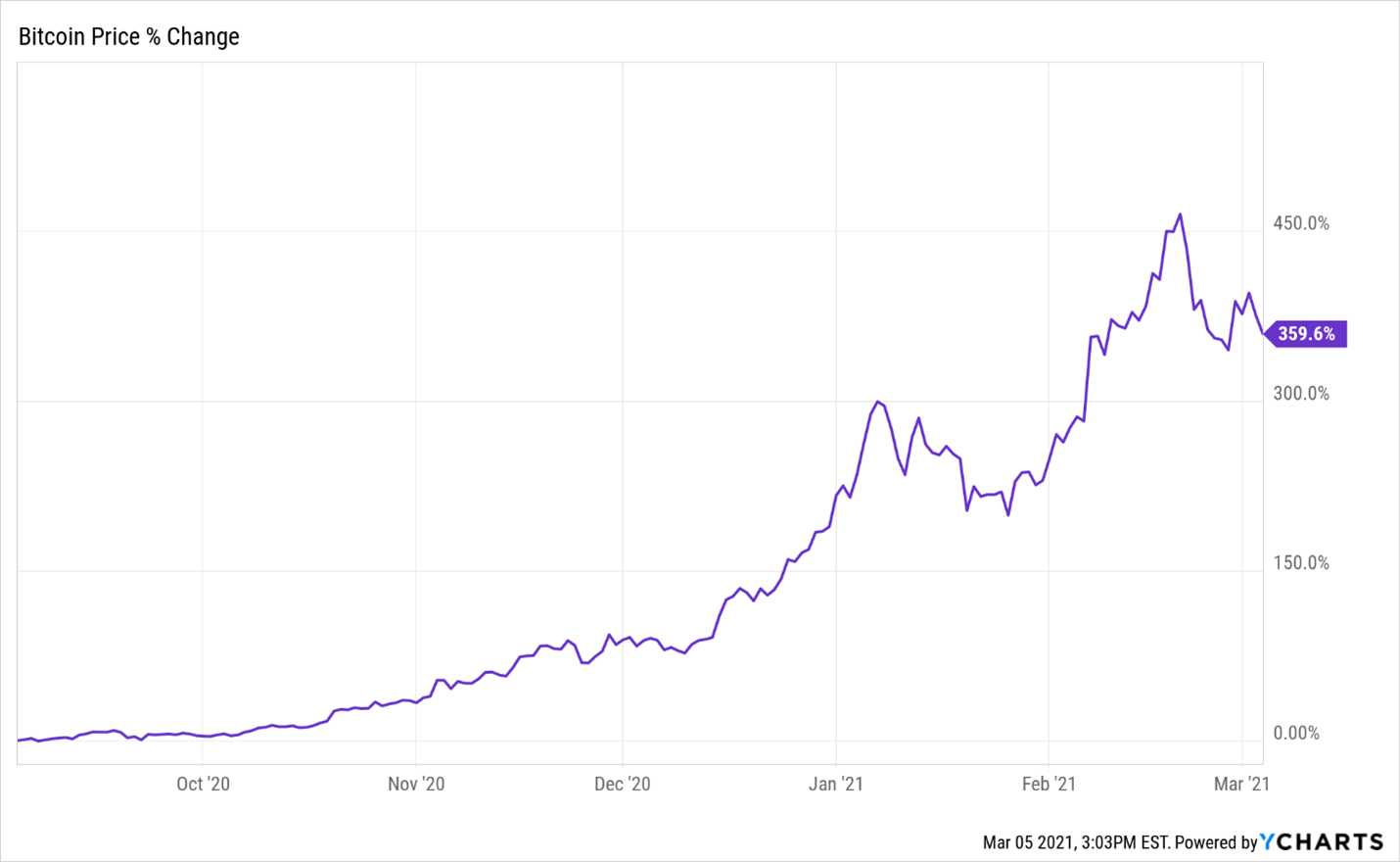 I expect bitcoin to at least double in the next 12 to 18 months, with more to come after that.
If you read MoneyWire regularly, you know that the real opportunity is in lesser-known cryptocurrencies called altcoins — basically anything other than bitcoin. These are not fantasy internet money but the software programs of the future. They may be smaller, but the right ones have much bigger potential.
Within altcoins, the there are two areas in particular that are white hot right now. One is decentralized finance (DeFi), and the other is NFTs.
But what the heck are non-fungible tokens anyway?
Fungible means replaceable or interchangeable, so NFTs are digital assets that are unique. They cannot be replicated, counterfeited, inflated, or anything else.
Bitcoin is fungible. One bitcoin is the same as every other bitcoin.
NFTs are one of a kind. Take the Porsche Macan I bought last summer. Yes, there are other Macans on the road. Some may even be identical to mine… except for the VIN. That unique number makes my particular Macan non-fungible.
These cryptos are just now beginning to take off. If this were a baseball game, the pitcher would still be warming up and we wouldn't have sung the national anthem yet. Still, we've followed NFTs closely enough to see four areas of use emerging as the biggest:
DeFi: Real-world assets can be turned into NFTs and used for financial purposes. For example, I could sell partial ownership of my Porsche through NFTs and basically earn interest.
Collectibles: Trading cards, videos, pictures, etc. Did you hear about NBA Top Shot? It's a digital collectibles platform that sold more than 10,000 packs of basketball videos for more than $1 million. Videos! Through NFTs, people basically bought the rights to specific videos.
Digital art: The overall art market is estimated at $70 billion a year. But get this… fake art sales are believed to make up 20%-50% of that. That's huge. Digitizing the art ownership through NFTs could dramatically cut that because the tokens are on the blockchain, which guarantees that they are genuine.
Gaming: This is the biggie. It's total addressable market (TAM) — or just how big this could be — is more than $200 billion. Gamers can basically monetize their own creations, whether it be a whole alternative universe, a new weapon, or a cute little animal. No middleman either. You get paid directly for what you create.
And now for the eye-popping numbers …
Throughout their history, there have been nearly $375 million worth of NFTs sold.
In the past month, there have been almost $178 million worth sold.
I'll save you the trouble and do the math for you. Nearly half — 47% — of all NFT sales (in dollars) have come in the last month.
That gets us to more than $2 billion projected sales here in 2021 based on the monthly run rate. But … that rate is going through the roof, and my team and I believe it will be much higher. As in possibly more than $20 billion!
Our propriety MAG (McCall's Altcoin Grading) System tipped us off to a couple of NFT altcoins very early, and they have been big winners for us — one is up 1,230% since January of 2020 and the other is up 770% since April. They have contributed to our Ultimate Crypto portfolio's 675% gain in just 15 months.
With the recent explosion, more NFTs are flashing higher scores in our system. (Technical indicators are roughly 20% of the score.) And with their enormous potential, we will add more.
This is the future of finance — or decentralized finance to be more precise. We are heading toward not only a digital world but a tokenized world.
Sending money anywhere will take seconds and cost mere pennies. Buying a home will take days, not weeks — and the transaction will cost a small percentage of what it does today. Even tracking a vaccine from the time it was created to the needle going into your arm will be done on the blockchain.
This transformation continues to unfold, creating a once-in-a-lifetime financial opportunity for smart investors who act today.
On the date of publication, Matthew McCall did not have (either directly or indirectly) any positions in the securities mentioned in this article.
Matthew McCall left Wall Street to actually help investors — by getting them into the world's biggest, most revolutionary trends BEFORE anyone else. Click here to see what Matt has up his sleeve now.