Over the next 20 years, electric vehicles are going to take over the world.
We all know this. Every investor, analyst, and financial media personality understands the enormous disruption coming to the multi-trillion-dollar mobility industry – and they all see it as the "investment opportunity of a lifetime."
Make no mistake. It is – but because everyone already knows this, everyone has already rushed into electric vehicle stocks, and the big money has already been made.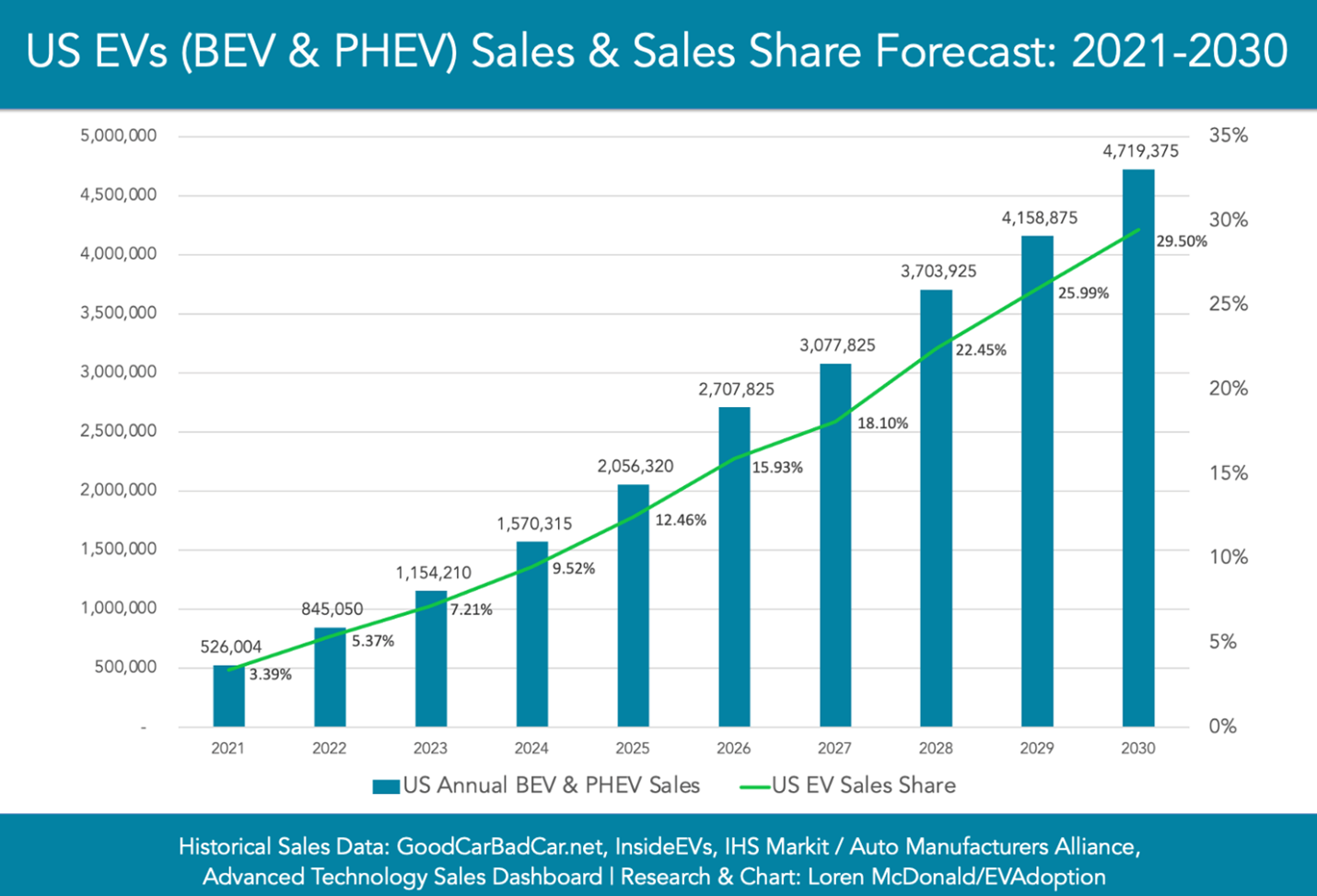 Just look at the market caps of the leading EV makers in the world.
Tesla (TSLA): $680 billion.
NIO (NIO): $65 billion.
Volkswagen (VWAGY): $150 billion.
Look. I'm not saying that these stocks aren't great long-term investments. They are – but they aren't 10X investment opportunities anymore. After all, if Tesla were to rise 10X from here, it'd be a $7 TRILLION company… which, if Tesla were a country, would make it the third most economically valuable country in the world.
That's not happening…
So, if you're looking for potential 10X investment opportunities in the EV Revolution, you need to forget the EV makers and look at what I like to call the "derivative plays."
The EV Revolution will be so big and widespread that it will have multiple, major first- and second-order derivative impacts on the world.
Think charging station operators. All those EVs aren't going to work unless we have charging stations everywhere.
Or think battery makers. All those EVs need batteries to power them.
It is in these EV derivative markets that you will find potential 10X investment opportunities.
One of my favorite derivative markets? Battery recycling.
You have to remember… lithium-ion batteries power EVs. So, as the number of EVs in the world goes from a few million today to hundreds of millions by 2030, the number of lithium-ion batteries in the world will increase by many multiples, too.
This creates a waste problem.
Lithium-ion batteries are not infinite power sources. They have shelf lives. They're made, they're used, and then they're discarded.
If this pattern continues, then by 2030, you'll have hundreds of millions of lithium-ion batteries sitting around in wastelands across the globe, adding to the world's already enormous "trash" problem. Not to mention, there will be significant stress on supply chains to produce enough lithium, cobalt, and nickel to sustain robust production of new batteries every single year.
The solution? Battery recycling.
As it turns out, you can recycle lithium-ion batteries, by mechanically breaking them down and chemically separating out the useful materials – like lithium, cobalt, and nickel – which can then be used to create new batteries.
Battery recycling is the future, since it provides an economically-sensible and ecologically-sensitive way to power the EV Revolution. Pretty much every major market research firm sees the lithium-ion battery recycling market growing by at least 10-fold over the next decade.
There's just one tiny problem… and that's that the science behind recycling lithium-ion batteries is very complex, and no one has yet figured out an efficient and scalable way to recycle batteries.
Well… almost no one…
There is one tiny tech startup that claims to have figured the problem out, and has developed a proprietary battery recycling system that is both efficient and scalable.
The best part? This potentially game-changing startup just went public – and now, you can invest in this stock before it breaks out over the next decade.
The name? Ticker symbol? Key business details?
Unfortunately, I can't give away that information here. But I can do the next best thing, and show you how to find that info.
That's because this stock was a pick in my ultra-exclusive investment research advisory The Daily 10X Stock Report, where I unveil one potential 10X stock pick every single day the market is open.
It's a bold initiative that has yielded jaw-dropping results. In just over a year, we've scored about 100 triple-digit winners and 6 different 10X winners.
I'm pretty confident in saying that this battery recycling startup could be our next 10X winner.
What do you think? Click here to find out.
On the date of publication, Luke Lango did not have (either directly or indirectly) any positions in the securities mentioned in this article.