I like alliteration.
Maybe it's because my name itself is an alliteration – Luke Lango. Or maybe it's because alliterative terms just sound good. Not sure why. All I know is that I like alliteration.
That's why I like to call what just happened in Bitcoin the "Bitcoin Breakout." Bitcoin prices were lounging around $30,000. Then, the Bitcoin Breakout happened, and Bitcoin prices surged above $50,000 in a matter of a few weeks.
What comes next? An equally large surge in altcoins – or, given my affinity for alliteration, I'll call it the "Altcoin Arrival."
You have to understand: The cryptocurrency markets are new. They're not just new for you and me. They're new for everyone. Stocks have been around for centuries. Cryptos are about a decade old. In finance terms, they're brand new!
So, the whole market is just starting to learn about cryptos, what they are, what they do, and why they matter.
In other words, the whole world is on this crypto "learning curve," if you will. Some of us are ahead on that curve. Some of us are behind.
Wall Street is behind. That's just who they are. The so-called "smart money managers" are the self-appointed masters of the financial universe, and they're comfortable with the status quo, because the status quo made them filthy rich. They rejected cryptos forever, until it became clear that the world was embracing cryptos.
Now, they're rushing to play catch-up on the crypto "learning curve."
Importantly, these fund managers are market movers. They run multi-hundred-billion-dollar investment firms. When they decide to move their money, they move markets with them. Thus, one of the best ways to invest in the financial markets is to always be one step ahead of the smart money.
Luckily for you, that's pretty easy to do in the crypto markets, because the smart money is following the very well-known crypto learning curve that you and I have already traversed.
Step 1 of the learning curve: Realize that Bitcoin is a great store of value and can be seen as "digital gold." That's why Bitcoin prices very closely correlated with the 10-year Treasury yield throughout most of 2021. When inflation expectations rose, yields rose, and the smart money rushed to play defense against that inflation by buying Bitcoin.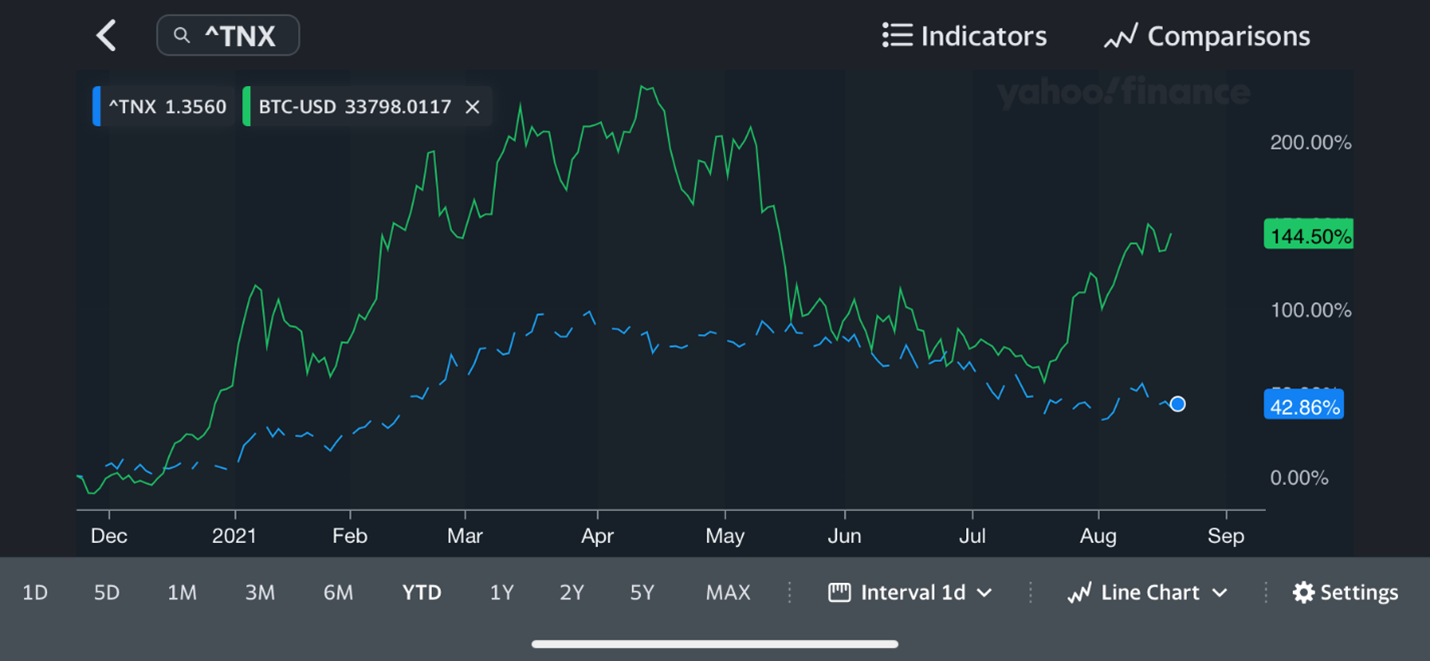 But notice how Bitcoin prices have surged over the past few weeks while yields have continued to trend lower.
That's because the smart money is moving onto Step 2 of the learning curve: Realize that Bitcoin is so much more than a store value, and that the underlying blockchain technology is a total game-changer.
The market is starting to figure that out. So, even though yields have collapsed, smart money is buying Bitcoin because of its long-term value beyond being a value store. This realization is what powered the Bitcoin Breakout over the past few weeks.
What comes next?
Step 3 of the learning curve: Realize that this game-changing blockchain technology is being applied innovatively across various altcoin projects, and that those altcoin projects have the potential to disintermediate multi-trillion-dollar economic systems.
And that's why I'm saying that this big Bitcoin Breakout will be followed by an equally big Altcoin Arrival.
The smart money right now is starting to dig into understanding the multi-faceted economic implications of blockchain technology, and studying the market's various altcoin projects with big long-term value.
Soon enough, they'll be done with their analysis, and they'll take some huge positions in multiple altcoins. This will, of course, spark a huge breakout in altcoins.
Indeed, to a certain extent, this is already happening.
Bitcoin is up an impressive ~40% over the past 30 days. But Basic Attention Token (BAT) – a token underlying the ad-free blockchain internet browser Brave – is up ~60% over that same time frame.
Cardano (ADA) is up ~130%. Solana (SOL) is up ~170%. Terra (LUNA) is up ~300%.
In other words, Bitcoin is up a lot over the past month. But many altcoins are up a whole lot more.
We expect this divergence to only widen. That is, we see Bitcoin powering higher over the next few months and years. Is it on track for $100,000? Absolutely.
But ~100% gains out of Bitcoin will pale in comparison to what could likely be ~1,000% gains or bigger out of various altcoins.
That's why we think the best way to invest in the Crypto Revolution is to buy some Bitcoin for stability and buy some altcoins for enormous upside.
Alas, the million-dollar question is: Which altcoins should you buy?
For that, we turn to our ultra-exclusive investment research advisory dedicated entirely to cryptocurrencies: The Crypto Investor Network.
At the Crypto Investor Network, I've teamed up with legendary Bitcoin investor Charlie Shrem and a team of crypto experts to deliver to you the highest-quality crypto picks in the market.
We're talking coins with triple-digit, even quadruple-digit, upside potential over the next few years.
And I'm not blowing hot air here. This product has delivered just that for subscribers. The average gain in the portfolio is well over 150%!
Today, I'm offering you exclusive access to this ultra-special research service with an unmatched track record.
Just click here, and find out how you, too, can be one step ahead of the smart money in the Crypto Revolution.
On the date of publication, Luke Lango did not have (either directly or indirectly) any positions in the securities mentioned in this article.