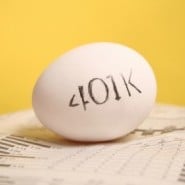 Many normal Americans only have exposure to the investment world via their 401(k) or IRA mutual funds. And most of these folks are stuck in rather vanilla, stock-based investments, focused on large stocks that could be "value" buys or small stocks that could be "growth" buys.
But what if the stock market in general isn't going anywhere? Or worse, what if there are concerns that could drive Wall Street lower? In those cases, unless you have an elite fund with a genius manager, you are going to pay the price.
That's why it might be worth looking beyond stocks entirely and into different investment classes. I'm not talking sleepy Treasury bonds either, which yield a meager 3% annually for your portfolio. Those are safe investments to preserve capital, but aren't a way to grow your retirement nest egg.
If you're concerned about diversification beyond stocks and don't want to settle for the paltry returns of long-term U.S. Treasury bonds, consider these eight clever ways to save your 401k or IRA mutual fund portfolio by investing in real estate, gold, corporate debt and even short-side investments that profit as the market crashes.
Take a look: