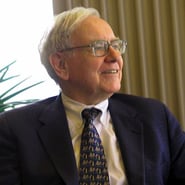 Every now and then, it is nice to take a peek over the shoulder of a successful investor to see what their high-conviction buys are. When you read a headline that "Warren Buffett is buying Company X," you're naturally inclined to do a little digging into Company X's financials. After all, if it's good enough for Buffett, it might be good enough for you.
You have to be careful with this line of thinking, of course. The SEC filings that disclose large investors' holdings usually are pretty dated by the time we get access. For all we know, the conditions that made a guru buy a given stock might no longer be valid by the time we read about it, and there are no guarantees that they haven't already sold it. For these reasons, I tend to focus on larger holdings — the conviction buys they are likely to hold onto for a while.
Today, I'm going to look at one high-conviction dividend stock each from five well-known superinvestors. My criteria is simple enough: The stock must be a significant holding in the guru's portfolio, and it must pay a respectable dividend.
Here's a closer look at each one: