When investors think of pharmaceutical stocks, they tend to see them as growth opportunities, capitalizing on a collection of novel, game-changing, and often life-saving drugs. Rarely does a steady stream of income factor in to the decision to buy a particular drugmaker's stock.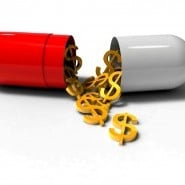 But the fact is, many of these companies dole out sizable dividends on a regular basis. Investors seeking cash flow as much as capital growth from the pharmaceutical industry should consider one or two of these five strong dividend stocks from that space.
Some of these names might even surprise you.