Stocks finished higher on Friday in the wake of a weaker-than-expected payroll report, but the Dow Jones Industrial Average was unable to cross the 20,000 threshold despite coming less than a point away from crossing that historic benchmark.
In the end, the Dow gained 0.3%, the S&P 500 added 0.4%, the Nasdaq Composite wafted up 0.6 and the Russell 2000 finished lower by 0.3%. Treasury bonds were weaker, the dollar was stronger, gold lost 0.7% and oil gained 0.4%.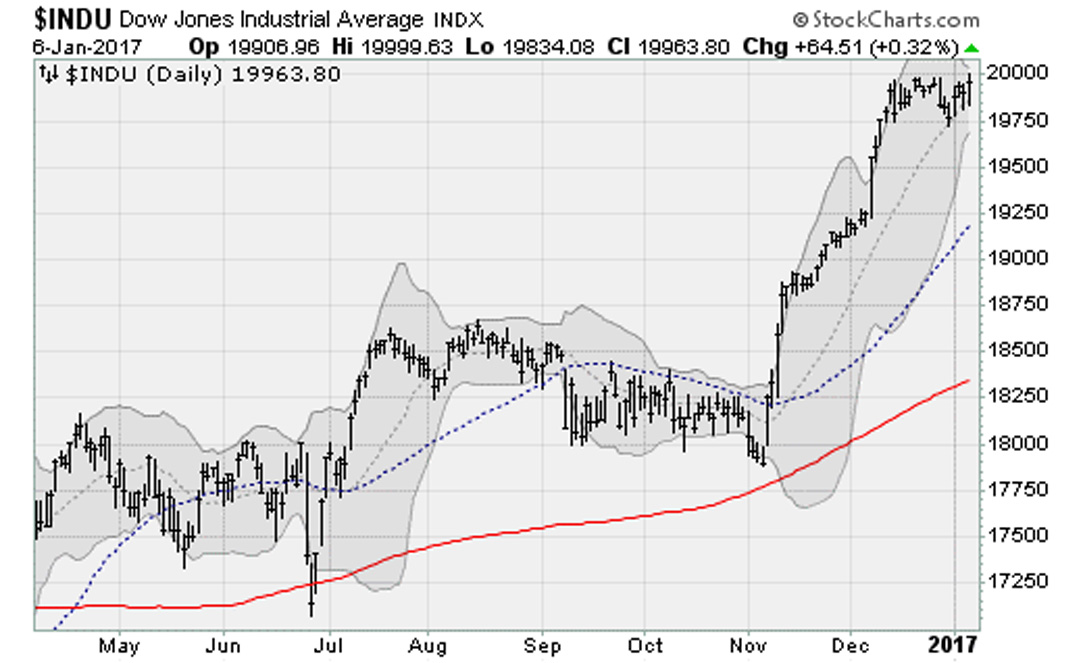 Technology stocks led the way with a 1% gain while telecom was the laggard, down nearly 3%. Fiat Chrysler Automobile NV (NYSE:FCAU) gained 6.2% thanks to an upgrade by analysts at Goldman Sachs on an anticipated ability to price-mix by shifting production into more profitable vehicles. Pandora Media Inc (NYSE:P) fell 4.2% after a Sirius XM Holdings Inc. (NASDAQ:SIRI) executive said M&A was "unlikely" at the moment. And troubled action-cam maker GoPro Inc (NASDAQ:GPRO) fell 3% after being downgrade by analysts at Longbow.
As mentioned, the Dow came within a hair of 20,000, a level it has been flirting with for weeks. The catalyst, confusingly, was a softer-than-expected jobs report for December. Payrolls expanded by 156,000 versus the 175,000 forecast. The unemployment rate rose slightly to 4.7%.
So why would stocks get excited about a slowdown in jobs? Because if it's representative of a trend change in employment growth, it's more likely to dampen the pace of Federal Reserve interest rate hikes in 2017.
Backing up, stocks have a tendency to rise on payroll Fridays no matter the result. Weak reports are seen as a positive because they mean it's likely to prolong the era of ultra low interest rates. Strong reports boosts stocks on expectations of increased consumer spending, bolstered confidence, and as a result, higher corporate earnings growth.
So no surprise then, stocks are rallying on a soft report given one of the major worries for investors in the new year is the risk of a faster-than-expected pace of tightening by the Fed. Officials have penciled in three quarter-point hikes in 2017 on the risk that aggressive fiscal policy stimulus from the incoming Trump Administration will boost GDP growth and inflation.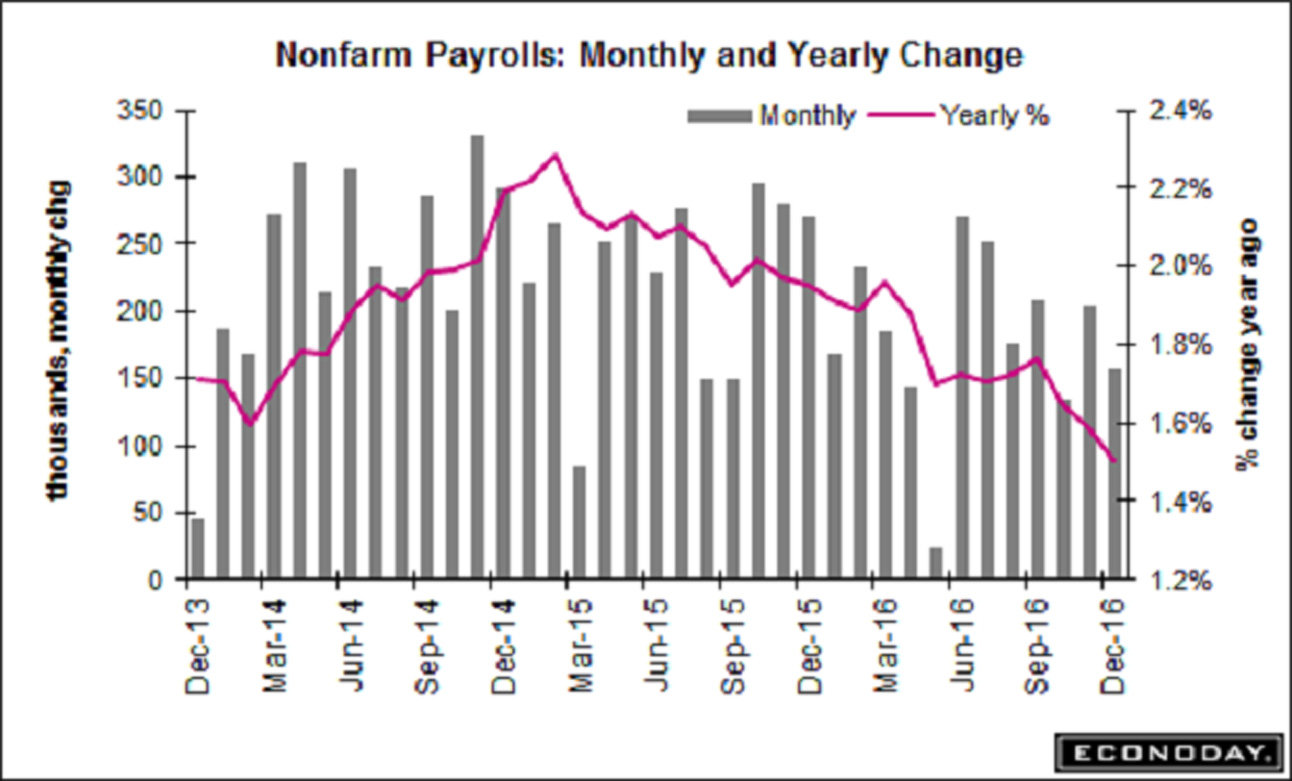 Should job creation continue to decelerate, the Fed will be hard pressed to stick to this three-hike forecast. Hiring has clearly declined from its monthly pace seen over the summer (chart above). It's hard to say what's driving the slowdown, given the surge in post-election confidence, the end of the two-year corporate earnings recession and a rebound in the energy sector.
No matter. Because as we've seen time and time again, little else gets Wall Street as excited as the prospect of more cheap money.
Anthony Mirhaydari is founder of the Edge and Edge Pro investment advisory newsletters. A two-week and four-week free trial offer has been extended to InvestorPlace readers.
More From InvestorPlace