What will 2017 hold for income investors?
Let's sort through the current hysteria regarding interest rates, Trump and inflation. Thanks to some first-level insanity, there are once again pockets of value that pay meaningful dividends of 6%, 7% or better.
And many have some price upside to boot! Why?
Because Rate Hikes Will Probably Disappoint
This time last year, the Fed was promising four rate hikes over the next twelve months. The "smart money" crowd (via Fed Funds futures prices) was betting on two. And both parties were too aggressive as we saw just one rate hike in 2016.
Today we have Yellen & Co promising three hikes in 2017, while the futures markets say just two:
The Smart Money Bets 2 Hikes in 2017
Given their track records, I'm inclined to take the "under" on both predictions. But it doesn't really matter if we see one rate hike or two (or even three) next year.
The income investments I like best have already been discounted well in excess of their rate hike risk. I'll highlight a few in a minute – but first, let's address the long-term rate boogeyman, too.
The Long Bond Needs a Breather
The 10-year Treasury rate has nearly doubled off its summer lows. It pays 2.5% today and, quite frankly, needs a breather:
The 10-Year Yield Won't "Go Parabolic"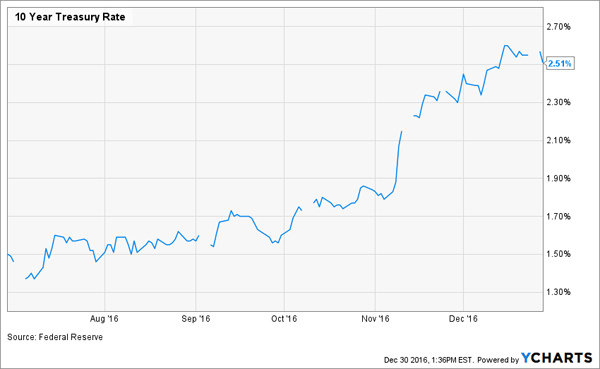 When everyone believes long-term rates have nowhere to go but up, you know what happens – they drop. Get ready for a pullback that will surprise everyone.
Best Dividend Buys Until Reality Sets In
A conservative Fed and a correction in long-term rates will send the share prices of our favorite dividends stocks and funds higher, which will compress their yields lower. Which means the best time to buy them, and maximize our current yield and upside, is right now.
Municipal (muni) bonds are great bargains today. They pay 10%+ tax equivalent yields, and certain funds have 40% upside over the next 12 months. It's been a rough 6-months for the sector, but these four prominent funds appear to be carving out a bottom (as I forecasted last month):
Muni Funds Bounce – Hopefully You Bought!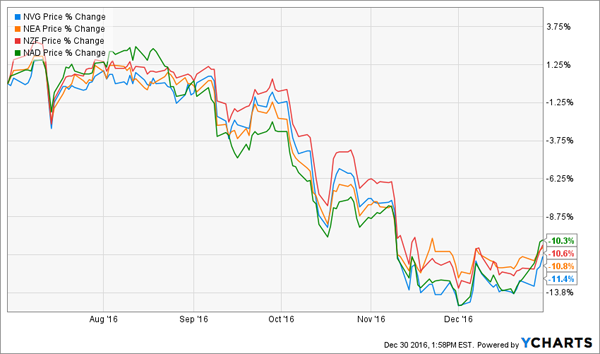 There's still plenty of upside in these funds. Nuveen's AMT-Free Municipal Credit Income Fund (NVG), for example, pays a 6.1% annual distribution and trades at a 7% discount to its net asset value (NAV). This means you're buying its holdings, which were handpicked by savvy manager Paul Brennan, for just 93 cents on the dollar.
But don't be fooled by that "sandbagged" 6.1% yield. It's tax-exempt at the Federal level, which means folks in the top tax bracket are actually banking a 10.1% payout.
Some first-level types worry that Trump's tax cuts will make munis less attractive. But even if the top bracket drops to 33%, you're still looking at a 9.1% tax-equivalent payout.