Let's say you want to lock in a passive retirement income of $80,000 per year.
If you go with what most investors mistakenly see as the safest route, long-term US Treasuries, you're going to need $3.3 million. That's because 10-year Treasuries are paying a wimpy 2.4% interest rate today.
Investors who buy Treasuries often shrug off numbers like that. "So what?" they say, adding that Treasuries are about as low-risk as you can get.
Too bad they're wrong.
If you buy into Treasuries and want to resell them before they mature—perhaps to deal with a big expense that comes out of nowhere—you have a pretty good chance of losing money. Take a look at the movements of the iShares 20+ Year Treasury Bond ETF (TLT) over the past five years:
Treasury Volatility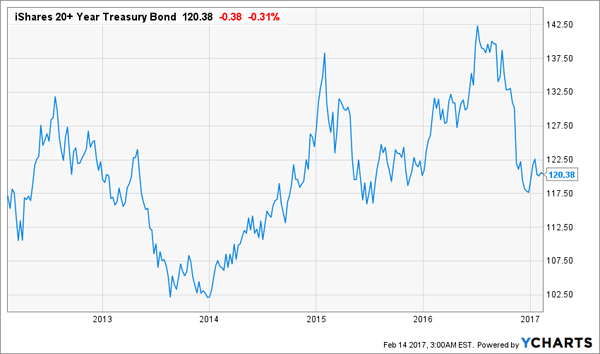 Here's what this tells us: if you were unlucky and bought at the peak in mid-2016, you're down 15.5% in just a few months.
Otherwise, there were several periods in every single year where your purchases would result in you losing money if you needed to sell at those times. And you'd really only come away with a meaningful profit if you were lucky enough to buy at the end of the Federal Reserve's quantitative easing program in late 2013.
Long story short: buying Treasuries does not protect your capital if you need to access that money before the bond's term is up. If you're buying 10-year bonds, that means losing complete access to $3.3 million—just to get the middling yield these investments pay.
Luckily there are better options.
I'm talking about a series of other, higher-yielding investments that can get you the same amount of income with much less cash invested. They're widely misunderstood by investors, but the truth is they don't introduce much more volatility than US Treasuries. And that, in my opinion, is a small price to pay for their stronger return potential.
Let's take a close look at each one, starting with…