Several companies knocked the earnings cover off of the ball last night, and this has resulted in some great breakouts to watch in today's 3 Big Stock Charts. Specifically, Nvidia Corporation (NASDAQ:NVDA), Walt Disney Co (NYSE:DIS) and Tripadvisor Inc (NASDAQ:TRIP) should all be on your radar today.

We'll start with a heavily covered chart — Nvidia — and move on to Disney, which is reeling from another poor ESPN performance. We'll finish with Tripadvisor as we head out of earnings and into the busy travel season.
Nvidia Corporation (NVDA)
We covered NVDA shares last week as the stock was heading into an earnings announcement, commenting that we like the lack of excitement ahead of the announcement as it suggested that the "buy the rumor" crowd was absent.
The morning after a great earnings report, we're now seeing the "buy the news" traders rush into NVIDIA shares, punching them more than 10% higher.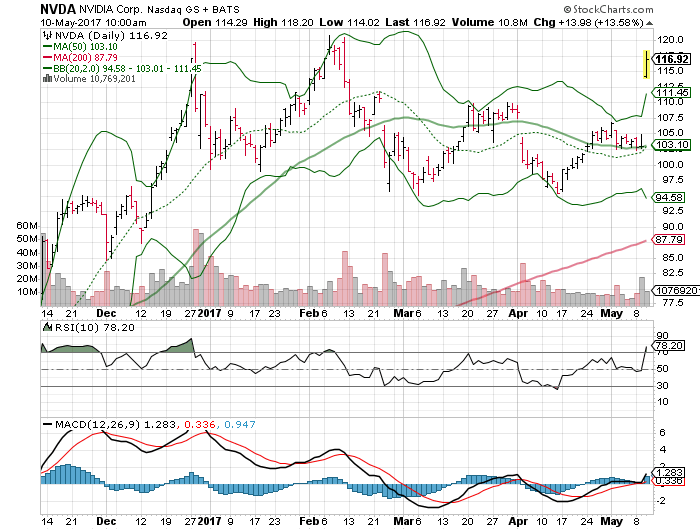 The stock's move will break it back above the April highs and confirm support from the 50- and 100-day trendlines that recently came into play. This move also opens Nvidia shares up to a challenge of $120, a chance to break into new high territory.
For the short-term, expect the chart to see little-to-no resistance at $115, we think that the volatility rally that is now ensuing will shoot NVDA stock right through $120.
Remember, only 52% of the analysts holding an opinion on Nvidia rank it a buy. Given the report and the move in the stock, we're expecting to see some upgrades drive prices even higher.
Walt Disney Co (DIS)
The Mouse House came in with a report that beat expectations, with some obvious questions. Production and parks continue to show-up for the company, but programming like ESPN continues to drag on the company's results.
The stock's chart is showing that there may be some hope for the short-term traders and even longer-term holders of the stock.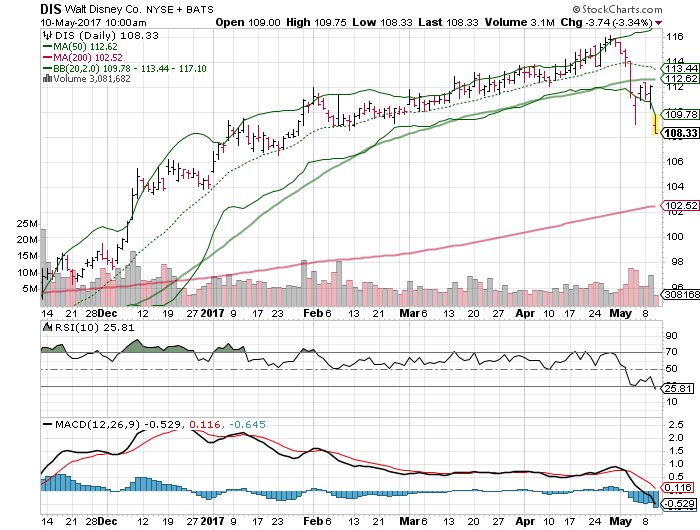 From a short-term perspective, Disney stock is hitting an oversold signal on this morning's reaction to the numbers. The signal is coming at the same time that Disney is hitting $110, which traders should pay attention to; $110 is the site of round-numbered support that has provided for the stock before.
In addition, Disney shares will also see some longer-term buying interest as they approach $103.