Not much has changed for Alphabet Inc (NASDAQ:GOOG, NASDAQ:GOOGL), except everything quite apparently! Following a massive rally and rejiggering of sentiment, is GOOGL stock a buy, sell, hold, exit or maybe some combination of the aforementioned?
It never ceases to amaze how quick the market can be to change its tune. GOOGL stock is appreciating that type behavior once more after Alphabet delivered a rousingly good earnings report, which now, even widows and orphans must take notice of!
But it wasn't that long ago when the narrative in Alphabet was distinctly less optimistic. Investors were up in arms, as were advertisers, over commercials being aired on videos promoting terrorism and other non-tolerant behavior.
If one was to believe the fairly loud story line, the loss of ad revenue was going to wreck GOOGL stock's parent company. Then along comes Alphabet's earnings and a quick forgive-and-forget reaction worthy of entry into the Trader's Almanac is offered.
What's next for GOOGL stock? There is Alphabet's annual I/O developer conference which begins today. But could there be a shot fired over the bow at bullish investors? As InvestorPlace's Dana Blankenhorn notes, maybe longer term if the company can't build itself out beyond its OEM software model.
Without getting too ahead of ourselves, GOOGL stock is appreciating how other investors have possibly gotten a bit too far ahead of themselves.
GOOGL Stock Weekly Chart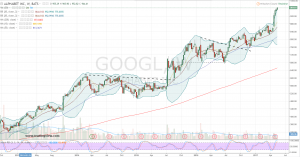 Click to Enlarge Looking at the weekly chart of GOOGL stock and there's little reason to try and buck the current uptrend in motion. In saying that, though, buying on a pullback or discount likely makes better sense right now.
Our cautious stance is supported by an overbought stochastics condition as shares of Alphabet enter a fourth and fragile week of price action bid outside the upper Bollinger Bands.
Should GOOGL stock oblige our technical forecast and begin to pullback in earnest, I like the idea of anticipating a decent, but far from atypical correction of about 6% to 7% in which to consider buying shares.
The percentage correction translates into a price range from around $897 to $907 and lines up closely with filling the earnings gap, a 50% retracement from the recent and the last significant pivot low in March. As much, the corrective value becomes a much more attractive spot to use as a backstop in selecting a GOOGL options strategy.
GOOGL Modified Bear to Bull Put Butterfly
Considering my belief GOOGL is in position for a corrective move and ultimately having an eye on buying shares at a discount, a modified June $925/$915/$895 put butterfly is an interesting candidate. With GOOGL stock at $964.60 the spread can be purchased conservatively for even money to maybe a small credit of 10 to 15 cents.