Shares of Netflix, Inc. (NASDAQ:NFLX) have put together a nicely packaged move of late. But the bad news? If I'm right, NFLX stock is facing another episode of horror for bulls — set to air this Monday night.
Netflix earnings for the second quarter will be released after the close this coming Monday, July 17. And in front of one of the market's more consistently entertaining corporate confessionals (if we use price volatility as our gauge), Morgan Stanley decided to step up to the mound and throw its best pitch at investors.
Analyst Benjamin Swinburne offered an "Overweight" reiteration while raising his price target from $175 to $185. The PT lift compares to a median forecast of $170 and implies upside of 17% from Thursday's close of $158.21.
The price hike for NFLX stock is based on the firm's view the market isn't right. Said another way, it "isn't fully appreciating Netflix's potential for materially higher earnings power."
Thursday was apparently no different. Investors more or less tuned out Morgan Stanley's latest pitch, and Netflix fell marginally on a day the Nasdaq Composite did the same.
Investors' collective dismissal isn't surprising. If they're tuned into a trading screen, my guess is one guy's "flat base" of six weeks has more viewers subscribing to a bearish outlook.
Netflix's Chart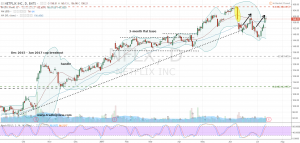 Click to Enlarge The last time I wrote about NFLX stock on June 21, I was concerned the worst of Netflix's early June price collapse hadn't yet come. The expectation was a bearish flag stymied by the 50-day simple moving average would act as a technical wall and ultimately force Netflix to reverse lower.
That's not to say I was altogether bearish. I noted if shares eventually reeled lower into the $133-$140 price zone; the deeper corrective action and testing would have our interest as potential buyers.
It turns out the moving average failed, but shortly thereafter the flag pattern did reverse. NFLX stock then went on to hit new relative lows, though not so severe as to make my initial forecast look privy to inside information.
Currently, I can't help but notice the rhyming-like symmetry of a second flag. Once again, the blue-coated institutional moving average has failed to act as resistance for bearish decisions in NFLX. AAlso, a doji candlestick has formed into resistance associated with the June 8 algo-driven micro flash crash.
How to Trade NFLX Stock Before Earnings
With Netflix's second-quarter report due out Monday evening, the risk of a substantial gap and/or heightened price volatility is obviously elevated.