It seems that America's favorite value investor, Warren Buffett, enjoys the wind in his hair and the sun on his back. Well, at least when it comes to renewable energy. The Oracle of Omaha continues to dive head-first into new renewable energy projects for various subsidiaries of Berkshire Hathaway (BRK.B).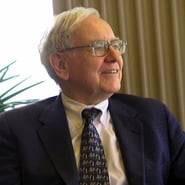 And Warren Buffett isn't pulling any punches when it comes to spending on solar and wind energy installations.
Speaking at Edison Electric Institute's annual convention, Buffett said that Berkshire had already plowed billions — $15 billion, in fact — into green energy sources so far. However, he sees that amount doubling over the next few years, as Berkshire's various utility subsidies continue to add exposure to solar, wind and other energy projects.
The reason is quite simple: Renewables are a longer-term asset class, backed by long-term cash flows. And Buffett is the ultimate long-term investor.
For us regular retail investors, we don't need to bet directly on BRK stock or its holdings in the sector. There are plenty of ways to play Warren Buffett and his newfound love renewables. Here are four of the best energy stocks for anyone who wants to bet alongside Buffett:
Warren Buffett Renewable Energy Pick #1: First Solar

So, with Buffett planning on spending an additional $15 billion or more on renewable energy projects for Berkshire, First Solar (FSLR) may be a huge recipient of some of that money.
Since reimagining itself a few years ago, FSLR has become less of a photovalic panel producer and more of a builder of large utility-scale solar farms. Essentially, First Solar builds then leases or sells outright these massive multi-gigawatt power plants to energy starved utilities. So far, those solar farms continue to be a main driver of FSLR's profits.
And Warren Buffett has been right there, driving some of those profits.
Back in December of 2011, Buffett's MidAmerican Utility made its first leap into solar power by paying $2 billion for a solar farm built/owned by FSLR. It followed that deal by buying a 49% stake in another one of First Solar projects. Both of these deals were backed by long-term purchase agreements.
With FSLR's backlog of new projects for construction/sale growing to a hefty 2.8 gigawatts (GW), it stands to reason that Buffett will be big buyer of several of them.
Warren Buffett Renewable Energy Pick #2: SunPower

Who else might Buffett give the nod to? That would be FSLR rival SunPower (SPWR).
Like First Solar, oil & gas giant Total (TOT)-backed SPWR has switched from being strictly a solar panel producer to being a builder of mid-scale solar arrays. And like FSLR, SPWR has already racked up some big contracts with Warren Buffett and his renewable energy subsidiaries. Last year, SPWR sold a pair of solar farms to MidAmerican. Those two neighboring installations were the largest solar arrays in the world.
The news of the buy also caused SPWR stock to jump by more than 41%.
It stands to reason that Buffett and Berkshire will give SPWR a call again when it finally begins putting its cash to work in the solar sector. In the meantime, SunPower's recent return to profitability is a positive development for shareholders.
Warren Buffett Renewable Energy Pick #3: Siemens

Warren Buffett's renewable energy love doesn't just stop at solar. He's a big fan of wind energy as well. Around this time last year, MidAmerican announced that it was going to spend around $1.9 billion on adding wind capacity in Iowa — where wind energy has actually become cheaper than natural gas as a source for electricity.
Getting $1 billion of that cash was German industrial giant Siemens (SIEGY).
Siemens is one of the world's largest suppliers of wind turbines, and under the terms of the deal, the company gave Buffett nearly 1050 MW worth of generating capacity — just over 650 turbines. That order was the single biggest purchase of wind power equipment for land-based turbines ever. More importantly, it follows a 2010 order that MidAmerican made with SIEGY for 258 wind turbines.
Given history, odds are pretty good that Buffett will tap the German giant again when he starts cutting checks for his next wind project.
Meanwhile, SIEGY stock is reasonable priced at a forward P/E of just 13. That actually makes it cheaper than industrial and wind turbine supplier General Electric (GE).
Warren Buffett Renewable Energy Pick #4: NRG Yield

Finally, Warren Buffett and Berkshire's main attraction to the renewable energy sector is the long-term operating contracts and cash flows owning a solar or wind farm can provide. For retail investors, the appeal should be the same.
To that end, NRG Yield (NYLD) could be a great pick.
NYLD is what's known as a YieldCo. Basically, a utility — in this case NRG (NRG) — places existing power plants and projects into new subsidiary and then sells a stake in the firm to the public. The kicker is that the power projects in the new subsidiary are tied to long-term and predictable power purchase agreements. NRG is able to "drop down" projects into NYLD similar to a how an MLP works, and most of the cash is distributed to shareholders through dividend payments.
NYLD currently yields 2.7%, and those dividends will keep rising.
NYLD just purchased the country's largest wind farm to add to its generation base. That buy will increase NYLD's earnings by $220 million and cash flows for dividends by $70 million. This follows two recent solar farm purchases from parent NRG.
At the end of the day, NYLD's YieldCo status makes it a perfect Berkshire renewable energy clone for retail investors.
As of this writing, Aaron Levitt did not hold a position in any of the aforementioned securities.