Shares of luxury electric car maker Tesla Motors Inc (NASDAQ:TSLA) are on the move Tuesday, charging up and over its 50-day moving average in what looks like an end to a four-month downtrend.
TSLA stock have been mired in stasis since early 2014 as excitement over the launch of the Model X SUV and the unveiling of the Model 3 have given way to doubts about the company's ability to execute and ramp up production while maintaining quality.
In addition, problematic headlines from Model S post-crash fires to fatalities related to the use of Tesla's Autopilot feature hasn't helped the brand Elon Musk is trying to build. Nor has it helped TSLA stock. Regulatory hurdles, too, are an unknown amid efforts to increase Autopilot functionality.
What's more, it's no secret that Elon Musk and President-elect Donald Trump do not see eye to eye regarding climate change, and the incoming Trump administration may well withdraw many of the government subsidies Tesla relies on to make its products more competitively priced.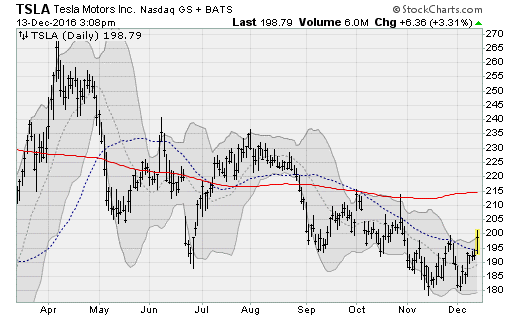 And while Deutsche Bank analysts resumed coverage of TSLA stock with a $215 price target from its previous target of $290, broad-based strength in technology momentum stocks, such as Apple Inc. (NASDAQ:AAPL), Alphabet Inc (NASDAQ:GOOG, NASDAQ:GOOGL) and others, helped TSLA stock test the $200 mark into the close.
The company will next report results on Jan. 25 after the close. Analysts are looking for a per-share loss of 8 cents per share on revenues of $2.3 billion.
Anthony Mirhaydari is founder of the Edge and Edge Pro investment advisory newsletters. A two-week and four-week free trial offer has been extended to InvestorPlace readers.
More From InvestorPlace