Uncertain market expectations seem to have left the Nasdaq Composite relatively unscathed as the tech-heavy index has been able to maintain some strength over the last week as the rest of the market has listed lower as the Dow Jones Industrial Average appears frightened to ring the 20,000 bell.
A few names in the tech sector made moves higher over the last week, including notables like Amazon.com, Inc. (NASDAQ:AMZN), Starbucks Corporation (NASDAQ:SBUX) and Adobe Systems Incorporated (NASDAQ:ADBE). All three of these Nasdaq 100 heavy hitters shot higher over the last three days, though all three don't have charts to support higher prices from here. Today's three big stock charts look at the technical breakouts of these three stocks and which are more likely to hold.
Amazon.com, Inc. (AMZN)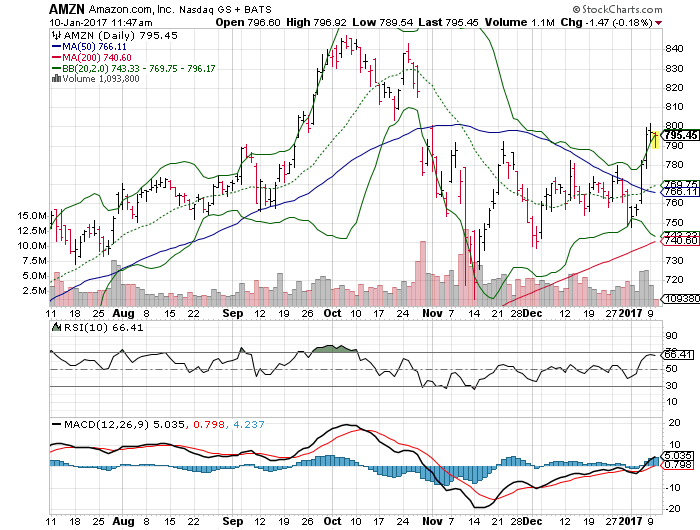 Amazon sharers have been lagging the market for some time as the online retailer has failed to grab enough traction to get out of its trading range. AMZN shares had been trapped by resistance at the $780-price-level since the beginning of November. This ceiling was broken, or at least cracked, yesterday as Amazon shares made an intraday high above this resistance.
In addition, the move cracked the top Bollinger Band for AMZN, a move that could accelerate the rally higher, but there's a catch. The Bollinger Band has the potential of reversing Amazon stock back into its trading range. As of late-morning trading, AMZN shares were trading just below the top Bollinger Band, sitting at $795.
Traders will want to keep an eye on this specific price level as a close on Tuesday below this mark will help propel Amazon shares lower as technical traders begin to take their short-term profits off the table. In addition, the $800-level serves as a round-numbered resistance mark that short-term traders may play off.
Summing it up, AMZN's short-term make-or-break level to watch is $800. A reversal from here will move the stock towards support at $750 again and give nimble trades an opportunity to profit from the range-bound stock again.
Starbucks Corporation (SBUX)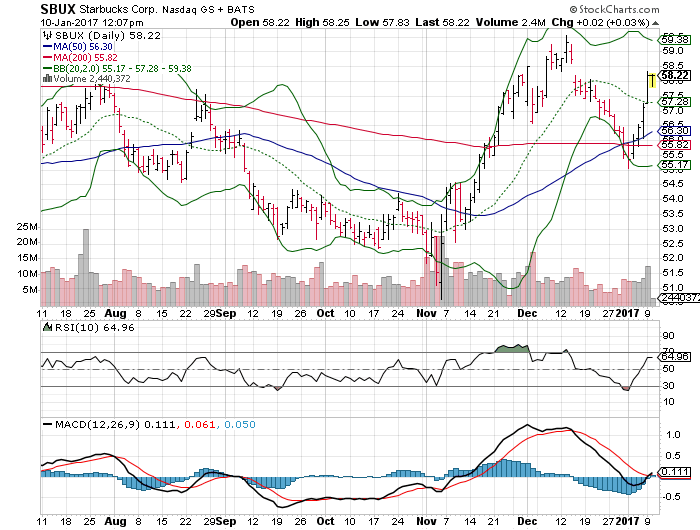 Another Nasdaq 100 stock that popped higher in the last few days is Starbucks. Unlike Amazon, SBUX's move appears to be more sustainable as the stock is seeing an intermediate-term bullish signal that doesn't flash that often.
As of Monday, Starbucks shares completed what technical traders refer to as a "Golden Gross". The pattern is completed when a stock's 50-day moving average crosses above its 200-day. The signal often indicates the strengthening of a stock's intermediate-term trend. This is the case with SBUX now.
Starbucks' 50-day moving average moved into a bullish pattern in mid-November when the 50-day moving average turned higher and started to ascend. Historically, the shares double the likelihood that each trading day will see higher prices when the 50-day remains in this pattern.
We're likely to see some consolidation over the next few trading days given the near-overbought reading that is coming from the stock's RSI right now. That said, any weakness is likely to be nothing more than a short-term buying opportunity to get into Starbucks shares before they start notching higher.