Trading remains tight as the market prepares for the fourth-quarter earnings season to get off to its start. Historically, we look at this period as the set-up for a late-January and February correction as stocks tend to see weakness hit the market about halfway through the first quarter.
For the most part, stocks have started to trade more closely as the correlation of the S&P 500 continues to improve. That said, we're still seeing some reversals and breakouts as headlines are the main driver during this relatively quiet period leading into earnings season. Valeant Pharmaceuticals Intl Inc (NYSE:VRX), Williams Companies Inc (NYSE:WMB) and Rite Aid Corporation (NYSE:RAD) are among the movers over the last two days, providing chart watchers with opportunities for short-term trades based off of their headline news.
Valeant Pharmaceuticals Intl Inc (VRX)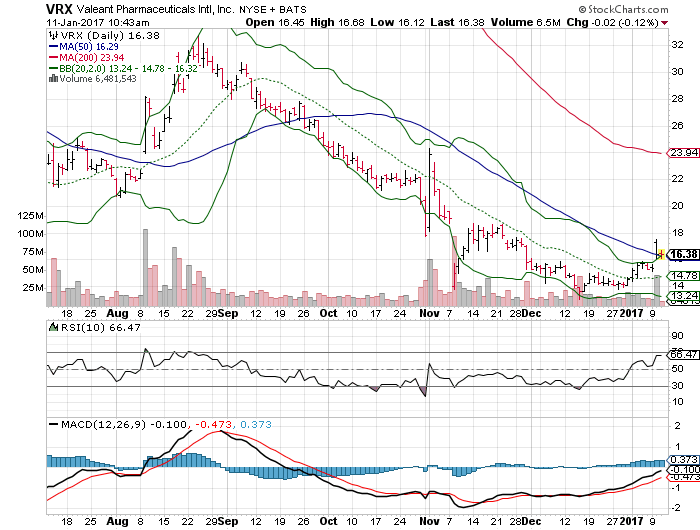 After news that the company was making divestitures of product lines to focus on their core businesses, Valeant shares skyrocketed by more than 12%. The move was also fueled by the news that VRX was reaffirming their outlook for fiscal year 2017.
The news took Valeant stock above its 50-day moving average for the first time since late September, but the move may be short-lived as selling pressure is coming in already to push shares lower.
In addition to pressure from the 50-day, VRX stock has shot into short-term overbought territory because of the massive move. This is also luring technical traders in to sell their positions for short-term profits, or to sell the stock short on expectations that the shares will take the 12% decline back over the short-term.
The bet against the rally holding is likely the smart money move as Valeant continues to struggle from a chart perspective as the short-term bears continue to maintain control over this storied stock.
Williams Companies Inc (WMB)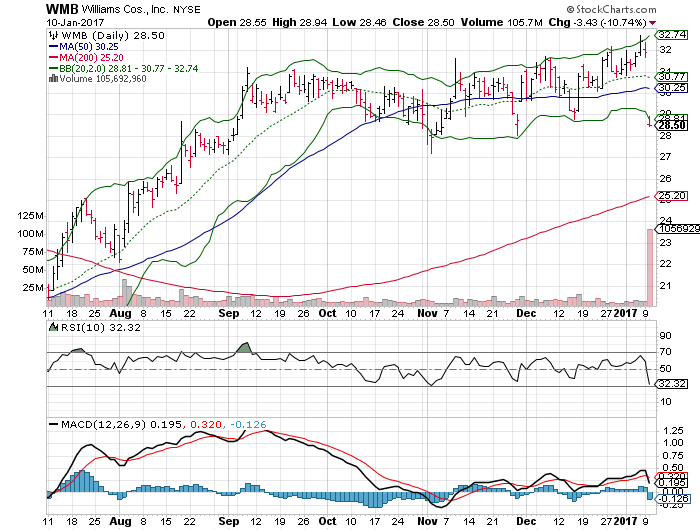 Williams shares were punished on Tuesday as the company went through with the purchase of shares of Williams Partners LP (NYSE:WPZ) as part of a corporate action move. WMB shares reflect the expected affect to the balance sheet of Williams Companies, which is why the price dip should be somewhat of an opportunity to buy WMB shares on a fabricated dip.
The one-day decline in Williams Companies shares puts the stock at round-numbered support from the $28-level. This price point has been supportive in the past and it should put some buying into the market. In addition, the decline shoots WMB shares directly into a technically oversold reading, which will garner some technical buying.
The intermediate-term trend for Williams has been improving as the stock's 20-, 50- and 100-day moving averages are all converging just above the $30-level and are trending higher. Once WMB shares rally back to this point, we should expect to see the market fuel another rally higher.