Business for Nvidia Corporation (NASDAQ:NVDA) appears to be firing on all cylinders, but the charts of NVDA stock are showing a trend in motion that's a wee bit top-heavy. Thus, if you're looking to get on board one of the hottest stocks of the past year, I have a trade idea that helps discount some of the hype.
If we're to believe Nvidia's latest earnings report, it just doesn't get any better. It was a "great finish to a record year" as the company topped forecasts and bumped up guidance.
But there lies the rub. NVDA stock is faced with the possibility of becoming a victim of its own success on and off the price chart.
Longer-term, Nvidia appears to be in all the right markets poised for secular growth. From autonomous vehicles to gaming to virtual reality to cloud computing, NVDA is well-positioned for continued success. You'll get no argument from me here.
But Nvidia's success isn't exactly a secret at this point, and that's becoming a growing problem. For one, there's an inflated price for admission, with Nvidia stock sporting lofty ratios such as a forward price-to-earnings ratio of 33, price-to-sales of 8.5 and a price/earnings-to-growth ratio of 3.4.
Plus, NVDA now faces rising operating costs, potential gross margin compression, as well as data center, custom silicon and GPU workarounds competition. Nvidia could prove a very costly investment.
Failing that, the chart of NVDA stock is warning that a day of reckoning is nigh.
Nvidia Stock Chart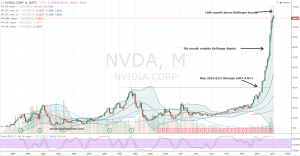 Click to Enlarge With NVDA shares up roughly 300% in the past 52 weeks, traders buying shares today are placing a lot of technical faith in extreme momentum continuing, rather than an overdue cycle of profit-taking beginning.
In my view, bullishness at Nvidia's current price is misplaced.
After 10 months of price action remaining tethered to Nvidia's upper Bollinger Band, shares are forming a bearish topping candle on the monthly chart. That's after hitting a brief and marginal all-time high in the immediate aftermath of the earnings report.