U.S. equities mostly finished lower on Thursday in choppy, uneven trading as traders tried to make sense of Wednesday's bizarre market meltup in response to a rate hike from the Federal Reserve.
It was the second tightening move in three months; a big-time acceleration from the prior pace of two rate hikes in the last ten years. And it comes despite a slowdown in the "hard" economic data such as retail sales, pulling the Atlanta Fed's GDPNow estimate of Q1 growth to just 0.9%. Thus, a rate hike should've been seen as a negative.
But instead, the exact opposite of what one would expect happened: Stocks and bonds rose, gold climbed, and the dollar weakened.
Today, some of that hysteria was unwound: The Dow Jones Industrial Average lost 0.1%, the S&P 500 lost 0.2%, the Nasdaq Composite gained a fraction and the Russell 2000 gained 0.2%. Treasury bonds were weaker, the dollar extended its weakness, gold gained 2.2%, and oil fell 0.2%.
Financial stocks led the way with a 0.3% gain while utilities and healthcare were the laggards, down 1.1% and 0.9% respectively. Troubled action camera maker GoPro Inc (NASDAQ:GPRO) surged 15.8% after announcing a restructuring program to reduce expenses and push towards profitability.
Tesla Inc. (NASDAQ:TSLA) gained 2.5% after announcing a plan to raise around $1.2 billion in new capital via stock and convertible debt to strengthen its balance sheet and reduce risks related to the launch of the Model 3.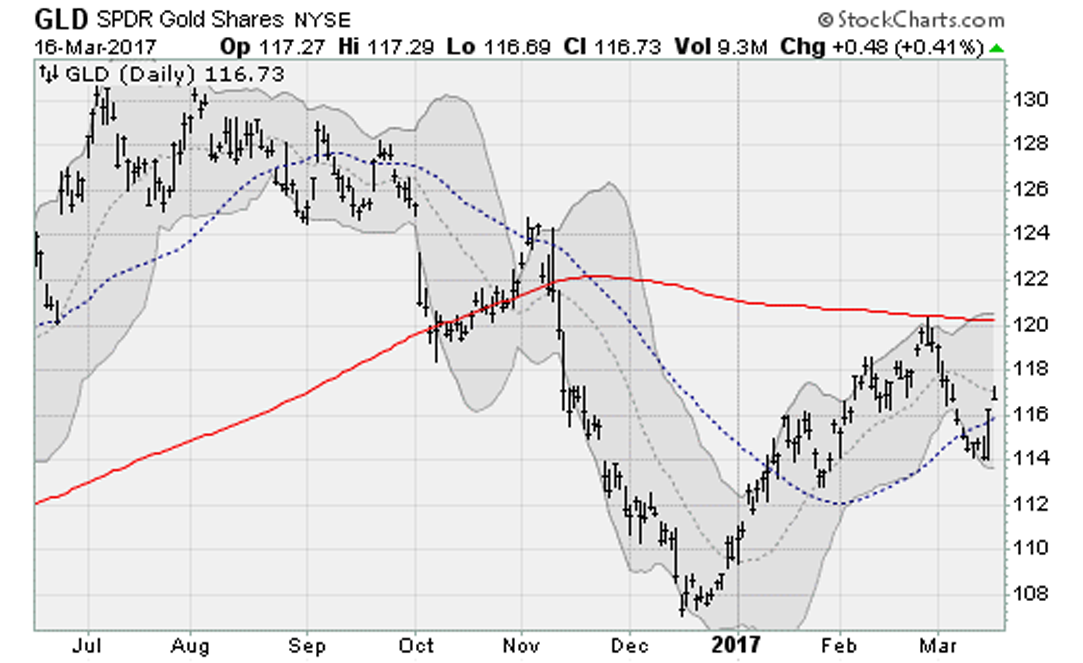 Turning back to the market's reaction to the Fed, Goldman Sachs economist Jan Hatzius warned in a note to clients that traders had misread the Fed's tightening intentions and that the surge was "not the reaction the Fed wanted" and thus "will likely make them more inclined to tighten policy." This sentiment was echoed by RBC analysts, who said the "Fed is now forced to walk back the market's incorrect dovish interpretation" of their policy stance.
Watch for Fed officials to start making very public statements that with inflation rising and the job market strong, they are ready and able to further raise rates to lean against potentially destabilizing frothiness in asset markets.
Indeed, the rise in precious metals shown above suggests the market is pretty much daring the Fed to prove their hawkish mettle here after years of ultra-dovishness has undermined their inflation fighting credibility.
Anthony Mirhaydari is founder of the Edge (ETFs) and Edge Pro (Options) investment advisory newsletters. A two-week and four-week free trial offer has been extended to InvestorPlace readers. Redeem by clicking the links above.