Thinking of avoiding closed-end funds, now that we've got another Fed rate hike in the books?
It's easy to see why, with the "smart money" — traders betting through the Fed funds futures market — expecting another hike just three months from now. In all, the market's calling for three hikes this year, and so is Janet Yellen.
One Rate Hike Down, Two to Go?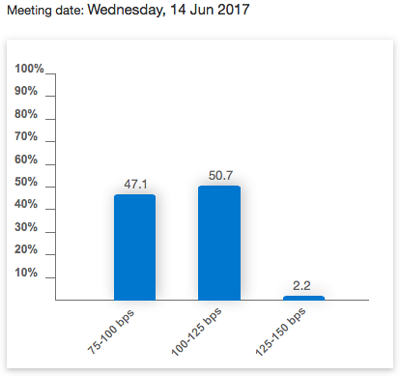 But if you let that scare you away from high-yield sectors like CEFs, real estate investment trusts and preferred shares, you'll miss out on some serious income.
In a moment, I'll show you how to pick the CEFs with the most upside, along with the high payouts these funds are known for.
First, here's why I'm pounding the table on them now.
Busting a Big CEF Myth
When many folks think of CEFs, the first word that comes to mind is leverage, and the risk that funds' borrowing costs will spike along with rates.
And it's certainly true that borrowed cash plays a big part in CEFs' outsized dividend payouts.
Take the Calamos Strategic Total Return Fund (NASDQ:CSQ), one of the oldest equity-based CEFs (CSQ holds 63% of its portfolio in common stocks, with the rest in corporate bonds, convertible bonds and preferred shares).
Thanks to leverage, the fund's management team can borrow cheaply, at around the LIBOR rate (more on that in a moment) to buy investments with higher returns. The difference heads out to investors in the form of dividends.
It's why CSQ can hold stocks with middling dividend yields, like Apple, Inc. (NASAQ:AAPL) and JPMorgan Chase & Co. (NYSE:JPM), yet hand its shareholders a 9.0% payout.
So it's no wonder CEF investors are concerned. But history suggests now is not the time to avoid the space—it's time to get greedy for yield instead.
To see why, let's look at the last rising-rate period, from July 2004 through June 2006. Back then, the 3-month LIBOR rate, which moves in lockstep with the Fed funds rate, spiked to 5.48%. And at 1.7% at the outset, LIBOR was starting at a much higher baseline than today's 1.1%.
That's an explosion—and it should have demolished CEFs, right?
Wrong.
Of the 10 largest CEFs by assets under management (AUM) today, six were around then—and all posted double-digit total returns during that two-year span.
What's more, their average return of 17.4% bested the S&P 500's 17.0%.
And three — the Nuveen AMT-Free Municipal Credit Income Fund (NYSE:NVG), the Nuveen California Quality Municipal Income Fund (NYSE:NAC) and the Nuveen Municipal Credit Income Fund (NYSE:NZF) — beat the market handily.
Muni-Bond CEFs Rose With Rates…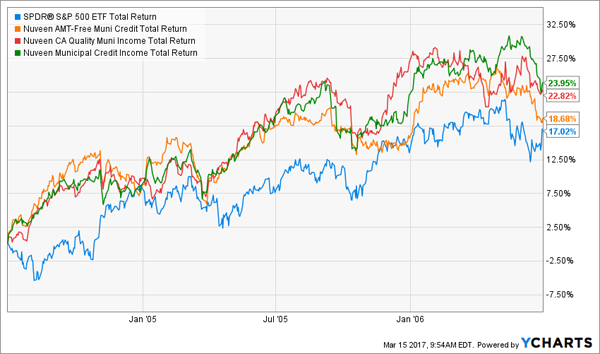 It's true that all three of these are municipal-bond funds, which are the biggest CEF category by AUM. But popular stock-based CEFs — such as CSQ and the Gabelli Dividend & Income Trust (NYSE:GDV), run by famed value investor Mario Gabelli — did just fine, too:
… And So Did Equity Funds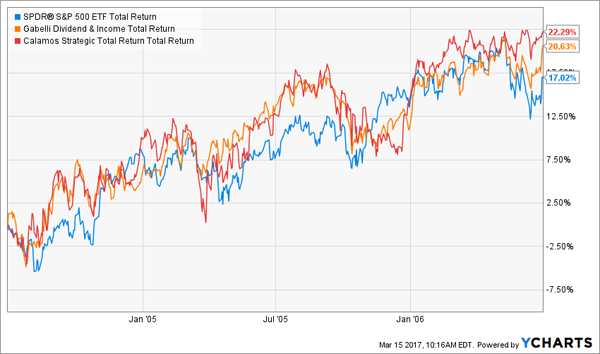 The bottom line?
We've still got a long way to go (and likely not in this rate-hike cycle) before rising rates become a significant headwind for CEFs. And we can give ourselves some extra protection by zeroing in on funds with reasonable leverage.
That's easy: right now, the average CEF's leverage is equal to 33% of AUM, so any fund with a ratio below that will have less to fear from higher borrowing costs. CSQ qualifies, at 29.8%, as does GDV, at just 23.9%.
My No. 1 Rule: Buy the Disappearing Discount
So put your rate fears aside.
Because there's something else that will have a far greater impact on your CEF returns: a fund's discount to net asset value (NAV), and more important, whether management has a plan to narrow that discount.
Here's what I'm talking about…