U.S. equities mostly drifted lower in late trading on Monday amid thin volumes. Algorithms largely fed on each other, resulting in two rapid downticks that took the Dow Jones Industrial Average into the red, rebounded and pushed deeper into negative territory in the final hours of trading.
In the end, the Dow lost a fraction, the S&P 500 gave back 0.2%, the Nasdaq Composite gained a fraction and the Russell 2000 finished the day 0.5% lower.
Treasury bonds were stronger across the curve, dollar was stronger, gold gained 0.2% and oil was hit despite headlines suggesting OPEC could extend its production cut. Crude fell 1.2%, boosting the ProShares UltraShort Crude (NYSEARCA:SCO) recommended to Edge subscribers for a gain of 1.3%, lifting its total gain to 18% since added on Jan. 11.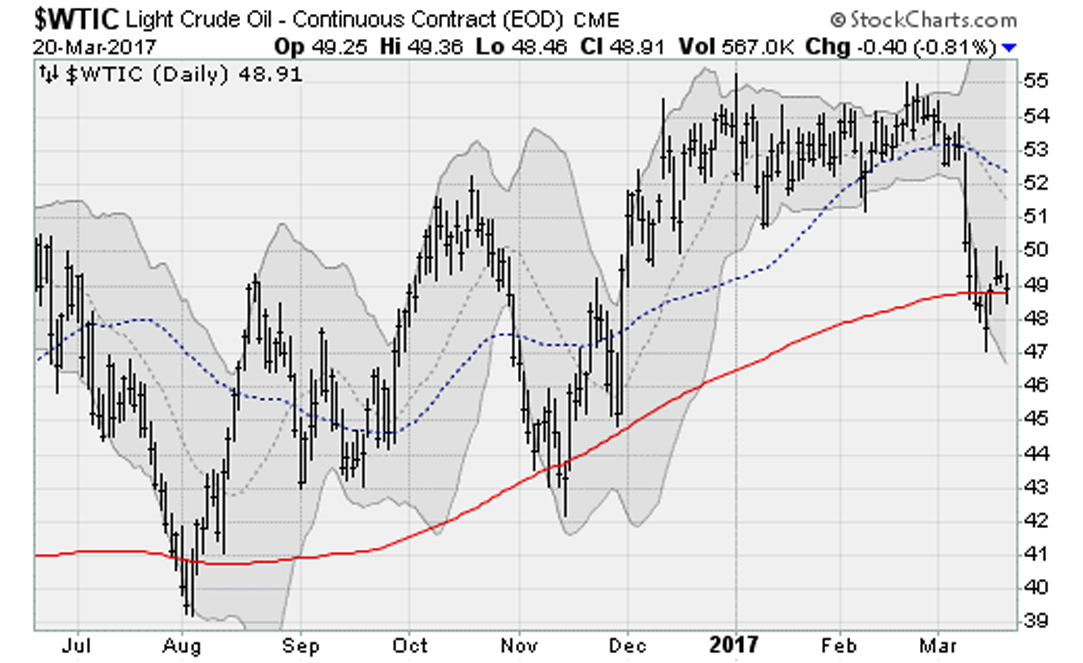 Financial stocks were the laggards, down 0.9%. Materials gained 0.4%. Caterpillar Inc. (NYSE:CAT) climbed 2.7% after reporting improving sales trends. FireEye Inc (NASDAQ:FEYE) climbed 8.7% on an upgrade from Bank of America Merrill Lynch citing valuation. And Nektar Therapeutics (NASDAQ:NKTR) surged 43.3% after announcing a drug in development to treat chronic low-back pain met its primary study endpoint.
Headlines are largely political in nature amid a circus sideshow in Congress as FBI director Comey and his NSA counterpart answer questions on Trump and Russia, and Obama wiretaps. Like any good spook, Comey is saying as little as possible despite speaking many words and answering many impassioned questions. Yawn.
Bigger news comes courtesy of the Federal Reserve, which is no doubt still nonplussed about the very dovish market response last Wednesday to its hawkish policy turn — featuring another interest rate hike (the second in three months) and the promise of another two before the end of the year. I said at the time, as did many Wall Street brokerages, that the Fed would lean against this response (driven by years of the Fed finding any excuse imaginable to not tighten policy) on financial stability fears.
More simply: The Fed has created an epic financial asset bubble. With inflation rising and the job market tightening, it now needs to gently let the air out.
Step one is the so-called "verbal tightening" ahead of another likely rate hike in June. And that's exactly what happened on Monday as noted policy dove and President of the Chicago Fed, Charles Evans, told reporters that there is a chance of four rate hikes in 2017 if the economy strengthens further.
Watch for further hawkishness from Fed officials to dampen sentiment in the days to come.
Anthony Mirhaydari is founder of the Edge (ETFs) and Edge Pro (Options) investment advisory newsletters. A two-week and four-week free trial offer has been extended to Investorplace readers. Redeem by clicking the links above.