A mixed market for traders this Monday as the news over the weekend has failed to get things moving. At the stock level, many companies will pick-up the pace of earnings reports tomorrow after the close as the second half of the earnings season starts to hit a swing.
This morning, earnings news from Tyson Foods, Inc. (NYSE:TSN) has the stock trading 6% lower while shares of Sysco Corporation (NYSE:SYY), the restaurant supplier, are slightly higher after revenue results that were better that what the street had expected.
The other Cisco Systems, Inc. (NASDAQ:CSCO) is struggling with technical resistance ahead of their earnings that are set to hit the street May 17. Right now, the traders should be paying attention to this chart as it has some implications for where the networking giant is likely to head.
Tyson Foods, Inc. (TSN)

Signs that the food industry has been fighting inflation have been clear over the last few years. This morning, Tyson's earnings miss not only had to do with food inflation costs, but also problems at the company's operations level.
The stock has been consolidating across its 50- and 100-day moving averages for the last week, making a hold at this level a must-win for TSN shares.
This morning, these trendlines gave way, allowing Tyson stock to drop more than 6% into a technical no mans land.
TSN shares will start to find support from the chart at $56, but there's a problem even with that price.
Today's move initiates a volatility sell-off as the stock has breached its lower Bollinger Band. Unless Tyson shares move back above this point ($61.37), the selling will continue.
Sysco Corporation (SYY)

A success in the same field, sort of, is the move in Sysco. The restaurant supply company is showing that the consumer discretionary sector is still alive and well as outlooks continue to improve.
SYY's chart is slicing through the top Bollinger Band this morning. What's better is that the stock was already moving into a volatility rally ahead of the earnings announcement. Right now, the volatility rally targets the $58-price.
Longer-term, Sysco stock will have to cool off as shares are currently overbought. Current overbought readings from the RIS are similar to those we saw in December, 2016 as SYY stock was nearing $56, which is just overhead.
Our charts say that the traders should hold-off on new money trades and wait for the daily action to slow on Sysco. In other words, buy the profit-taking dip that is likely to happen before this stock mounts a move to $60.
Cisco Systems, Inc. (CSCO)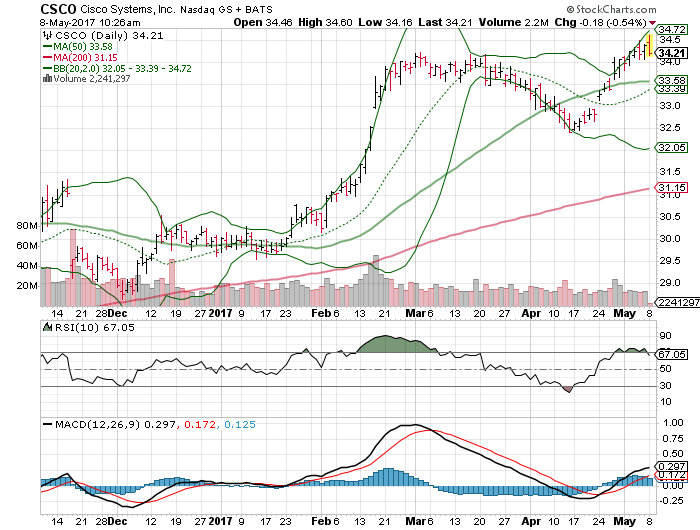 Finally, the network company Cisco is set to announce their results in a little more than a week. The company has been a leader of late, but hanging in there in terms of performance and not outperforming over the last year.
CSCO is one of those companies that everyone expects the world from, making it hard to impress around earnings. The stock is making a familiar trade pattern as we head into next week's announcement, that suggests traders may want to keep their powder dry for now.
We've seen Cisco rally from $32.50 to $34.50 over the last month. A strong move given the market's tepid behavior. Now, shares are stuck in the overbought rut and they are looking like they're ready to drift lower.
The chart indicates that we will see support for CSCO at $33.50 from the stock's 50-day, but even that support level is softening as it rolls over.
So here's what the chart tells us ahead of Cisco's earnings report. Watch for profit-takers ahead of the announcement if/when CSCO breaks $34. From there watch for the opportunity buyers to head in on a break below $33.50. If this happens before the earnings report, then buy that dip and hold on for the rip higher.
As of this writing, Johnson Research Group did not hold a position in any of the aforementioned securities.