I love when analysts, investors, media pundits — anyone — makes too-simple dot-connections between crude oil and solar plays like First Solar, Inc. (NASDAQ:FSLR). Occasionally there's a correlation on the charts, but it's often not a tidy relationship, and FSLR stock does some of its "own things."
If you're not convinced, the very disconnected price action should emphasize putting that relationship to rest. First Solar shares are down nearly 55% from its March 2016 high. Just a couple weeks back, the damage tallied 66%.
Contrast that with crude oil — as represented by the United States Oil Fund LP (ETF) (NYSEARCA:USO) — which is off by just 9% from its March 2016 high.
It's not until we actually set the clock back to May 2015 that USO's decline of 55% matches the damage inflicted on FSLR since March 2016.
Do you see the disconnect?
Investors should buy FSLR stock if they like the company for other reasons — not based on where oil is today, tomorrow or next year. And right now, there are some very good reasons to like First Solar as an investment. (It's only coincidental that crude oil is crashing right now.)
For the bean counters, this week's corporate confessional was nothing short of amazing. First Solar easily beat estimates and upwardly revised its outlook. The report reaffirms FSLR's status as best in breed within solar.
FSLR Stock Chart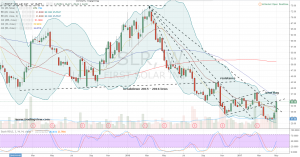 Click to Enlarge While shares have been singed over the past year, shares are starting to regain traction.
Looking at the weekly chart of First Solar stock, shares have come a long way down from their highs in March of last year. Along the way, the stock has put up a few failed attempts at bottoming. Respecting the bearish trend and positioning short has been a very friendly trade.
However, signs — such as the break of a fourth downtrend line and stochastics curling higher from oversold territory — point toward a more bullish change in character.
Investors must respect the risk of the daily chart's bullish gap from Tuesday becoming partially or even completely filled. That's life in the big leagues. Further, while FSLR stock is doing well in the face of USO's recent slide lower, it's butting heads with the 200-day simple moving average.
Translation: I love the heat being generated by FSLR stock, but don't throw caution to the wind.
How to Trade First Solar Stock
Given the overall bullish view for First Solar, I suggest a modified collar strategy. Let's buy shares at $34.20, then sell the Jun $40 call and buy the Jun $32.50/$30 put spread for a debit of $34.50.
This combination entitles the investor to $2.50 (more than 7.5%) protection below $32.50 at expiration, with just 30 cents of premium paid over the current share price. That's nice.
Additionally, the strike placement fits in nicely should a gap fill and test of the 50-day simple moving average occur. That could cut the trader's downside risk by as much as 60% versus simply owning shares.
The catch? The protection is limited — below $30, and the partial insurance coverage will be effectively exhausted. Also, the spread insurance is slower to gain its maximum hedge value.
However, with earnings risk and out of the way and the bullish reaction in First Solar shares, I see this strategy as a stronger play than a traditional collar, which ultimately costs more, using just the $40 call and $32.50 put.
The upside? If FSLR stock cooperates, profits are initially capped at $40, or a gain of 16%. That's not too shabby a return for a holding period of just more than one month.
Lastly, if shares rally strongly toward and through $40 (and all but confirm a new bullish trend), there's nothing you can't roll with the punches using an adjusted collar.
Investment accounts under Christopher Tyler's management do not currently own positions in any of the securities or their derivatives mentioned in this article. The information offered is based upon Christopher Tyler's observations and strictly intended for educational purposes only; the use of which is the responsibility of the individual. For additional market insights and related musings, follow Chris on Twitter @Options_CAT.