The market starts on another down day as the Dog Days of August persist in whittling away the positive backdrop of the earnings season. According to a number of our technical indicators and models, the S&P 500 Index is falling into a deeper chance of seeing a more corrective phase continue through the equally seasonally weak September, which means that traders should be on the lookout for additional opportunities to benefit from falling stocks.
Today's three big stock charts look at the technical pictures of BioMarin Pharmaceutical Inc. (NASDAQ:BMRN), Mondelez International Inc (NASDAQ:MDLZ) and Twilio Inc (NYSE:TWLO) as each of these companies are flashing their own signs that more selling is in their near-term future.
BioMarin Pharmaceutical Inc. (BMRN)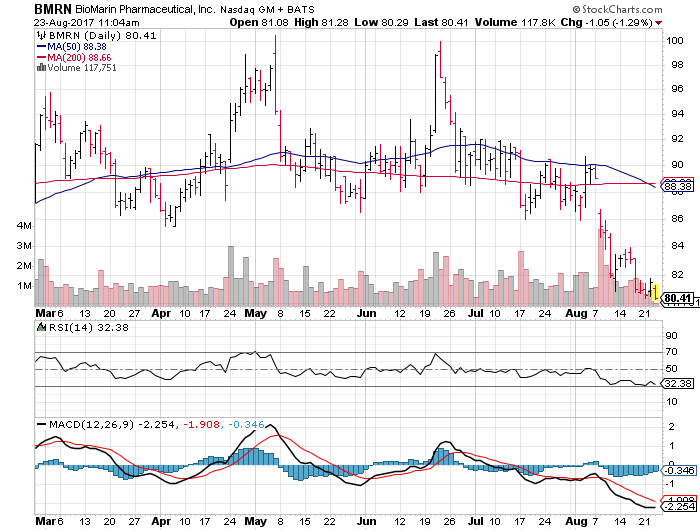 BioMarin stock is pressing hard against the round-numbered support that should be making itself available at $80. So far, the stock has consolidated at this price, but technical pressure overhead is threatening to push the stock lower.
Over the last two days, BMRN stock has seen what is referred to as a "death cross" form as the stock's 50-day moving average has now crossed below its longer running 200-day moving average. Historically, this is a signal that downside risks are increasing as price trends are weakening.
Shares of BioMarin are now trading right at the $80-price, which has historically been strong support for the stock (indicated in the monthly chart below). A break below this mark will add selling pressure, targeting a move that would easily target $75.
From a shorter-term perspective, BMRN shares are trading close to oversold readings of the RSI. This suggests that the stock could see some buying pressure lift shares slightly. That said, the longer-term trends are likely to overrun any short-term price strength.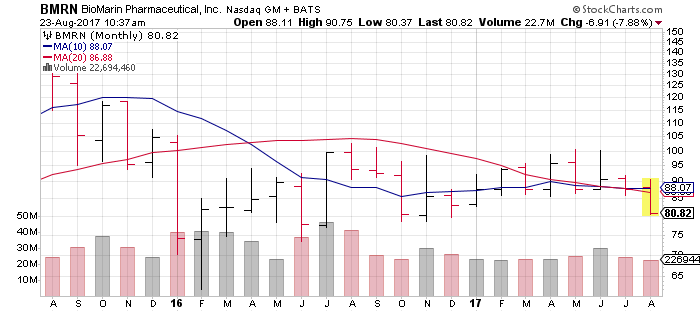 Mondelez International Inc (MDLZ)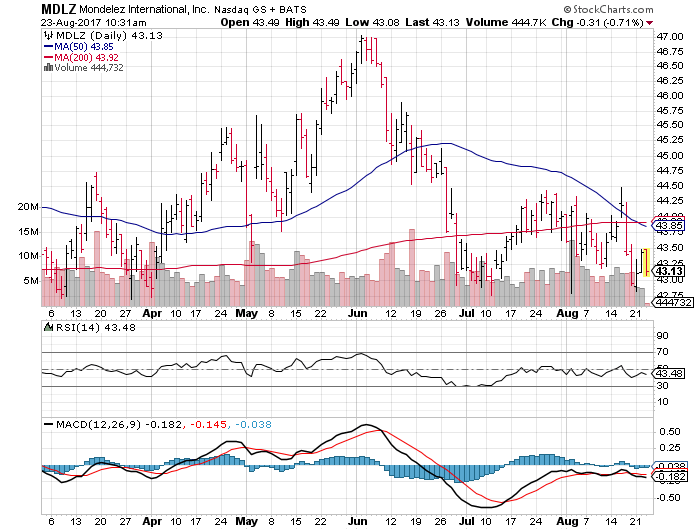 Traders and investors have turned on shares of Mondelez of late as the technicals are now sagging and are underwater for the year.
This should be of concern to the traders out there as consumer staples and goods companies have fallen back in favor for their dividend and lower volatility properties.
Another stock seeing a "death cross" pattern form over the last week is MDLZ. This bearish signal triggered after the stock was rejected at its 50-day moving average last week and fell back below its 200-day moving average shortly afterwards.
Mondelez stock is now balancing on chart support at $43 of which a break below will induce technical selling from traders. The last break or consolidation at this price was in July. At this point, the stock has potential to post a double bottom pattern, which would be a strong bullish signal. Failure to hold $43 will cause the reverse with a bearish signal for traders.
In addition to round numbered support, the $43-price-level also represents the 20-month moving average for MDLZ shares. A break below this trendline will put the stock in a long-term bear market and draw longer-term investors into the market as sellers.