Stocks are rolling over hard in mid-day trading on Thursday, testing last week's "fire and fury" reaction lows related to fears over North Korea. This week, it's the combination of the release of rather hawkish Federal Reserve meeting minutes on Wednesday that's doing the stifling.
The Federal Reserve is talking up the need for tighter monetary conditions despite low inflation, while the political blowback from President Donald Trump's stance on "both sides" carrying the blame for last week's violence in Charlottesville has investors worried.
On a technical basis, the selloff is threatening a break down and out of an epic four-month consolidation range for most stocks. This would end the historic post-election uptrend. And it could set the stage for the first major selloff in the market in more than a year.
For investors, here are three exchange-traded funds (ETFs) to keep an eye on as the selloff develops.
ETFs to Watch During the Market Meltdown: First Trust Nasdaq Equal Weight (QQEW)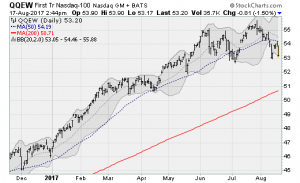 Click to Enlarge One of the dynamics of this uptrend that I have frequently covered in recent weeks has been the increasingly narrow nature of this uptrend. Measures of market breadth have tightened notably, resulting in a large cluster of "Hindenburg Omen" signals on the major averages not seen since the last bull market was peaking.
This was best seen in the way investors focused intensely on the "FAANGs" stocks — a small group of big-tech stocks that carried the major averages higher on account of their large market capitalization.
In the last few days, even this has narrowed to a focus on Apple Inc. (NASDAQ:AAPL). As a result, as the regular market-cap weighted Nasdaq hit new highs the equal-weight First Trust Nasdaq-100 EwualWeighted ETF (NASDAQ:QQEW) floundered in the middle of a four-month trading range.
A break of support near $53 could set up a decline down to the 200-day moving average,
ETFs to Watch During the Market Meltdown: iPath S&P 500 VIX Short-Term (VXX)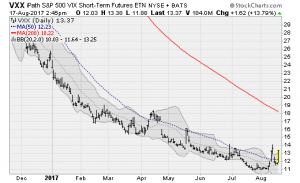 Click to Enlarge As stocks spent the summer in a slow, boring and persistent grind to new record highs — including the Dow's recent 10-day straight gain — the CBOE Volatility Index was pressured to record lows below 9.
Since then, starting with the North Korean tensions and continuing now with fears the Fed will tighten monetary policy while Trump looks unlikely to deliver expected fiscal policy tailwinds, the VIX is exploding higher in some of its most aggressive rebounds ever.
That's pushing the iPath S&P 500 VIX Short Term Futures TM ETN (NYSEARCA:VXX) higher, while the short VIX strategies that have grown so popular in recent years are squeezed hard.
The VXX ETF is up nearly 14% as I write this, setting up a run at its 200-day moving average that hasn't been tested since early 2016.
ETFs to Watch During the Market Meltdown: iShares 20+ Year Treasury (TLT)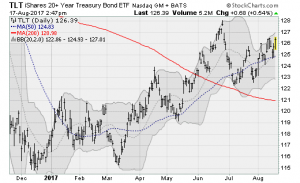 Click to EnlargeThe Federal Reserve is hinting at tightening monetary policy at its September meeting via the start of a balance sheet roll off, designed to reduce its bloated $4.4 trillion balance sheet.
Officials are growing concerned at the fact financial conditions have continued to loosen since they started hiking interest rates in December 2015, largely because of the relentless rise in stock prices.
In the latest meeting minutes, Fed officials also expressed concerns about the risk to financial stability from frothy asset price valuations.
While this is putting the chill on risky assets like stocks, long-term Treasury bonds are rallying nicely, with iShares Barclays 20+ Yr Treas.Bond (ETF) (NASDAQ:TLT) up 75 basis points as of this writing.
The gain in Treasuries is due to bond investors worrying that the Fed's actions could tip the economy into recession.
Anthony Mirhaydari is founder of the Edge (ETFs) and Edge Pro (Options) investment advisory newsletters. Free two- and four-week trial offers have been extended to InvestorPlace readers.