The housing sector is a key part of the U.S. economy. It provides jobs for thousands of construction workers and creates demand for billions of dollars of consumer spending.
While it took the housing sector a little longer than normal to recover after the previous recession — because it was one of the primary drivers of the last recession — it has been a stable contributor to the U.S. gross domestic product (GDP) for the past few years.
However, a few cracks appear to be forming in the housing sector's foundation.
This week, the U.S. Census Bureau released the latest numbers from its Building Permits and Housing Starts report. As you can see in the New Residential Construction chart, both building permits and housing starts have been flattening out during the past year.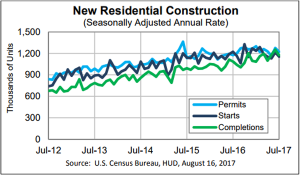 Click to Enlarge Both numbers came in below expectations yesterday, with building permits missing the consensus estimate by 30,000 and housing starts missing its estimate by 60,000 — coming in at 1.22 million and 1.16 million, respectively. It wasn't a huge miss, but it wasn't exactly confidence-inspiring either.
These numbers, along with a few other concerns we'll discuss, have been keeping a lid on homebuilder stocks like DR Horton (NYSE:DHI), KB Home (NYSE:KBH) and Lennar (NYSE:LEN) — all of which are a part of the SPDR S&P Homebuilders ETF (NYSE:XHB).
The only major homebuilder that has climbed to a new 52-week high recently is Pulte Group (NYSE:PHM).
While it is still too early to call a top in the market for these stocks, it will be important to keep an eye on a few of the cracks that are forming in the foundation, just in case they start to get bigger. Below are a few of the cracks to pay attention to.
Cracks in the Housing Market
The Federal Open Market Committee (FOMC) is planning to start winding down its nearly $4.5 trillion balance sheet, $1.7 trillion of which is held in mortgage-backed securities (MBS). According to the FOMC's Policy Normalization Principles and Plans, the Fed plans to start winding down its MBS holdings at an initial pace of $4 billion per month.
It will then accelerate this wind-down amount by an additional $4 billion every three months until it reaches a rate of $20 billion per month after 12 months. As the FOMC reduces the amount of MBS it is purchasing, demand for MBS could go down, which could push mortgage interest rates higher.
As lawmakers in Washington D.C. begin to discuss tax reform, the idea of removing the mortgage-interest deduction is starting to be floated with increasing regularity as a way to enable tax cuts by reducing deductions.
Currently, nearly 30 million home-owners take advantage of this deduction, saving somewhere in the neighborhood of $70 billion each year in taxes. The National Association of Realtors (NAR) has warned that the removal of the mortgage-interest deduction could send home prices spiraling lower.
During the past 12 months, 1.5 million home-buyers have made a down payment less than 10% of the value of the home. This comes at a time when we are seeing the first uptick in mortgage default rates since March 2017. While default rates are nowhere near the levels above 5% we saw in 2009 — they're actually still below 1% — home owners with less skin in the game are more likely to default when times get tough.
The housing sector still looks relatively solid as we come through the summer, but, as we head into the seasonally slower months of the year for real estate, it is vital to keep an eye on the cracks that are forming.
You can learn more about identifying price patterns and using them to project how far you think a stock is going to move in our Advanced Technical Analysis Program.
InvestorPlace advisers John Jagerson and S. Wade Hansen, both Chartered Market Technician (CMT) designees, are co-founders of LearningMarkets.com, as well as the co-editors of SlingShot Trader, a trading service designed to help you make options profits by trading the news. Get in on the next SlingShot Trader trade and get 1 free month today by clicking here.
Most recently, John and Wade are co-options strategists of Turbo Trader Live — a live, interactive trading room service that runs two hours every trading day the market is open. Turbo Trader Live focuses on long call and put options, as well as long and short vertical spread strategies. Find out how to get in on the live trading action and start making real profits by clicking here.