How can an investor possibly buy NVIDIA Corporation (NASDAQ:NVDA) at this point? Shares are up 186% over the past 12 months and — get ready — almost 700% over the past two years. How does that even happen? With NVDA stock at $180, where does it go from here?
Nvidia, led by visionary founder and CEO Jensen Huang, was transformed from a graphic chips company into one that's in all the hottest industries. Granted, its GPU/card business remains healthy, riding strong trends in video games and cryptocurrency demand, and it continues to do well in its core business.
New Horizons for Nvidia
But that doesn't mean Nvidia is resting on its laurels. Sure, gaming stocks like Electronic Arts Inc. (NASDAQ:EA), Take-Two Interactive Software Inc (NASDAQ:TTWO) and Activision Blizzard, Inc. (NASDAQ:ATVI) have been as hot as ever. And with bitcoin prices going all over the pace, of course demand for cryptocurrencies remains strong. As virtual reality and augmented reality start to take shape, this will drive even stronger demand for Nvidia going forward. There's little question about it.
But in the meantime, Nvidia has made massive strides in data center, autonomous cars, the cloud, robotic applications and artificial intelligence. Some — like Tesla Inc (NASDAQ:TSLA) CEO Elon Musk — say A.I. will start World War 3. Others find its potential more promising. Odds are, it will be somewhere the middle, both helping many humans and hurting some in the process. NVDA is centering itself in this new wave of technology.
Huang and CFO Colette Kress recently met with Evercore ISI analyst C.J. Muse. Muse's focus wasn't gaming, bitcoin, self-driving cars or data centers. It was all A.I., leading Muse to argue that NVDA is creating "'THE AI computing industry standard' that will be 'nearly impossible to replicate.'"
This year (fiscal 2018), NVDA is expected to generate earnings per share of $3.61. However, Muse sees a clear path to Nvidia earning $10 per share in the next three to five years. Whoa.
Undoubtedly, Muse has an outperform rating on the stock, but he ratcheted up his price target 25% to a Street-high $250 per share. If NVDA gets there, it will be one of the most impressive moves we've seen since the dot-com boom/bust.
Trading NVDA Stock
Can NVDA stock really climb to $250? Muse has his reasons and if Nvidia is the future of A.I., it will probably get to $250 at some point. I don't know that it's in the next year, but at the moment, the path of least resistance is definitely higher.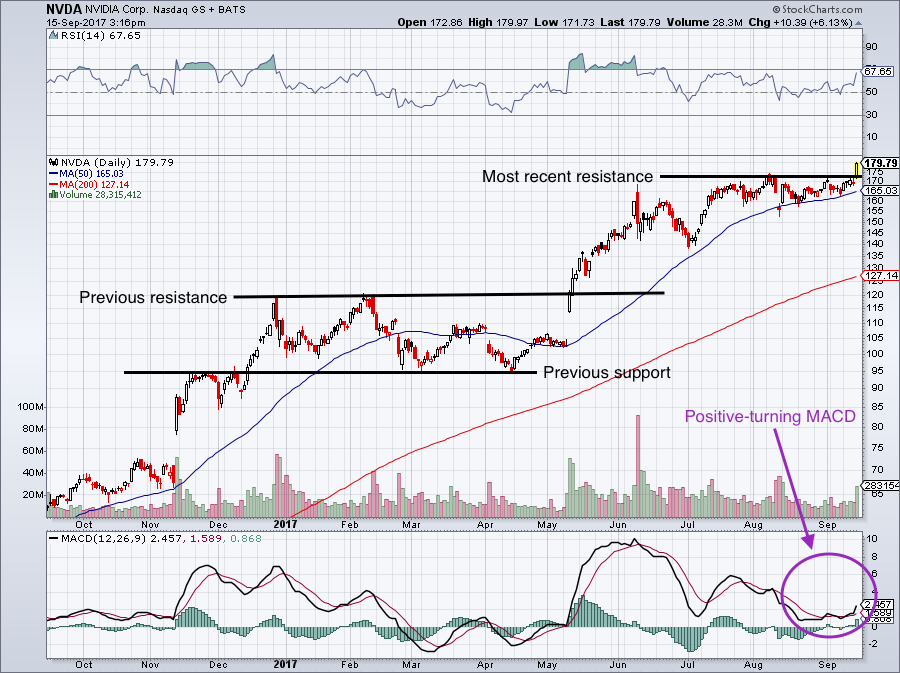 After breaking out over $120 in May, NVDA stock soared about $50 before exhausting itself near $170. After trading sideways for a few months, it was able to breakout over $175 resistance on Friday and close in on $180.
Absent a significant macro development in the stock market, NVDA stock appears poised for more highs. I would look for a run into the low $190s, with traders possibly looking to get NVDA to the double-Benjamin level of $200. The moving average convergence divergence (MACD) — located on the bottom of the chart in the purple circle — measures momentum and the relationship between two moving averages of prices.
It's now bullish for Nvidia after a month of bottoming out.
That bullish MACD, along with a not-yet-overbought condition and the breakout in the stock, can certainly push NVDA stock up another 5% to 10% from current levels. As you can see on the chart, Nvidia has a way of rallying, and then digesting that move for a few months before another significant rally. I think we could be on the verge of another big move.
Nvidia is a trader's paradise and if history is any lesson, NVDA stock is headed higher.
The Bottom Line on NVDA
Here's the crazy thing: Even though NVDA stock trades with a crazy high valuation — 45 times forward earnings estimates, 13 times sales — its fundamental business may actually support such a ramping of the stock price.
Any significant weakness in the broader market will surely weigh on Nvidia. Because of its huge gains, it could trigger plenty of sell orders in a short time frame. That would be a gift for patient investors, allowing them the chance to load up on NVDA stock for the long-term.
It can be dicey week-to-week or even month-to-month, but Nvidia has long-term solutions to justify a higher stock price. In the short-term, look for shares to continue higher.
Bret Kenwell is the manager and author of Future Blue Chips and is on Twitter @BretKenwell. As of this writing, Bret Kenwell held a long position in NVDA.