It's a spending frenzy at China-based Alibaba Group Holding Ltd (NYSE:BABA). But before you decide to purchase BABA stock, bullish investors may wish to consider shopping Alibaba's options market for positioning. Let me explain.
Alibaba, or what I like to affectionately refer to as Asia's Amazon.com, is rolling up its sleeves in a move that's sure to have investors' attention for some time to come.
Late Tuesday, the technology giant announced it's opening up its coffers and spending $15 billion to build overseas research hubs to compete against global leaders such as Amazon.com, Inc. (NASDAQ:AMZN) in markets such as e-commerce, cloud technology and logistics.
In the immediate aftermath of the Alibaba news, shares tacked on 0.86% to finish at a new all-time-high. But is this really a case of the sky being the limit for BABA stock or pie-in-the-sky for today's investors?
BABA Stock Weekly Chart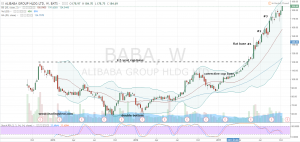 Click to EnlargeWhen I last wrote about Alibaba stock one month ago, the discussion centered on the favorable shift in bullish momentum and a third flat base pattern four-weeks in length readying for a breakout.
Admittedly, the price reaction to new highs took a couple weeks longer to materialize. The rally has also moved BABA stock straight into the sweet spot of a proffered, bullishly placed and modified long call butterfly centered at $185.
To say the least, with the spread expanding from $2.70 to $5.75, it has already proven to be a very nice and profitable play.
Looking forward, the price action looks good without being overbought as evidenced by Alibaba's positioning relative to its supportive Bollinger Bands. I'd add with shares only a couple percent removed from its latest breakout and the numerical $200 price magnet less than 10% away, that's a very real target in the coming weeks with earnings on the horizon.
If Alibaba stock does move higher and it tests $200, I believe there will be an increased chance for a period of corrective base-building. After three consecutive breakouts from fairly confident, tight and short price patterns that have collectively imbued bulls' spirits and fattened wallets, I'd anticipate a situation where both time and price action raise some doubts and heartbeats.