Last week represented a "perfect week" form the market as the S&P 500 Index closed each day at an all-time high. The euphoria included in this price activity has investors throwing caution to the wind as some sentiment indicators tilt toward a correction.
We're still seeing a mixed picture at the stock level as the bifurcated market continues making traders happy as opportunities to go both long and short in the same market.
Today's best stock charts will review the charts for GoPro Inc. (NASDAQ:GPRO), Hasbro, Inc. (NASDAQ:HAS) and Micron Technology, Inc. (NASDAQ:MU) — all excellent samples of just how nonuniform stocks are moving right now.
Big Stock Charts: GoPro (GPRO)
GoPro stock got a boost to the company's stock price when the company guided third-quarter earnings to the top of the range and Goldman Sachs upgraded the stock, all within a day.
We caught the rally potential in a September edition of Three Big Stock Charts, but also underlined the overhead resistance at $11.50. That resistance has played-out and the stock is now struggling to maintain a bullish outlook.
Overwhelming chart resistance at $11.50 as the stock hit overbought readings put traders in profit-taking mood. The stock is now trying to maintain a longer-term bullish outlook by holding the 200-day moving average.
Overhead, the 50-day moving average for Micron shares is beginning to roll over. A continuation of this transition will put the stock into a bearish intermediate-term outlook.
Longer-term investors will want to eye the $9.14 price as a move below this will break GoPro stock back into a long-term bear market trend.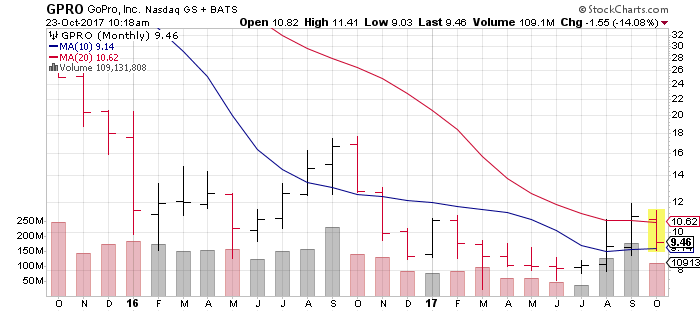 Big Stock Charts: Hasbro (HAS)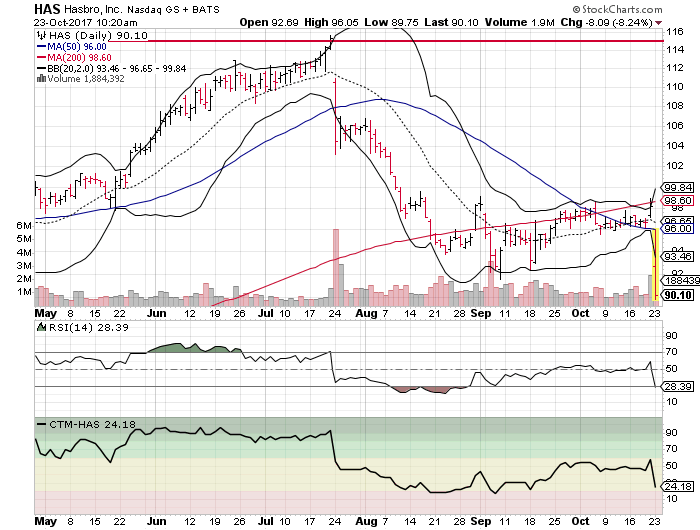 Hasbro announced earnings this morning that were better than the market's expectation, though the company guided forward expectations lower. The latter has shares trading 8% lower and threatening to move this leader from last year into a bear market trend.
The market is blaming the move in Hasbro on the Toys-R-Us bankruptcy and the death of the brick and mortar retail world. In fact, Hasbro has lost a huge distribution channel with the loss of Toys-R-Us. Technically, this intermediate-term laggard is now crossing into a long-term bear market trend.
The monthly chart below identifies $89.30 as the price that Hasbro must remain above to avoid a long-term bear market. A break below this level will trigger a flood of institutional sellers from the stock, targeting lower prices.
Today's move in Hasbro stock puts it into a Volatility Selloff as shares have sliced through the lower Bollinger Band. This indicates that the technical traders will be flooding out of the stock, adding selling pressure.
The Last similar Volatility Selloff was triggered ion July as the stock was preparing to make a move from $110 to $95.