U.S. equities mostly moved lower on Thursday to end a session that looked — minutes after the open — headed for the worst day for Wall Street in months. Just a day after the Dow zoomed above the 23,000 level. And on the 30-year anniversary of the 1987 market crash.
Yet the bulls whipped into action within the first hour of trading, unleashing a steady-eddy buy-the-dip dynamic that carried the large-cap average back into the green. They were helped by a late-day story in Politico that President Trump is leaning towards Jerome Powell for the role of Federal Reserve chairman when Janet Yellen's term expired. Powell is seen as a dovish, status-quo choice.
But this was also the third time Politico hinted at Powell's chances, suggesting this could be merely a trial balloon (especially since the report hit mere hours after Trump concluded a meeting with Yellen on a potential re-nomination).
In the end, the Dow Jones Industrial Average gained a fraction, the S&P 500 gained a fraction, the Nasdaq Composite lost 0.3%, and the Russell 2000 lost 0.2%. Treasury bonds were stronger, the dollar moved lower, gold gained 0.5% and crude oil lost 1.4%.
Breadth was mixed and volume up slightly from recent levels, at 94% of the NYSE's 30-day average. Utilities led the way with a 1% gain while consumer staples lost 0.6%. Adobe Systems (NYSE:ADBE) gained 12.2% after issuing strong forward guidance. Verizon (NYSE:VZ) gained 1.2% after third-quarter earnings and revenue came in ahead of estimates on better-than-expected subscriber additions.
On the downside, United Continental (NYSE:UAL) fell 12.1% despite reporting better-than-expected earnings on cost control as analysts worried about a turnabout in the current quarter. Apple (NASDAQ:AAPL) fell 2.4% after the Economic Daily News reported the company cut supplier orders for iPhone 8 components by up to 50%.
Conclusion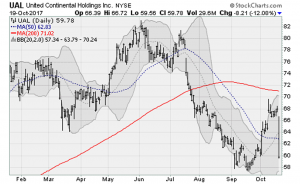 Click to Enlarge While the volatility crush was on full display today on the major indices, it's continuing to manifest in individual issues and sector groups. The deep dive in UAL shares are a reminder that, yes, stock prices do indeed go down too.
As more and more stocks follow UAL and AAPL to the downside, market breadth measures are rolling over. The percentage of NYSE stocks above their 50-day moving average has pulled back to just 75%, down from nearly 80% last week. And all week, despite yesterday's move above Dow 23,000, declining issues have outpaced advancing issues on the NYSE.
This market, despite appearances, remains dangerous.
Check out Serge Berger's Trade of the Day for Oct. 20.
Today's Trading Landscape
To see a list of the companies reporting earnings today, click here.
For a list of this week's economic reports due out, click here.

Tell us what you think about this article! Drop us an email at editor@investorplace.com, chat with us on Twitter at @InvestorPlace or comment on the post on Facebook. Read more about our comments policy here.
Anthony Mirhaydari is the founder of the Edge (ETFs) and Edge Pro (Options) investment advisory newsletters. Free two- and four-week trial offers have been extended to InvestorPlace readers.