I've been seeing some well-known writers and stock pickers suggest that now is the time to buy General Electric Company (NYSE:GE), or at least start buying for a long-term hold. And maybe they're right. But for me, I think GE stock could have a bit more downside left before being an outright buy. Let's look at why.
General Electric CEO and Outlook
CEO John Flannery has proven to be a bold, efficient leader. He's not afraid to divest, make cuts and do what he needs to do to improve the company's position. I really like Flannery, especially what he did with GE's healthcare division before becoming CEO. In fact, he remains very committed to not missing estimates, which is admirable. But can he do it?
He is set to give investors an update in November, a little more than a month from now. Before that, GE will report earnings next Friday. Given all the changes that have come and that are coming, it's very hard to get a sense of what General Electric will do. No one will care all that much about this past quarter's results. We want to know what to expect next year. Will management "kitchen sink" their guidance to make for easy hurdles over the next 12 months?
This lack of clarity doesn't do GE stock price any favors.
GE Stock's Dividend
Another reason I am leery of GE is the dividend. The dividend yield is attractive at 4.1%. But with a payout ratio north of 100%, dried-up free cash flow and negative operating cash flow, where is this dividend payment going to come from?
General Electric is a conglomerate, so paying the quarterly installment is not an impossible task. Assuming management decides to continue paying the dividend, they surely can't raise it, or at least, raise it in a meaningful manner. Compare this to a company like Honeywell International Inc. (NYSE:HON), which appears to be firing on all cylinders.
Flannery and his management team have made paying the dividend a priority, but that doesn't make it a guarantee. I make cutting my lawn a priority too, but it doesn't always get done when it's supposed to. Notably, analysts at JPMorgan lowered their price target on GE to $20 and said a dividend cut is increasingly likely.
Turning the Ship
Flannery is turning the ship around. The problem is, we're not dealing with a Boston Whaler — we're working with an aircraft carrier. To turn this around, it will take time, patience and sacrifice. Surely there's more bad news to come. The question is, at what point will it all be priced in? I have no doubt Flannery is making good moves. I just don't know what else will hit the wires before investors decide it's no longer worse than they expect.
After a 25% selloff this year, long-term investors can justify starting a long position in GE stock. What is the sign we need? We need GE stock price to rally on bad news. Once General Electric makes a negative announcement and shares rally, that shows us the Street has priced in the negativity, and shares can begin the recovery process.
When to Buy GE Stock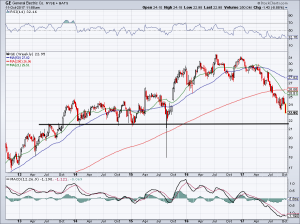 Click to Enlarge
So when will that come? It may come on earnings, or it may come after the investor meeting. I'm not really sure. The one thing I am sure of is that on Monday, GE stock made new 52-week lows. After opening impressively higher on Tuesday, shares gave up their gains and closed lower on the day. Wednesday led to more losses.
We said traders could buy near $25, but if that level failed, they needed to bail. That was the case, and we pointed out the next best level of support, near $22. That level has held, so far.
At $22, GE stock would yield 4.4% and be at its lowest level since mid-2015. The risk/reward question investors must ask themselves now is, will GE stock fall that far? One risk is if it rallies from here, we could miss a big move higher by being too specific with our entry.
The other risk is if we buy and shares fall from $23.50 to $22. That's a 6.3% decline, even if GE stock does find support. I would most definitely be a buyer of GE stock at the $22 level. I also wouldn't fault long-term investors for buying now and adding on a decline. Watch for $22 to hold, though. If it doesn't, all bets are off (again).
Bret Kenwell is the manager and author of Future Blue Chips and is on Twitter @BretKenwell. As of this writing, Bret Kenwell did not hold a position in any of the aforementioned securities.