Trading a volatile stock is never easy. It involves patience, and at the same time, you need to be nimble and ready to move at any given moment. Tesla Inc (NASDAQ:TSLA) is a perfect example of this. It is often moved by headlines as analysts and commentators obsess over the company and its CEO, Elon Musk. There is a true love-hate relationship here.
This past week I was at an investment conference, and TSLA was one of the more commonly-mentioned stocks.
The bears, on the one hand, are calling for Tesla shares to fall by 50% due to flagging auto sales and sky-rocketing costs. On the other hand, the bulls look for Tesla Inc to become one of the largest companies in the world as demand for battery storage increases.
I tend to find myself more in the bullish camp, as most analysts focus on electric vehicles rather than the changing energy sector, which is being led by Tesla's battery storage.
A Helpful Chart for Trading TSLA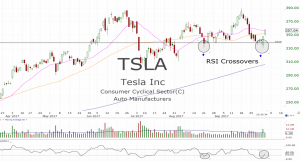 Click to Enlarge Tesla's chart has been interesting recently, and it's helped investors time great entry points over the past couple of months. Let's take a look at what I'm talking about:
I've circled the area to buy above, which is right around price support at $340 (the black line). The past few times TSLA stock fell to that level it bounced soon after.
And also around the same time, the relative strength index (RSI, at the bottom of the chart) has given a bullish crossover buy signal.