Believe it or not, the earnings season is getting ready to get its second wind as the retail sector, among other groups, will see a surge in activity this week. This morning included results from Home Depot Inc (NYSE:HD) and TJX Companies Inc (NYSE:TJX), which followed results from food company leader Tyson Foods, Inc. (NYSE:TSN) on Monday morning.
Today's three big stock charts takes a look at the technical activity of these three earnings movers to answer the question of whether it's too late to profit from their earnings news.
Home Depot Inc (HD)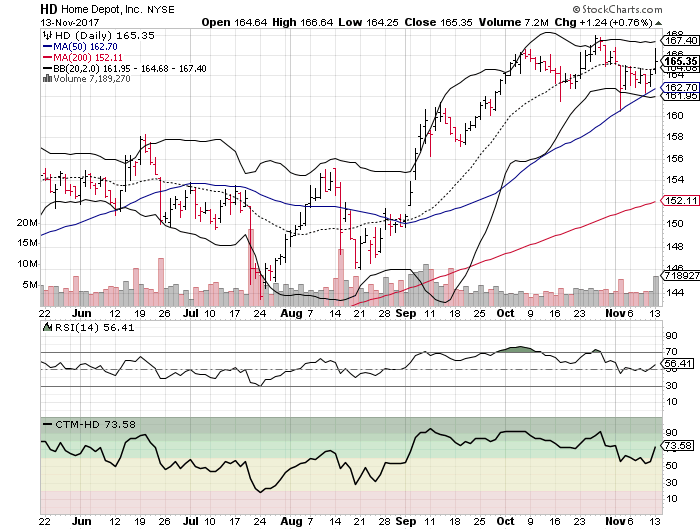 The big box retailer came in with earnings numbers that beat on the top and bottom lines as business increased due to the hurricane activity over the last quarter. In addition, HD raised guidance looking forward, all of which is giving shares a small boost ahead of the open. According to our research, the stock is still a buy here.
After a strong September rally, shares of Home Depot have spent the last two months trading in a range. The latest movement had the stock indicating the potential for an intermediate shift lower as we saw the potential for lower highs and lows, but today's rally will likely break that potential and open room to rally higher.
HD stock recently tested the 50-day moving average, which is in a strong uptrend. This bullish test will draw technical buyers into the market to rally shares higher.
According to the Chande Trend Meter, shares of Home Depot just moved into a bullish trend as the stock is still far from overbought. This combination is bullish for the four to six week outlook as the stock is breaking to new highs.
TJX Companies Inc (TJX)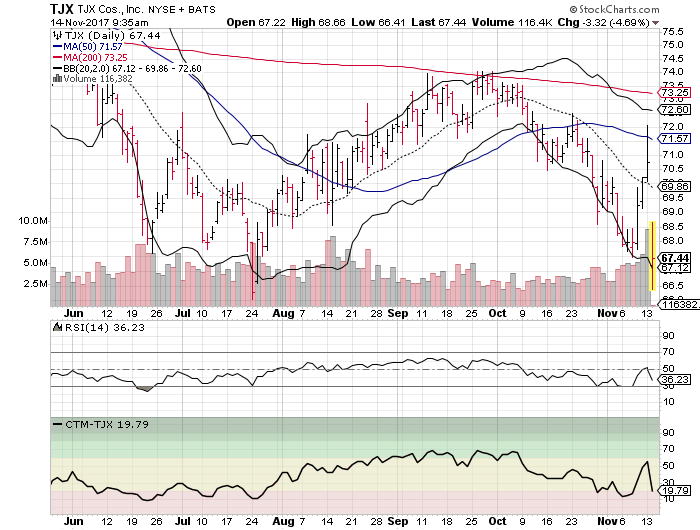 Discount retailer TJX companies disappointed on the earnings front, citing a slowdown in traffic to the hurricanes as one of the factors to the earnings miss. The company is mixed on its outlook, which has traders moving the stock almost 5% lower in early trading.
Is the stock a pick-up here? Let's look at the charts.
TJX shares saw a huge "buy the news" rally in the two days leading up to the earnings announcement. The rally set shares up for a technical challenge at the 50-day moving average, which traders have now rejected.
Ahead of the earnings, the 50-day moving average was already in a bearish trend, forecasting lower prices for TXJ shares over the next four to six weeks.
Shares are now facing a volatility sell-off as the lower Bollinger Band is threatening to give way to support of the stock. A move below $69.50 will trigger this sell-off.
The Chande Trend Meter is now registering a bearish signal for TJX shares as the indicator is moving to readings below 20. This indicates that the stock is more likely to trend lower, even after today's freefall.