Others have been shopping-the-drop in Shopify Inc (NYSE:SHOP) the past couple weeks following an initial and poorly received corporate confessional.
But if you're like this strategist, and see the opportunity for more buying in Shopify stock to come and value safety over other metrics, a bull call spread continues to make good sense. Let me explain.
Some on Wall Street are still pooh-poohing Shopify on the heels of the Canadian-based e-commerce upstart's third-quarter earnings report.
It's not for a lack of failing to deliver though. In fact, the company topped sales views for the 10th straight quarter, issued upwardly revised full-year guidance and surprised analysts by delivering an operating profit ahead of schedule.
Meanwhile, in the immediate earnings aftermath Shopify stock tumbled roughly 10%. So, what happened?
Executives did reign in sales expectations for Q1 owing to a more cyclical business. The report also reflected a slowdown in gross merchandise volume or GMV.
The combination may have spooked some investors in the heavily-contested company whose business model has been a target of notorious, but far-from-perfect, short-seller Citron Research.
Personally, I remain of the mind Shopify stock may be one of those company's Citron is wrong on. InvestorPlace's Will Ashworth also does a good job of noting the holes in the vocal short's argument on SHOP too.
Lastly, with low short interest sans the bear at Citron and a chart still looking constructive, if you can find a way to get through SHOP's volatility, such as the one trade idea described below, a nice opportunity for bulls may be unfolding.
Shopify Stock Daily Price Chart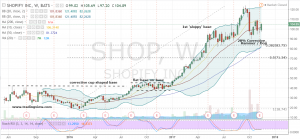 Click to Enlarge Looking at the weekly chart of Shopify stock and our view is that shares are still in an uptrend worth buying into.
The observation follows last month's quick, albeit healthy 28% corrective hammer or doji that has continued to hold and further backs a bullish, low weekly base count supportive of higher prices.
Shopify Stock Bull Call Spread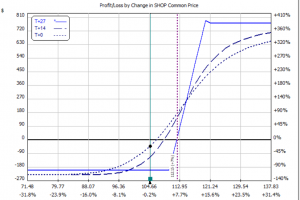 Click to Enlarge If you're looking for a way to navigate a volatile name like Shopify stock, look no further than SHOP's options.
Our last time at bat in SHOP stock, I proposed the use of the Nov $105/$115 bull call spread in lieu of long shares. At its best the spread expanded from an entry price of $2.55 to $4.60 as SHOP closed at $109.36 on Oct. 30 in front of earnings.
Reviewing the SHOP board for fresh trade ideas, once again the call vertical looks attractive for its ability to cut down unwanted Greek risks, define one's maximum loss and offer strong upside potential in a stock which is viewed as having that type potential.
One combination that's currently favored is the December $110 / $120 call vertical. With shares at $104.89, the spread is priced for $2.00.
That's less than 2.00% of the risk associated with a long SHOP stock position while maintaining a maximum profit capture of $8.00 or 400% if Shopify shares are above $120 at expiration.
Investment accounts under Christopher Tyler's management do not currently own positions in any securities mentioned in this article. The information offered is based upon Christopher Tyler's observations and strictly intended for educational purposes only; the use of which is the responsibility of the individual. . For additional market insights and related musings, follow Chris on Twitter @Options_CAT and StockTwits and feel free to click here to learn more about how to design better positions using options!