Take Two Interactive Software Inc (NASDAQ:TTWO) seems to have it all now and for the foreseeable future, per Wall Street. But with the Take Two story looking that good off and on the price chart, a limited-risk bullish combination spread in lieu of TTWO stock is seen as the game-winning strategy. Let me explain.
Judging by TTWO stock's latest earnings report last week and glowing reviews in its aftermath, it appears the video game publisher can do no wrong. In fact, after the company's massive profit beat shares of Take Two were sent soaring higher by more than 10% to record highs.
As well, bulls are likely to add strong guidance through next year and double-digit growth driven by Take Two's "best-in-breed" digital revenues have allowed the company to smooth out and monetize its hit game franchises better than ever.
So what more could a bull want from Take Two?
According to the latest market call and TTWO news, the answer is not a lot. On Monday, BMO Capital Markets reiterated its "outperform" rating while lifting the price target on TTWO stock from $125 to $135 based on the aforementioned factors.
Throw in supportive industry tailwinds and an equally sympathetic chart, the story for TTWO seems to only get stronger. And therein lies the rub for this strategist.
TTWO Stock Weekly Stock Chart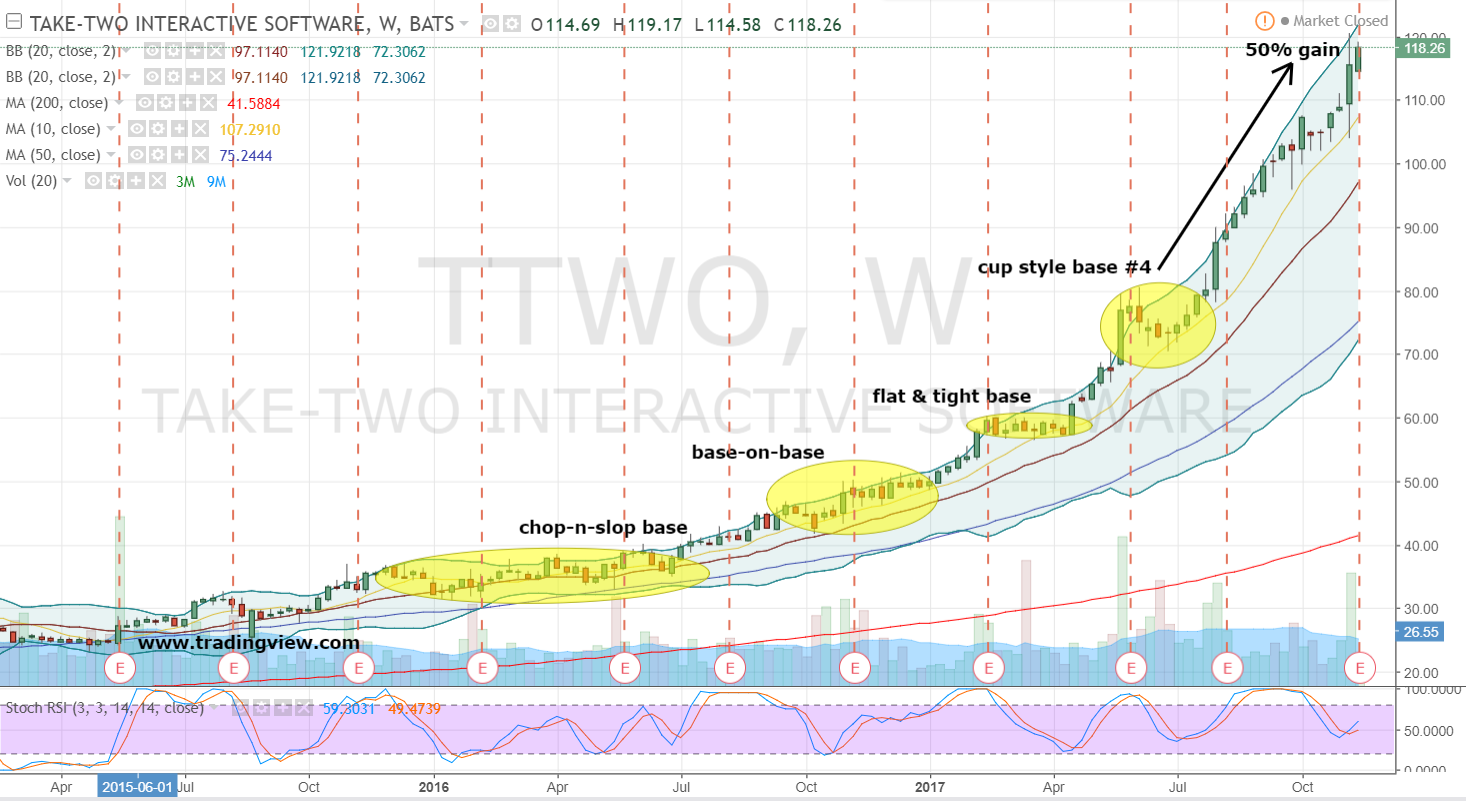 The problem for TTWO stock without declaring it's an Atari-style "game over" situation for bulls is the enthusiastic narrative isn't entirely new. More concerning, the price action now puts shares at increased risk of a larger technical correction.
Admittedly, my interpretation of TTWO isn't a popular view. But with shares having gone up unobstructed for more than 200% gains over the last year and change — and recently racking up gains of about 50% from a late-stage cup-style base breakout –the overly bullish price action leaves Take Two stock extended and prone to a larger corrective base count reset before, and if, moving meaningfully higher.
Take Two Bullish Combo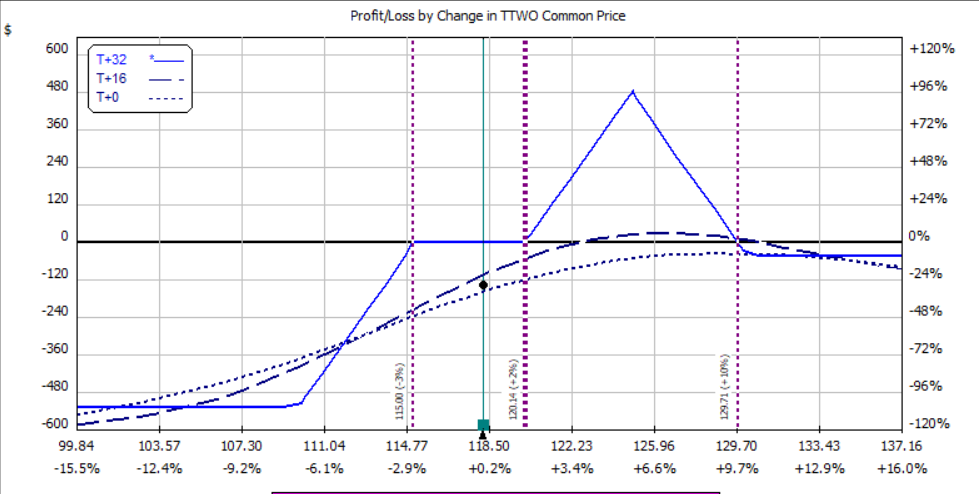 Reviewing the TTWO options board and given what's been discussed, a slightly more creative spread combination is favored. I like the idea of selling the Dec $110/$105 put spread while simultaneously purchasing the December $120/$125/$130 call butterfly for even money or a small credit if possible.
Currently and with shares at $118.26, fair value for the combo play is a small debit of 15 cents. But if TTWO stock pulls in modestly, the trader will be able to put on the position for free. This would offer a bullish trader the opportunity to buy Take Two at a worst-case scenario price of $110 while keeping risk contained to $5, or roughly 4% of TTWO stock. But wait, there's more.
If Take Two does put together a larger correction, a future decision to buy shares could even be a good deal cheaper than $110 due to the combination's limited-risk design. For instance, if TTWO was trading at $90 at expiration and the trader wishes to buy TTWO stock as it corrects, the effective purchase price would be $95 as the max loss on the put spread is $5. Nice, right? And guess what, that's not all either.
Alternatively and if our forecast is wrong, this bullish trader is also in position to win if shares of Take Two move modestly higher. The combo also sports a free bullish long call butterfly that offers potential profits from $120 to $130 with a max payout of $5 if TTWO stock rallies by 5.7% into expiration.
Investment accounts under Christopher Tyler's management do not currently own positions in any of the securities or their derivatives mentioned in this article. The information offered is based upon Christopher Tyler's observations and strictly intended for educational purposes only; the use of which is the responsibility of the individual. For additional market insights and related musings, follow Chris on Twitter @Options_CAT and StockTwits.