U.S. equities surged higher on Thursday, pushing the Dow Jones Industrial Average up and over the 24,000 level for the first time. The catalyst was word irascible Senator John McCain (R-AZ) would support the GOP's tax reform legislation.
While there are a number of other GOP senators that have voiced concern with the bill as written, this fueled hope tax cuts could actually happen before the end of the year.
But it was far from a "clean" rise, with a number of oddities in play from a rise in the CBOE Volatility Index to weakness in small-cap stocks and the jagged selling in Treasury bonds. This feels like a blow-off top.
In the end, the Dow Jones Industrial Average gained 1.4%, the S&P 500 gained 0.8%, the Nasdaq Composite gained 0.7% and the Russell 2000 gained 0.1% after dipping into negative territory at one point.
Treasury bonds weakened, the dollar outperformed, gold lost 0.7%, and crude oil gained 0.2% as OPEC announced a nine-month extension of the supply-cut agreement hammered out last year.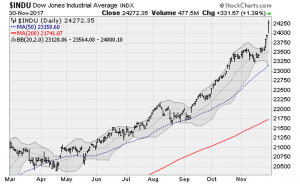 Click to Enlarge Breadth was positive, with 1.4 advancers for every decline Volume was very heavy, with activity at 185% of the NYSE's 30-day average. Energy led the way with a 1.6% gain while REITs were the laggards, up just 0.1%.
HCA Healthcare Inc (NYSE:HCA) gained 6.1% on an upgrade to overweight at JPMorgan. Grocer Kroger Co (NYSE:KR) gained 6.1% on a quarterly earnings beat. And Express, Inc. (NYSE:EXPR) gained 5.5% on solid earnings.
On the downside, Juniper Networks, Inc. (NYSE:JNPR) lost 5.9% after reports the company was in talks with Nokia on a sale were later denied.
Conclusion
Turning back to tax reform, two major procedural hurdles were passed in recent days clearing the way for a final vote as early as tonight or Friday morning. Yet specifics surrounding a demand by deficit hawks for a revenue trigger — which would raise taxes should economic growth underperform — could trip things up still. Such a move may not comply with Senate rules and could trigger resistance from other Republicans.
It's far from a done deal. Especially with the Joint Committee on Taxation warning this afternoon that the Senate tax bill pays off less than half of its cost, resulting in a $1 trillion increase in the national debt over a 10-year period.
While this is a time of seasonal strength, and fundamental tailwinds seem to be in play, things have come too far too fast without a normal market correction. For the first time ever, global stocks have risen for 13 consecutive months.
Small traders are holding their most aggressive long position since Brexit. And earlier this week, all four major indices hit a new record high in unison.
That last item has only happened three other times in November according to SentimenTrader: 1980, 1996, and 2016. And the aftermath wasn't pretty: The maximum loss in the month that followed totaled 9.3%, 4.8% and 1%, respectively.
Check out Serge Berger's Trade of the Day for Dec. 1.
Today's Trading Landscape
To see a list of the companies reporting earnings today, click here.
For a list of this week's economic reports due out, click here.
Tell us what you think about this article! Drop us an email at editor@investorplace.com, chat with us on Twitter at @InvestorPlace or comment on the post on Facebook. Read more about our comments policy here.
Anthony Mirhaydari is the founder of the Edge (ETFs) and Edge Pro (Options) investment advisory newsletters. Free two- and four-week trial offers have been extended to InvestorPlace readers.