As far back as early 2016 — shortly after it became the centerpiece of an E. coli gaffe — I've been hammering on Chipotle Mexican Grill, Inc. (NYSE:CMG).
I had no particular problem with the fact that more than 50 of its customers suffered from food poisoning; it's unfortunate, but it happens. My beef was in the handling of the situation, which ultimately hurt shareholders. More than two years later, CMG stock is down on the order of 30%.
As they say, though, expect it when you least expect it. While many investors have all but given up on Chipotle, I see a light at the end of the tunnel that makes CMG an interesting (even if risky) pick.
Humility vs. Hubris
You likely know the story all too well, but on the off chance you don't, here's the abridged version.
In late 2015, Tex-Mex eatery Chipotle Mexican Grill was pegged as the source of an E. coli breakout that eventually infected more than 50 people in at least nine states. It's believed that some imported tainted beef was the culprit.
Embarrassing? Sure, though not damning. Consumers have seen such outbreaks in the past from other restaurants. McDonald's Corporation (NYSE:MCD) has been through it in the past, as have Taco Bell and KFC, both divisions of Yum! Brands, Inc. (NYSE:YUM). It happens.
There's a right way and a wrong way of handling these PR nightmares, though. By and large, Chipotle handled this matter the wrong way.
Case in point? Arguing with the Center for Disease Control (CDC), for one (and using an off-base narrative when doing so). Rather than apologize, fix what needed to be fixed, and move on, Chipotle's response was one of deflection and blame aimed at the CDC for simply trying to protect the public.
The nature of the response may have turned patrons off more than the E. coli outbreak itself.
It's All in the Past
Still, consumers don't hold a grudge forever. As rough as things were for Chipotle in 2016, lo and behold things got better for the restaurant chain in 2017, and the pros think the top and bottom lines are going to grow again this year.
The specifics: Last year, pending the fourth quarter numbers due in early February, sales grew nearly 15% to $4.5 billion. Per-share profits soared from 2016's 77 cents — when massive one-time expenses related to the E. coli matter were booked — to $6.63. For this year, analysts collectively expect another near-9% growth in revenue, with earnings projected to swell to $9.67 per share.
To be sure, the company's still got a mountain to climb to win back the trust the public had in it prior to 2015's woes. It's finally begun to do that, though. And time will continue to heal the wounds.
There's also the not-so-small matter of valuation.
While Chipotle Mexican Grill may be pointed in the right direction, it's miles from where it needs to be profit-wise. Its forward-looking P/E of 35.2 is still sky-high, even by restaurant standards. It would need to be closer to half of that before the "value" argument holds water.
This isn't a value-driven matter though — not yet anyway. This is still more about sentiment and proving whether Chipotle is even capable of growing again. The numbers say it is.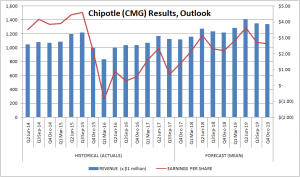 Click to Enlarge
Bottom Line for CMG Stock
So why, if Chipotle was on the mend, did CMG stock lose 23% of its value last year?
The bulk of that weakness can be attributed to its third quarter earnings shortfall and a rather tempered fourth quarter earnings expectation. We're still nowhere near the company's pre-debacle profit levels.
But that's only going to be a short-term drag, driven by sentiment and in response to headlines. That sentiment is also driven by relative expectations. On a more absolute basis, there's no denying the Chipotle turnaround is taking hold, even if not taking hold fast enough to suit some owners of Chipotle stock.
And it's that recovery trajectory that bodes well for CMG stock down the road. A poor 2017 showing from CMG stock was the emotional response to what the restaurant chain was doing or not doing at that time. Eventually, in the long run, the stock's going to reflect the cumulative results and the progress Chipotle is making.
Or, as Benjamin Graham put it, "In the short run, the market is a voting machine, but in the long run, it is a weighing machine."
In other words, if you're mulling a purchase, you're not crazy.
As of this writing, James Brumley did not hold a position in any of the aforementioned securities. You can follow him on Twitter, at @jbrumley.