When it comes to dogged blue-chip investments over the past few years, International Business Machines Corp. (NYSE:IBM) has been on the ignominious leader-board much to the chagrin of its investors. But 2018 is shaping up for IBM stock both off and on the price chart. Especially for risk-averse traders wanting to capture profits with reduced and limited risk.
Let me explain.
IBM stock traders could choose to look in the rear-view mirror and be very bitter over the equation of share price minus a hefty dividend still equaling large net losses on paper. Or instead, after nearly five years of massively underperforming the Dow Jones Industrials, investors might appreciate IBM as primed to remove the shackles of its longstanding Dogs of the Dow membership.
Of course, there are no guarantees 2018 will make good on this promise. Considering last quarter's earnings beat, however, which featured surprise sales growth, strength within the company's cloud-computing business and buzz around IBM's blockchain technology, I'm optimistic for IBM stock.
IBM Stock Weekly Chart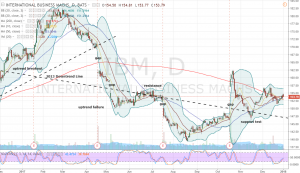 Click to Enlarge Back in late October I wrote about IBM stock's potential to continue the post-earnings momentum run it was experiencing. Admittedly, our expectation for a lasting and bullish change of character proved wrong. Instead, IBM went back to being a prickly stock for bulls.
Having said that, over this period shares of IBM have managed to establish a successful test of the earnings gap and prior downtrend line dating back to 2013's high water mark.
Bearing that in mind, IBM shares also signaling a bullish Golden Cross pattern. After its weak stock performance of the past five years, this dog looks primed to learn a new trick in 2018.
IBM Stock Bull Call Spread Strategy
From our last call on IBM, the one item I feel vindicated within the face of IBM's price decline was an outlined slightly out-of-the-money December call spread for $1, or less than 0.75% of IBM stock risk. Ultimately, the small loss allows traders to stay ready mentally and financially for other opportunities.
Reviewing the options board during Tuesday's session, this type of vertical is still favored as the Greeks and dollars at risk effectively reduce and limit risk exposure. Specifically, the slightly out-of-the-money March $155/$165 call vertical for up to $3 with shares at $154 looks attractive.
For roughly 2% stock risk, this bullish IBM trader has the opportunity to capture $7 above $165 at expiration. That's a potential max return of 233% while requiring just 7% of upside from IBM stock.
Further, as there is a potential earnings catalyst to capture the full return, forfeiting (maybe) one quarterly dividend of around 1% seems like very good business indeed.
Investment accounts under Christopher Tyler's management do not currently own positions in any securities mentioned in this article. The information offered is based upon Christopher Tyler's observations and strictly intended for educational purposes only; the use of which is the responsibility of the individual. For additional market insights and related musings, follow Chris on Twitter @Options_CAT and StockTwits.