If you agree with what BofA sees in Nvidia Corporation (NASDAQ:NVDA), it's a "buy." But if you want this strategist's two cents or more aptly three bucks on matters; setting your sights slightly lower and on a bullish NVDA stock modified butterfly spread makes better sense. Let me explain.
I've said it before, but it bears repeating, from data center dominance, artificial intelligence and deep learning, gaming to autonomous autos and a linchpin in the processing muscle required for the mining of cryptocurrencies; NVDA stock is a secular growth story for more than a few good reasons. And late last week investment firm BofA chimed in for similar reasons.
The firm sees Nvidia as still offering investors plenty of upside catalysts and expects online gaming to continue its job as a chief profit center with the company's recently introduced Pascal card showing solid user adoption.
BofA acknowledges NVDA stock doesn't look cheap on the surface with its price-to-earnings ratio of 57, but still believes it's worth every penny — and then some, given a buy reiteration with an attached price target increase from $251 to $275.
For their part, investors showed obvious interest in the brokerage note by sending shares of Nvidia jumping 2.5% to fresh all-time-highs and supporting the idea that bulls aren't done yet in NVDA stock despite its massive price run over the last couple years.
Nvidia Stock Weekly Chart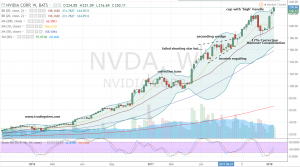 Click to Enlarge
Looking at the weekly chart of NVDA, shares do look good for higher prices. In fact and since last discussing Nvidia stock in late December our own bullish outlook has continued to be confirmed.
Over the period, Nvidia's uptrend rallied nicely to form a weekly cup, then proceeded to break out, then confirm the bullish price action by breaking out again from a successful high and short handle last week.
How much upside is in store for NVDA's rally? BofA says $275 looks good. Personally, given the healthy-looking breakout and supportive stochastics picture, a conservative measured move out of the cup pattern has this strategist estimating a move towards $250 over the next couple months as a reasonable target.
NVDA Stock Bullish Modified Butterfly
In December, I outlined a Feb $210/$215 call vertical as a favored play to position in NVDA stock long with reduced and limited risk. The combination has expanded from $1.50 to $3.75. With shares at $230.11 the spread is fully in-the-money and stationed to expand to $5.00 into expiration. With earnings in early February though, I'd prepare to adjust the position prior to the event.
Currently and given the technical view is for continued upside towards $250, one favored play is a modified long call butterfly. Reviewing the board, the March $235/$250/$260 call combination is priced for $3 and a favored strategy.
The butterfly's sweet spot at $250 allows for a max profit of $12 to be captured at expiration. That's a return of 400% if NVDA shares are able to tack on an additional 8.7%. At the same time and with modest stock risk of just 1.30%, this strategy's break-even is only 3.5% away.
Also attractive, unlike a traditional and symmetrical butterfly, because the embedded bull call spread is larger than the structured bear vertical there is no risk of a profit turning into a loss if shares overshoot upper call wing. With this particular combination the trader can still walk away with a profit of $2.00 above $260 if NVDA stock demonstrates much stronger-than-anticipated strength.
Check out Serge Berger's Daily Market Outlook for Jan. 22.
Tell us what you think about this article! Drop us an email at [email protected], chat with us on Twitter at @InvestorPlace or comment on the post on Facebook. Read more about our comments policy here.
Investment accounts under Christopher Tyler's management do not currently own positions in any securities mentioned in this article. The information offered is based upon Christopher Tyler's observations and strictly intended for educational purposes only; the use of which is the responsibility of the individual. For additional market insights and related musings, follow Chris on Twitter @Options_CAT and StockTwits.