Shares of Tesla Inc (NASDAQ:TSLA) aren't struggling. Since Monday, TSLA stock is up nearly 9%.
With shares rebounding hard from $300 support, should investors buy the momentum in TSLA stock? I was taking a look at some of the longer-term charts and, as long as Tesla stays within its current range, we could be looking at a lull for quite a while, similar to what we saw from 2014 through 2016.
Although Tesla beat fourth-quarter earnings-per-share and revenue estimates, the obvious concern is the Model 3 and overall cash burn.
Extreme bulls say TSLA stock is the next Apple Inc. (NASDAQ:AAPL). Bears say it's heading to zero. So, who's right?
Perhaps neither.
I love CEO Elon Musk's vision and desire for a better tomorrow. The technologies that Tesla has incorporated — electric cars, power packs, solar tiles — are incredible. But despite these amazing products, the business has serious concerns.
There have been some issues with ramping Model 3 production, but management says it's still aiming for 2,500 units per week by the end of Q1 and 5,000 per week by the end of Q2. I take these forecasts with a grain of salt, because, in management's own words, it's very difficult to predict such things. Recent reports suggest the company is running near 1,000 units per week.
Overall, the company says it can scale to 10,000 Model 3 units per week, once it hits the 5,000-a-week mark. At the 5,000 weekly unit rate, Tesla expects to generate 25% gross margins. For the year 2018, management expects to deliver 100,000 Model S and Model X vehicles.
Boiling Down Tesla Stock
I won't go as far as to say the fate of Tesla depends on the Model 3, but there's a lot riding on it. If Tesla fails to quickly scale production of the electric sedan, it will lead to more cash burn. Automakers run on a fixed-cost business model, meaning that it costs a lot to run the business even if the company produces zero vehicles.
In order to consistently churn a profit, the company needs to scale its production. That's the case with Ford Motor Company (NYSE:F) and General Motors Company (NYSE:GM) as well. However, these companies have such massive scale that they are immensely profitable. Margins are thin, though, and as a result, the valuation for these two stocks is relatively low.
In Tesla's case, it seems to be constantly working on scale. That's why so many are wondering why the Model 3 has been such a headache. Management even went as far as to say it will look to deploy capital expenditures toward the Model Y later this year. Company officials argue that they can sell 1 million Model Y units and that they should avoid "production hell" because of their work on the Model 3.
But wasn't that exactly what the Model S and X were for — to prepare them (financially and operationally) to build the Model 3 at scale? In my opinion, it boils down to this: Buying TSLA stock today is a bet that the company figures out Model 3 production soon. Shorting TSLA stock is a bet that it doesn't.
Trading TSLA Stock
While the company doesn't need to do a capital raise tomorrow — its got $3.3 billion in cash — debt and capital leases are growing quickly. As of last quarter, this figure stood at $9.45 billion. A year ago it was at $5.97 billion.
Tesla's financials were never the strongest. However, last quarter the company did generate over $500 million in operating cash flow, pushing its annual amount to nearly break-even. That's good news, even though free-cash flow (FCF) remains stubbornly low. The ~$400 million deficit in FCF last quarter only represented about 10% of the year's negative $4.14 billion in FCF.
As much as I love Tesla's products, I can't buy the stock with its financials looking like this… or with a chart that looks like this: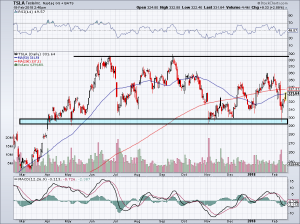 Click to Enlarge
Unfortunately, Tesla stock is trapped in no man's land. There's support between $290 and $300. Short-term resistance is at $360, while long-term resistance is at $385.
With its major moving averages trapped in the middle, what's an investor to do?
I think waiting is the most prudent thing to do at the moment. There's no edge in the current environment.
Bret Kenwell is the manager and author of Future Blue Chips and is on Twitter @BretKenwell. As of this writing, Bret Kenwell held a position in AAPL.