Starbucks Corporation (NASDAQ:SBUX) has always been a tough one for me. On the one hand, the company has been a great performer over the long-term, but it's been stuck in a multi-year lull.
In a way, it sort of reminds me of Walt Disney Co (NYSE:DIS). I touched on this fact a few weeks ago with Disney, in that it was disappointing for recent investors but over the last five years or more, it was still a big winner. In that time frame, Starbucks has been a better operator, but that hasn't prevented shares from being hit.
Valuing Starbucks Stock
Despite this lull, I still consider SBUX a Future Blue Chip holding of mine and the reasoning is simple. Analysts still expect SBUX to grow revenue 11% this year and almost 10% in 2019. Criticism aside, this is still pretty impressive. On the earnings front, estimates call for more than 20% growth this year followed by just 12.5% growth in 2019.
Still, double-digit earnings and revenue growth is nothing to scoff at, even if the company isn't churning out the types of numbers it did in the past. Admittedly, it would more encouraging if SBUX could get a U.S. comparable-store sales result north of 5%.
Shares trade at a rather reasonable 23 times this year's earnings and 20 times next year's estimates. While some investors may find that a tad expensive, I do not given SBUX's growth in China and powerful brand name. I certainly find it's double-digit growth more attractive than a number of similarly valued consumer packaged-goods stocks.
One catalyst to remember? The dividend — and that's part of what makes it a favorite Future Blue Chip holding of mine. In the fall, SBUX gave a 20% boost to the quarterly dividend, which has grown from just 5 cents per share in 2010 to 30 cents per share now. Overall, SBUX stock now yields 2.1%, a very respectable yield given the company's growth rate.
What to Look for in Starbucks Earnings
When the company reports, a few things will be in focus. First, as we mentioned U.S. comp-store sales have been disappointing. Any upside to this metric would bode well for the stock. Further, look for the comp and revenue growth figures out of China, which should no doubt be quite good. Starbucks has a compelling story in China.
Let's also look to see if the company is able to raise its guidance. It gave a slight earnings boost last quarter and it will be interesting to see how management sees the second half of the year shaping up. Finally, look to see if Starbucks — particularly executive chairman Howard Schultz — has any comments about the recent racial controversy involving one of the company's stores in Philadelphia.
The stock hasn't reacted much to the incident, but I expect management to take the matter seriously and speak on it during the conference call.
Trading SBUX Stock
I'll be the first to shoot you straight: Starbuck stock has been a dud when it comes to earnings. It typically rallies into the event as investors hope this quarter is "the one." You know, the one where the company finally posts 5% comps and beats earnings and revenue expectations, sending SBUX stock soaring into a multi-year breakout.
Sorry bulls, but that hasn't been the case. For those that have been long for years, the recent lull has been a good opportunity to collect a decent yield and sell covered calls.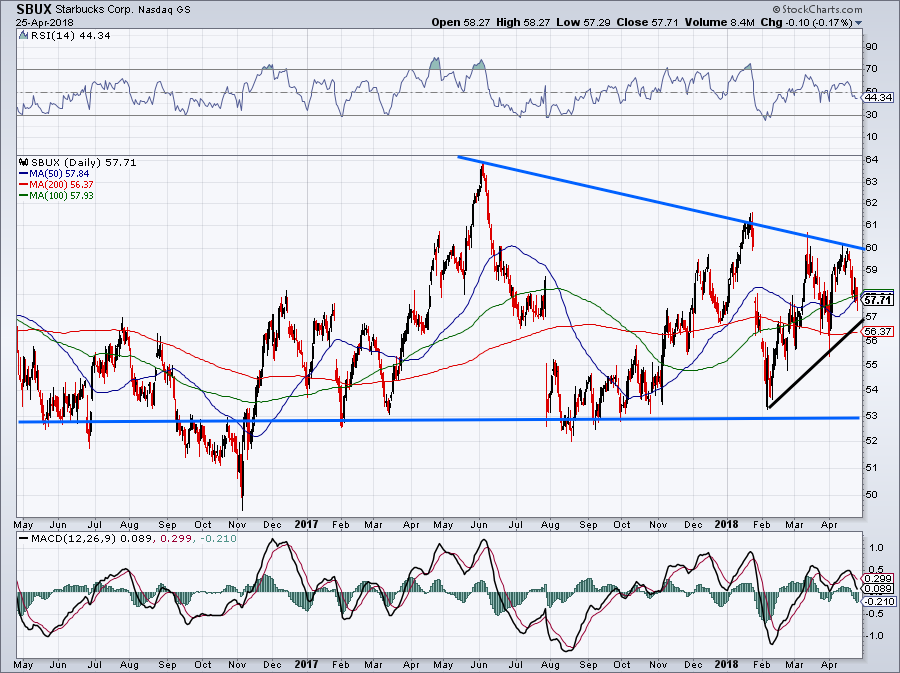 Click to Enlarge
Roughly speaking, $53 has been the floor, while there's a declining trend-line of resistance currently near $60. Although not pictured, there's also a double-top near $64. So if bulls want to see a new all-time high in 2018, there's some work to do. Could this earnings report be the start?
It could and it's encouraging to me that SBUX stock hasn't rallied into the print. In fact, it's down from the recent high near $60. It will be very disappointing if SBUX stock tumbles back down the low-$50s post-earnings again. However, if the past 6 to 8 quarters have taught me anything, it's to limit any enthusiasm ahead of the print.
I would not be a buyer of SBUX stock ahead of earnings for this very reason. Tempted bulls should have bought on the last dip below $54 in February or all throughout the fall. Those looking to buy now should wait for a breakout over $60 or a pullback after earnings.
Bret Kenwell is the manager and author of Future Blue Chips and is on Twitter @BretKenwell. As of this writing, Bret Kenwell is long SBUX and DIS.