Just when you think it can't get any worse for General Electric Company (NYSE:GE), it gets worse. Not one but two more analysts chimed in, bearishly, on GE stock this week, pushing it back within sight of new 52-week lows.
To be fair, both pros make valid points. General Electric stock is oddly expensive compared to most of its peers, and the dividend — despite being cut in half in November — may well be subject to further cuts.
But what's largely been lost in the shuffle is the vast majority of this worst-case scenario has already been priced in by the 50% selloff GE stock has suffered since the end of 2016. It's down 25% just since the beginning of this year.
GE Stock Bashed Again
JPMorgan analyst Stephen Tusa got the party started on Monday, saying "GE is the most expensive stock in the sector."
The call isn't entirely off-base. Technically speaking, General Electric has reported a generally accepted accounting principles net loss of $5.93 billion for the past four quarters, but only thanks to a $9.8 billion one-time charge booked in the final quarter of last year to reflect some sloppy math being done by its insurance arm. On a forward-looking basis, the projected 2019 price-earnings ratio of 12.3 is actually a better value than most of GE's peers.
Tusa may be thinking more bigger picture though, suggesting General Electric could struggle to meet its lofty earnings goals. The company and most of the market are planning on a turnaround for its power division within a year. But Tusa thinks it could take as long as 10 years to meaningfully turn things around for that arm.
In numerical terms, Tusa is only expecting a profit of around 50 cents per share of GE stock this year, versus the company's guidance of between $1.00 and $1.07. The analyst explained, "This is not a depressed number given limited upside in a structurally challenged power business."
It didn't take long for Cowen analyst Gautam Khanna to kick General Electric while it was down. He said on Tuesday, "We don't believe the $0.48/year dividend is safe unless 'contract assets' convert to cash on a net basis, and/or the Power market rebounds sharply and soon."
Cowen slashed its target price on General Electric stock from $15 to $12. JPMorgan is targeting $11.
Is GE Too Expensive?
So, is GE too expensive, or is that hyperbole just for effect? Again, there are two ways of gauging the matter.
In the purist, mathematically-based sense (stripping out the impact of the fourth quarter's charge), no, GE stock isn't the most expensive stock in the industrial sector. That's Honeywell International Inc. (NYSE:HON), although Danaher Corporation (NYSE:DHR) gets an honorable mention on the "too expensive" front. In fact, if General Electric could achieve the same kinds of profit margins on its revenue that other names in the industrial sector do, it's the cheapest name in the bunch relative to its sales.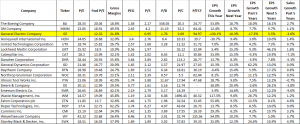 Click to Enlarge
In the sense that GE is too expensive with respect to the market's expectations — well, that's a question each investor will have to answer for themselves. There's little doubt that a turnaround is necessary. The question is will the company be able to walk the walk instead of just talk the talk.
The proverbial X-factor, of course, is the distinct possibility of one of more divestitures that would not only supply some much-needed cash, but also let each separate division get hyper-focused on doing what it does best. It's been discussed as a possibility, but shareholders have heard little on the matter since it was first brought up in January by CEO John Flannery.
Bottom Line on GE Stock
So, Tusa's point is well taken. So is Khanna. While Tusa may have delivered the idea in a manner more for effect than precision, the company is expensive when factoring in so many uncertainties that other industrial companies aren't imposing on their shareholders at this time.
Still, I'll stick to my thesis from February, which argued that the present price of GE stock already reflects the fact that there's a low degree of certainty.
That's not to suggest General Electric stock can't move lower. Hysteria is still holding the stock hostage and volatility will linger as long as questions go unanswered. By and large though, the stock has already paid its penance. For long-haulers, the path of least resistance is actually upwards again.
As of this writing, James Brumley did not hold a position in any of the aforementioned securities. You can follow him on Twitter, at @jbrumley.