On Thursday evening, Costco Wholesale Corporation (NASDAQ:COST) reported its fiscal third-quarter earnings results. COST stock fell about 2% in early Friday trading, despite the company beating on both earnings per share and revenue estimates, and is barely budging Monday. So what gives?
Diving Into Costco's Quarter
The wholesale retailer reported earnings of $1.70 per share, a penny ahead of estimates, while growing sales 12% year-over-year to $31.6 billion. Costco's 10.2% comp-store sales result easily beat expectations of 8%. In the U.S. where Costco does a bulk of its business, the retailer churned out an impressive 9.7% comp-store sales result. E-commerce revenue soared 37% vs the same quarter a year ago.
So again investors may be asking themselves, "why did COST stock decline?"
Some may chalk it up to gross margins, which came in at 11% and below expectations of 11.4%. Others might not be thrilled that management is passing so much of its tax gains on to higher wages rather than returning it to shareholders.
The gross margin miss could very well boil down to management aiming to take market share vs. trying to maximize short-term profits. And while a number of companies have paid out one-time bonuses to employees, Costco is a true leader when it comes to employee compensation.
It's why the company has such a high employee retention rate and the stores deliver such a high-quality experience to shoppers. It's what's left the retail race boiling down to just a few participants, like Costco, Amazon.com, Inc. (NASDAQ:AMZN) and Home Depot Inc (NYSE:HD), among a few others.
Growth and Value
Higher wages and lower gross margins might have been the spark to a post-earnings decline. But in my view, the fuel came from the valuation. Despite Costco's amazing operations, COST stock isn't exactly cheap.
Shares trade at roughly 28 times this year's earnings estimates of $7.03 per share. Should Costco earn that, it will represent earnings growth of 21% from last year. Current estimates call for earnings growth of 10% in 2019. On the sales front, consensus expectations call for 8.2% and 7% sales growth this year and next, respectively.
Those numbers are certainly solid, but many investors will have trouble forking out close to 30 times earnings for them. Particularly as the new tax code is fueling this year's big earnings growth gain.
Don't get me wrong, either. I really believe that Costco is a premiere retailer. Because of its excellent management and its focus on treating employees well, it will continue to do well for a long, long time. Like Amazon Prime, Costco's paid membership gives the company much more flexibility, better margins and pricing power than its peers.
Right now, COST stock has a trailing P/E ratio of 29.3. That's only slightly more than its five-year average P/E ratio of 28.3. In that regard, it's clear that the market generally assigns COST stock a premium valuation thanks to its premium business operations.
Trading COST Stock
Should that have you interested as a buyer? Investors that have been wanting to own COST stock should have gobbled it up last summer when it was hovering below $160. Now knocking on $200's door, Costco's been on quite a run.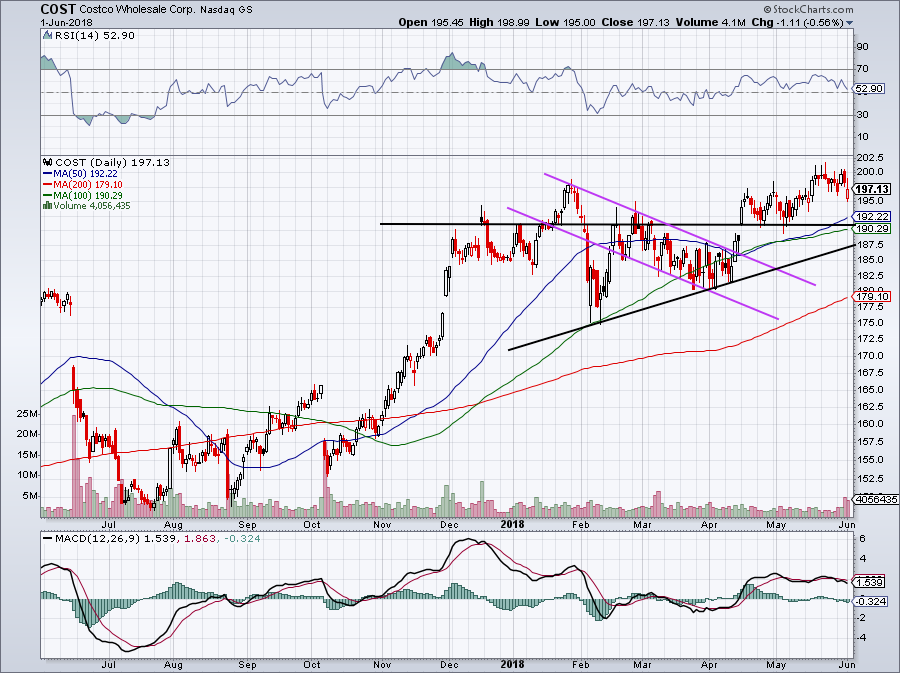 In April, COST stock broke out of the downward channel (in purple) and eventually ran up to $200. This quarter's results were very good and as the economy continues to hum along, so too should Costco's business. I mean, investors are going to ding COST stock over 40 basis point miss on gross margins? Come on!
That's why those who are interested in buying may want to consider pulling the trigger sooner rather than later. On a dip down toward the $190 level, COST stock has plenty of support. There's level support at $190, the 50-day and 100-day moving average between $190 and $192 and trend-line support currently near $188.
Those are a lot of solid levels for bulls to bet on holding. Admittedly, the valuation is high. But that's generally the case with Costco, which continues to do very, very well and should continue doing so for the foreseeable future.
Bret Kenwell is the manager and author of Future Blue Chips and is on Twitter @BretKenwell. As of this writing, Bret Kenwell did not hold a position in any of the aforementioned securities.