U.S. stock futures are trading higher this morning as traders return from the weekend in a buying mood. Ahead of the bell, futures on the Dow Jones Industrial Average are up 0.4% and S&P 500 futures are higher by 0.34%. Nasdaq-100 futures have added 0.44%.


In the options pits, Friday's early morning selling propped up put trading, but not enough to outpace calls for the day. Overall volume hovered near average levels. Specifically, about 18.5 million calls and 17.7 million puts changed hands on the session.
At the CBOE, the single-session equity put/call volume ratio slipped to 0.61 which is the center of its 2019 range. Meanwhile, the 10-day moving average inched higher to 0.63.
Here were three stocks landing atop the most-actives list on Friday. Electronic Arts (NASDAQ:EA) surged after the company announced 10 million people tried out its new battle royale game, Apex Legends. Snap (NYSE:SNAP) continued to rise following better-than-expected earnings earlier in the week. Finally, General Electric (NYSE:GE) saw a surge in put trading alongside Friday's price pullback.
Let's take a closer look: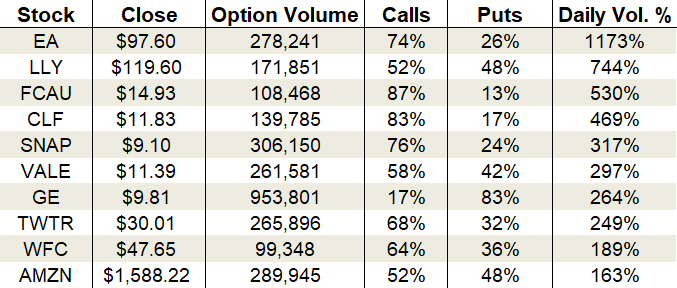 Electronic Arts (EA)
Electronic Arts has a new hit on its hands. Last week's release of Apex Legends saw scores of positive reviews even as millions of players logged on to try out the new free-to-play battle royale shooter. The company reported that 10 million people played the game in its first 72 hours, which marks a fantastic reception to what the company hopes is its answer to the ultra-popular Fortnight.
Traders cheered the news and bid EA stock up 16.1% amid huge volume. With the gains, EA shares have now reclaimed all that was lost during its post-earnings plunge. Overhead resistance at $93 was also broken, and the stock now sits atop the 20-day and 50-day moving averages. It's the bulls' game to lose here.
On the options trading front, traders came after calls with a vengeance. Activity skyrocketed to 1,173% of the average daily volume, with 278,241 total contracts traded. 74% of the trading came from call options.
The increased demand drove implied volatility higher on the day to 50%, placing it at the 70th percentile of its one-year range. Premiums are now pricing in daily moves of $3.06, or 3.1%.
Snap (SNAP)
The positive earnings vibes continued for Snap on Friday. Though SNAP stock was up 22% already, buyers wanted more. After gapping lower Friday morning, bulls rushed in to drive the stock 6.2% higher.
The stock has already blasted above its 20-day and 50-day moving averages and is now a stone's throw from the 200-day. This will be the first test of this long-term moving average since SNAP fell below it last April.
On the options trading front, calls dominated the session. Total activity swelled to 317% of the average daily volume, with 306,150 total contracts traded. Calls accounted for 76% of the day's take.
Implied volatility continued its post-earnings drop by inching lower to 63%. That places it at the 45th percentile of its one-year range. Premiums are now pricing in daily moves of 36 cents, or 4%.
General Electric (GE)
Chart watchers now have their first chance to buy the dip after General Electric jumped 11.6% on earnings. Though the company missed earnings estimates for Q4, hope surrounding its turnaround plans brought buyers to the yard.
With the three-day pullback carrying GE stock into the weekend, traders have an interesting setup to consider. The rising 20-day moving average and gap-fill area at $9.30 both loom as potential support zones for the budding uptrend.
On the options trading front, put volume jumped even though the damage in the stock was minimal. Activity climbed to 264% of the average daily volume, with 953,801 total contracts traded. Puts added 83% of the session's tally.
Implied volatility rallied on the day to 48%, placing it at the 41st percentile of its one-year range. Premiums are pricing in daily moves of 30 cents, or 3.1%.
As of this writing, Tyler Craig didn't hold a position in any of the aforementioned securities. Check out his recently released Bear Market Survival Guide to learn how to defend your portfolio against market volatility.