PepsiCo (NASDAQ:PEP) has become a favorite among investors. How could it not, given its consistency, continued growth and dividend increases? Yet, as good as PEP stock is, not everyone is sold on the beverage and snacks maker. Who's not on board? Credit Suisse analysts.
Last week, the research team initiated coverage on the Pepsi stock with an underperform rating and $100 price target on shares. The stock didn't really feel the impact of that downgrade — given the strength of the overall market lately — but as it stands, the target implies just under 14% downside from yesterday's $115.50 close.
Is that something investors really need to look out for and if so, should they consider Coca-Cola (NYSE:KO) instead? KO stock sits midway between its 52-week low and high.
Evaluating PepsiCo
Worth pointing out (or maybe not) is that Credit Suisse has the lowest price target on the Street. The average target is at $117.75, not much higher than current levels, while the highest sits up at $133, implying just over 14% upside.
The analyst is critical over PEP stock's valuation, which is admittedly a bit high. The stock trades at more than 21 times this year's earnings. That wouldn't be all that bad for a blue-chip stock, but the growth profile is disappointing. Analysts expect the company to earn $5.51 per share this year, which is a 2.7% decline from 2018. That's despite 2.5% sales growth this year.
Over the last five years, PEP stock has an average forward price-to-earnings ratio of 19.9. If that were the case now, that would put Pepsi stock down near $109.
Perhaps investors are excited about the company's prospect of growing earnings and sales 7.8% and 3.9% in fiscal 2020, respectively, but that's a long ways off. Some further digging shows Pepsi stock has other strains.
While gross margins are ticking higher in the recent quarter, they have been trending lower for over two years on a trailing 12-month basis. Operating margins have come under pressure over the past few quarters, while free cash flow has been greatly pressured. In 2016, the company generated more than $8 billion in free cash flow, while in 2018 it barely eclipsed $6 billion.
Trading Pepsi Stock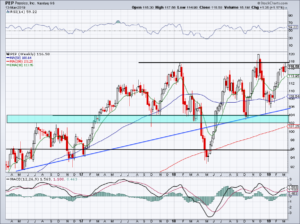 Click to Enlarge
Is PEP stock a bad company to own? Absolutely not. After the company's 15.2% dividend bump last May, the stock pays out a respectable 3.2% yield. For long-term investors, this potential decline isn't likely enough of a reason to sell the stock. But perhaps it will cause them to wait for a decline before buying more.
I don't know if we get Pepsi down to $100 without a market-wide correction. That said, its valuation is stretched at a time when growth isn't exactly robust. As for the PEP stock price, take a look at the three-year weekly chart above. Support and resistance are quite clear, while uptrend support (in blue) makes its way higher.
The Doritos maker is a good company, so I'd be interested on a pullback into support, (although we won't likely get it at $96 like we did last time). Because the Pepsi stock valuation is stretched, it makes me hesitant to buy — even on a move over resistance, given this isn't the type of quick-moving momentum stock that investors typically trade.
KO Stock or PEP Stock?
So that brings up the question, should investors buy PEP stock or KO stock?
To much surprise, KO stock might be the better buy, at least right now. Coca-Cola stock trades at almost 22 times this year's earnings, which is only slightly higher than Pepsi. However, analysts expect earnings to grow 1% this year on the back of 9.3% sales growth. In 2020, forecast call for a similar outlook to Pepsi, which is for 7.6% earnings growth and 4.4% sales growth.
Coke has superior growth in 2019 and similar growth in 2020, while maintaining similar free cash flow profiles and superior margins to PEP. Also worth mentioning is KO stock's dividend yield, which stands at 3.5%.
That said, KO stock doesn't have a screaming-low valuation and its earnings growth is somewhat disappointing given the more than 9% sales growth this year. The chart looks decent though.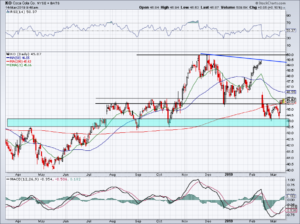 Click to Enlarge
Support at $43.50 to $44 continues to hold, while KO stock is above the 200-day level and is now coiling just beneath $46. We got lucky with our sell call at $50 and now may be a time to add back to that position a bit.
The conclusion? Neither KO stock or PEP stock jumps out as a massively better pick than the other. Over the next 12 months though, Coca-Cola stock seems to have the edge.
Bret Kenwell is the manager and author of Future Blue Chips and is on Twitter @BretKenwell. As of this writing, Bret Kenwell did not hold a position in any of the aforementioned securities.