Facebook (NASDAQ:FB) is expected to release fourth-quarter and full-year 2020 financial results on Jan. 27 after the market close. Over the past year, Facebook stock has returned around 25%.
The shares hit a record high of $304.67 in late August and they are now hovering around $275.
Its 52-week range has been $137.10 to $304.67. Now investors wonder what to expect from Facebook stock around the release of earnings. Price moves in momentum shares like Facebook tend to be volatile and fast, especially when announcements are due.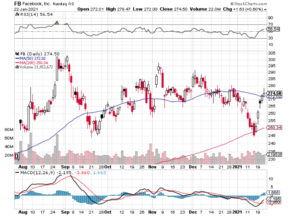 Click to Enlarge
Given how far the shares have gone up in the second half of January, I believe most of the potential good news could already be factored into Facebook stock. Therefore, if you are not yet a shareholder, you may want to wait for a potential dip. Watch for movement toward the $260 level, where the risk/return profile would be better. Let's see why.
The Digital Ad Market Is Growing
Recent metrics highlight, "the global market for Social Media Advertising estimated at US$85.2 Billion in the year 2020, is projected to reach a revised size of US$248.2 Billion by 2027, growing at a CAGR of 16.5% over the period 2020-2027." Facebook and Google – parent company Alphabet (NASDAQ:GOOG, NASDAQ:GOOGL) – have a tight grip of especially the U.S. digital ad market. Their combined share is still well more than 50%.
In addition to individuals, Facebook users also include companies, institutions and organizations, including workplaces, schools and even places of worship. Facebook and Google are still the choice of senior ad buyers. Although other competitors, especially Amazon (NASDAQ:AMZN) with its disruptive force, are working hard to become contenders.
The company's products include the namesake platform Facebook, Instagram, Messenger, WhatsApp, and Oculus. It holds extensive demographic data that enables advertisers to target audiences effectively. As a result, it remains unmatched in its ad-pricing power.
What to Expect from FB Stock's Q4 Earnings
Facebook's third-quarter results of late October were robust. Revenue of $21.47 billion represented a 22% year-over-year (YOY) increase from $17.65 billion a year ago. GAAP net income was $7.85 billion, or $2.71 per diluted share. In Q3 2019, the metrics were GAAP net income of $6.09 billion, or $2.12 per diluted share. The numbers meant a 29% YOY increase in the third-quarter net income.
Free cash flow was $5.95 billion in the third quarter, compared to $5.63 billion a year ago. Cash and equivalents were $55.62 billion as of Sept. 30.
"We had a strong quarter as people and businesses continue to rely on our services to stay connected and create economic opportunity during these tough times," CEO Mark Zuckerberg said recently. "We continue to make significant investments in our products and hiring in order to deliver new and meaningful experiences for our community around the world."
Put another way, the company delivered a great performance as expected, proving why platforms of the social media leader are so crucial for advertisers. Analysts concurred that no other company possibly enables advertisers to reach such a broad or targeted audience in the social market space.
When the company reports earning this week, analysts are likely to inquire about user engagement, especially after management's decision to ban Donald Trump from the platform indefinitely. For Facebook stock to make a new sustained move up following the results, I believe investors would need strong guidance from the company.
The Bottom Line on Facebook Stock
It is important to remember that the company is still in a robust position to add different areas of growth to its bottom line in the coming quarters. At present, almost all the sales come from ads published on Facebook and Instagram platforms. In other words, WhatsApp and Facebook Messenger have not been monetized yet.
Facebook has seen a backlash in recent days regarding the proposed WhatsApp privacy update on data sharing. However, it' would be correct to assume that when all platforms are fully utilized and monetized, current metrics could be dwarfed.
While the stock still looks poised for a healthy 2021, I'd recommend investors to be careful in the short run. If you are not yet a shareholder in Facebook stock, you may want to analyze the upcoming metrics. Management's guidance for the coming quarters will also be important. Furthermore, in the coming months, there may be regulatory pressure on big tech, resulting in increased antitrust allegations.
Those investors who are not ready to commit full capital to Facebook shares may want to buy an exchange-traded fund (ETF) that hold FB stock. Examples include the Communication Services Select Sector SPDR Fund (NYSEARCA:XLC), the Global X Social Media ETF (NASDAQ:SOCL), or the iShares Global Comm Services ETF (NYSEARCA:IXP).
On the date of publication, Tezcan Gecgil did not have (either directly or indirectly) any positions in the securities mentioned in this article.
Tezcan Gecgil has worked in investment management for over two decades in the U.S. and U.K. In addition to formal higher education in the field, she has also completed all 3 levels of the Chartered Market Technician (CMT) examination. Her passion is for options trading based on technical analysis of fundamentally strong companies. She especially enjoys setting up weekly covered calls for income generation.