Whether you believe in fantastical creatures and classic encounters or not, the price for admission is looking good these days at AMC (NYSE:AMC). But to take a safe seat without worrying about massive destruction in the trading account, today's investors may want to gear up with a bull call spread. Let me explain.
Godzilla vs. Kong. Bulls vs. Bears or rather Retail David vs. The Institutional Goliath. Theater chain operator AMC is seeing a couple epic battles being waged these days.
On the big screen, it's all about the big budget, sci-fi production featuring an atomic breathing dinosaur-like monster and one exceptionally large and age-defying gorilla. And whether you're into that sort of thing or not, it's a big deal for AMC.
The Warner Bros. flick debuted this past week used a hybrid streaming and theatrical release strategy. Some of today's admission-paying audience did opt for the couch at home and their HBO Max subscription to watch the two monsters tangle.
But more than just a few of us elected to walk down that carpeted AMC aisle and smell the scent of buttered popcorn for the first time in more than a year in the country's once shuttered cinema chain.
A Different Beast
Godzilla vs. Kong isn't the first Hollywood production to hit AMC's big screen during the pandemic. In the U.S. that honor goes to Tenet back in late August of 2020.
Tenet?
Yup. Brand awareness and paying customers were missing in action. But Godzilla vs. Kong? Well, that's an entirely different beast or animal. The release marks the first blockbuster for moviegoers with other big spend projects such as James Bond's No Time to Die, Black Widow and Top Gun: Maverick scheduled for release last year, put on hold until later in 2021.
So, other than our gargantuan screen stars, how big are we talking? By the numbers, theater goers shelled out $48.5 million for the movie during its opening weekend. That's more than the $47.8 million takedown by Godzilla: King of Monsters from May 2019. And mind you, that's when cinemas nationwide were open and capacity restrictions meant putting up the show sold out sign when every seat was taken. Bottom and top line, the results for AMC and other operators are an impressive breath of fresh air.
Following in the footprints of the vilified dinosaur and protagonist gorilla, analyst Eric Wold of boutique investment firm upgraded AMC shares from "neutral" to "buy" while lifting his price target from $7 to $13 given the impressive results despite significant socially-distanced and streaming challenges. He's not alone either. It appears on AMC's price chart that investors are also willing to pay to get in.
AMC Stock Daily Price Chart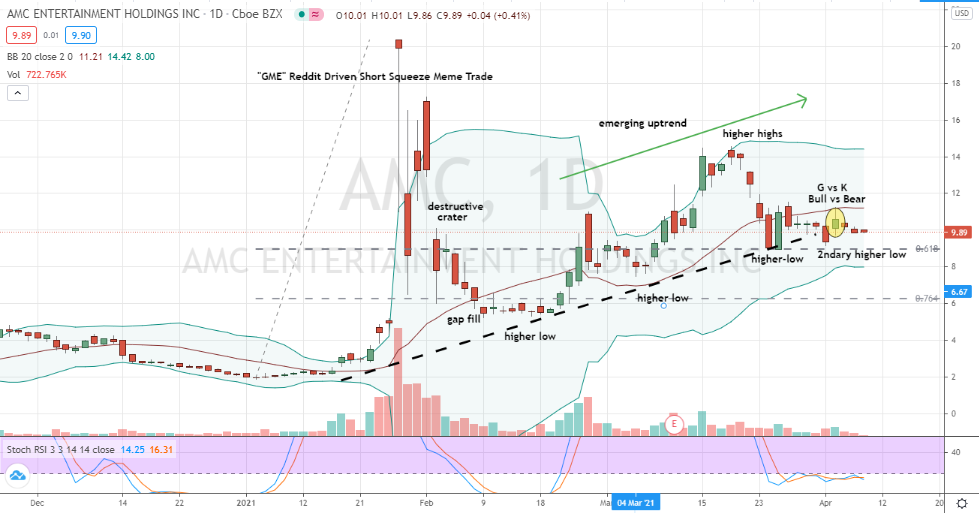 Source:
Charts by TradingView
Off the big screen another battle is being waged between the bullish Reddit crowd, i.e. David versus a storied, larger and deep pocketed bearish institutional player. What started out as a short squeeze meme trade in January led by GameStop (NYSE:GME) has turned into a company-specific uptrend for AMC stock. And, this is one where the price of admission looks reasonable using a bull call spread.
Technically and in the destructive aftermath of its me-too GME trade, shares of AMC have gone on to form an emerging uptrend. Backed by a supportive oversold and bullishly-aligned stochastics, there's cause to see a continuation of the price action and new higher highs for the patterned uptrend over the next couple weeks to perhaps month or so.
Whether David and other bulls are ultimately victorious over AMC's resident bears is another story. Happy endings aren't always in the storyline. Still, the prospects look decent. Moreover, with matinee-style pricing offered by the May $11/$13 call vertical for around 45 cents, the risk versus reward, off and on the price chart, looks about right.
On the date of publication, Chris Tyler does not hold, directly or indirectly, any positions in securities mentioned in this article.
Chris Tyler is a former floor-based, derivatives market maker on the American and Pacific exchanges. The information offered is based on his professional experience but strictly intended for educational purposes only. Any use of this information is 100% the responsibility of the individual. For additional market insights and related musings, follow Chris on Twitter @Options_CAT and StockTwits.