When investors look back at Plug Power's (NASDAQ:PLUG) performance in 2021, they will realize that the clean-energy play peaked in February. In the wake of the panic that afflicted the Nasdaq Composite Index in the middle of that month, PLUG stock is unlikely to reach its 52-week highs again.
Sure, the stock appears to have bottomed at around $30 and bounced back to $35. That short-lived buying momentum , however, is not enough to justify the name's current market capitalization of nearly $20 billion.
Plug Power cannot blame its stock's underperformance on the change in investors' sentiment, since the company admitted to a serious financial accounting error on March 16. The minute a company admits to accounting errors, investors must sell its shares.
PLUG Stock Tumbled
Plug Power said in an SEC filing that investors should not rely on its financial statements for both fiscal year 2018 and 2019, plus all of those years' quarterly results. The company stated that it would need to revise a few metrics from those periods.
For example, it will need to restate its loss accruals for various service contracts, and it also has to reclassify certain expenses related to research and development.
R&D spending is a critical component of clean-energy firms' financial results. It tells investors how much effort companies exerted to develop novel solutions and products. Plug Power's statement also undermines investors confidence in KPMG, its auditor. The bad news is that PLUG stock did not fall enough to reflect the company's serious setback.
Investors probably should have anticipated that the company had financial irregularities sooner. For at least the last decade, Plug Power would sell shares regularly to raise cash, and it would lose money every quarter. Yet in its last reported quarter, it stated that it had a $4.17 million gains from the extinguishment of its debt. Further, its R&D and selling, general, and administrative costs barely doubled, while its cash and cash equivalents jumped nearly ten-fold year-over-year.
The Fair Value of PLUG Stock
According to a research report from Stock Rover (please see the chart below) , Plug's quality score is almost 50 out of 100.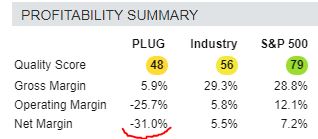 Since Plug Power's score is close to that of the industry, the metric might justify the $59.42 average price target issued by analysts. Still, the target sounds far too good to be true to me.
And in the wake of the company's recent disclosure that it had released inaccurate financial data, Wall Street will need to go through every line item on its balance sheet. After doing so and after the shares fall further, analysts may cut their targets on PLUG stock.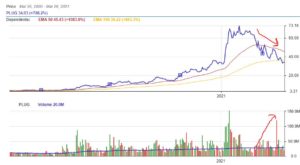 In the chart above, from Stockrover, ypu can see that the share price of PLUG stock trended lower throughout the year. Volume spiked higher as the stock crossed below key moving averages.
On March 18, the Nasdaq sent a letter to Plug Power regarding its delayed annual report on Form 10-K. The letter was sent because Plug said it would need to delay filing its financial results with the SEC.
Since Plug previously said the restatement would not have an impact on its cash on hand, the company will likely increase its goodwill, raise the impairment of long-lived assets, change accruals for certain contracts, and adjust its amortization. These changes will deflate its past gross margin figures and undermine the stock.
As shown by the above price chart of PLUG stock for the week that ended on March 26, provided by Stock Rover, notice that the shares' trading volume fall dramatically as their price rose. Before the news of the firm's accounting errors was released, the shares' trading volumes had increased. Speculators who did not sell the stock will do so if the shares fall meaningfully further.
The Bottom Line
All investors should avoid Plug Power's shares. The stock fell below its 52-week highs, but it will drop further. The stock will likely sink meaningfully after the company releases its revised financial data.
Plug Power's revised financial statements will not be pretty. Investors should get out of the stock before they lose all the profits they had made on it previously.
Disclosure: On the date of publication, Chris Lau did not have (either directly or indirectly) any positions in the securities mentioned in this article.