Editor's note: This article was updated on April 20, 2021, to clarify that PSTH has until 2022 to find a partner.
It's crashed with the best of them. But when it comes to Pershing Square Tontine Holdings (NYSE:PSTH) have investors been unwitting crash test dummies? Let's take a look at what's happening off and on the price chart of PSTH stock, then offer a risk-adjusted determination aligned with those findings.
SPACs, special purpose acquisition companies, blank-check entities or reverse mergers. Pick a name for this alternative route for a company to be brought public. But no matter which is selected and following last year's standout performance, it's largely come home to roost for this thematic trade in 2021.
QuantumScape (NYSE:QS). ChargePoint Holdings (NYSE:CHPT). Opendoor Technologies (NASDAQ:OPEN). Arrival Group (NASDAQ:ARVL). Golden Nugget (NASDAQ:GNOG). Those are but a handful of wrecked stocks in this diverse group of SPACs offering exposure to alluring secular trends in electric vehicles, fintech, online gaming and other hot up-and-coming markets.
The Difference
The list of blank-check company casualties also includes PSTH stock. But to be fair, Pershing Square is different in a couple other ways. And shares may prove to be an innocent bystander within the SPAC group struck down by an often temperamental, short-sighted Wall Street.
Unlike it's fingered peers listed above, which have seen dizzying losses this year as investors re-opened the chapter on "risk-off" investing on high or even unquantifiable multiple growth stories, PSTH's is kinda, sorta incalculable altogether. And at a later date, that could still turn out to be a particularly terrific benefit for its shareholders.
So, what is PSTH and what differentiates this SPAC from the others?
Triumphantly, Pershing Square Tontine is the brainchild of well-known activist hedge fund manager Bill Ackman. More importantly than his notoriety in investing circles, he's backed up the talk with a stellar longer-term track record including last year's market-beating return of around 70% for his hedge fund investors.
The other positive variable is PSTH is still a sponsor company that's yet to find a private target to bring to the market. Moreover, having raised over $4 billion in its IPO and given Ackman's already proffered focus on finding a more "mature unicorn" means a target valuation is likely going to be substantially larger with estimates of $30 billion not out of the question.
Toss in the combination of management's expertise in buying successful investments, a recent announcement Pershing Square Tontine shareholders will have the right to purchase his next SPAC PSTH-II at the listing price and shares hovering about 17% above their $20 redemption value and there's a lot to like about today's PSTH stock.
PSTH Stock Weekly Price Chart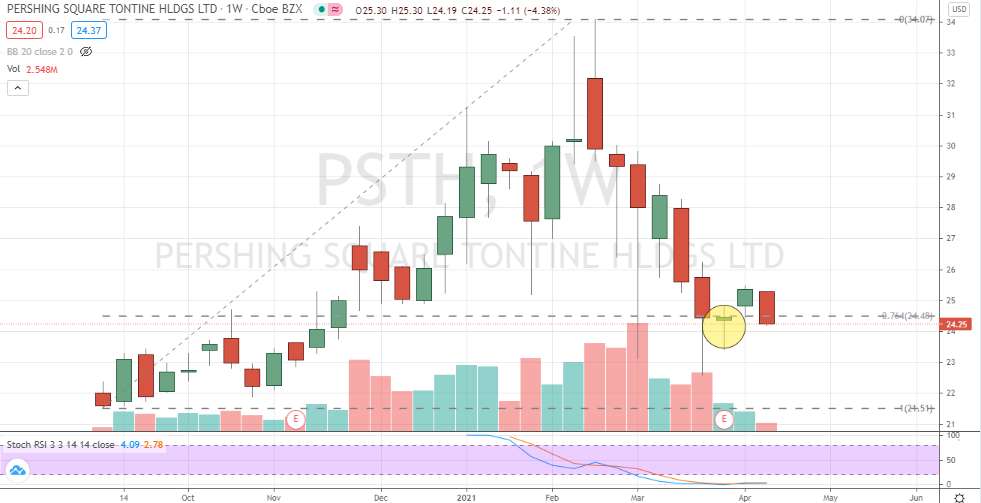 Source:
Charts by TradingView
In Bill or PSTH stock we trust? I've said that before and it bears repeating. Today, Ackman has a July 2022 deadline to announce a pending merger or risk PSTH a redemption of Pershing Square Tontine at $20 a share. Will the grand reveal be Tesla (NASDAQ:TSLA) front man Elon Musk's SpaceX or Starlink? Or perhaps fintech Bloomberg or artificial intelligence shop Scale AI?
Who's going to walk down Wall Street's aisle with PSTH is all conjecture at this point. There's also a chance it may not happen altogether. And already, a promised first-quarter pledge to seal the deal has come and gone. As much and if investors are willing to put their trust in Bill, I'd look to PSTH's price chart for guidance.
The provided weekly chart shows a weekly inside hammer candlestick bottom has formed around PSTH's 76% retracement level. The pattern generated a buy signal two weeks ago, but thus far has failed to offer any meaningful upside. And more concerning for those prior buy decisions, the trigger price through $24.81 is also slightly underwater right now.
The Bottom Line
Bottom line, with pattern exposure of roughly 6% to 9% and larger redemption risk roughly 17% from today's $24.25 PSTH share price, I'd suggest a slightly out-of-the-money, intermediate-term bull call spread for smarter positioning in the event this is one of Bill's more rare missteps such as Herbalife (NYSE:HLF) or Valeant Pharmaceutical.
One combination of this type which fits in nicely with PSTH stock's price history, July's make-or-break deadline and offers big-time bang for the proverbial buck is the August $25/$30 bull call vertical for $1 per spread.
On the date of publication, Chris Tyler does not hold, directly or indirectly, positions in any securities mentioned in this article.
Chris Tyler is a former floor-based, derivatives market maker on the American and Pacific exchanges. The information offered is based on his professional experience but strictly intended for educational purposes only. Any use of this information is 100% the responsibility of the individual. For additional market insights and related musings, follow Chris on Twitter @Options_CAT and StockTwits.